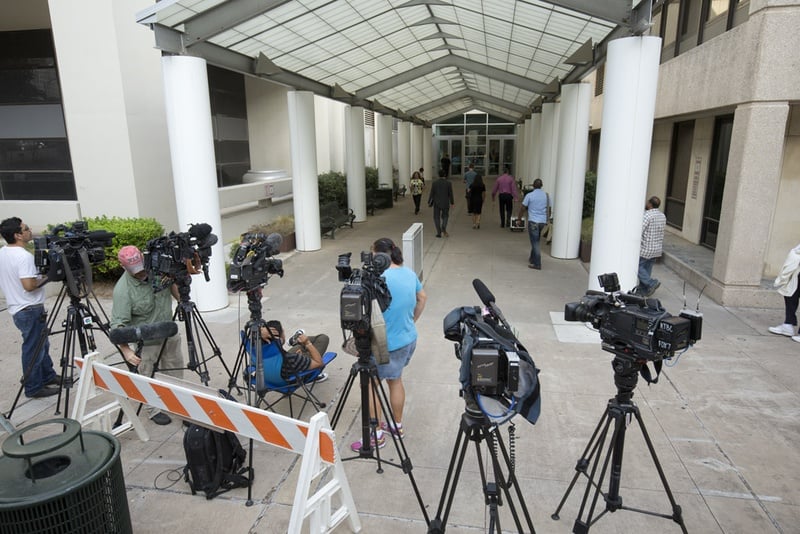 Updated, 7:30 p.m.:
Because of a judicial scheduling conflict, the arraignment date has been pushed up to Friday, Aug. 22, from the earlier reported date of Aug. 29.
Updated, 5:31 p.m.:
A summons has been issued for Gov. Rick Perry to appear for his arraignment in the 390th District Court at 9 a.m. Aug. 22 — though he doesn't have to appear in person.
The Texas Tribune thanks its sponsors. Become one.
Linda Estrada of the Travis County District Clerk's office confirmed that the summons had been issued late Friday. She said her office has been informed that a personal recognizance bond of $25,000 has been set for Perry. Now that the bond has been set, it clears the way for Perry's "walk-through," or booking, Estrada said. It is not clear when the governor will go to the Blackwell-Thurman Criminal Justice Center in Austin to be fingerprinted and have his mugshot taken.
The arraignment is a formal process in which the defendant is notified of the charges he or she faces. An attorney can waive a defendant's right to appear and attend in his or her place.
Perry is facing two counts related to his veto of public integrity unit funding after Travis County District Attorney Rosemary Lehmberg – whose office houses the integrity unit — declined to resign after her drunken driving conviction.
The arraignment is taking place in the 390th District Court of Travis County Judge Julie Kocurek. However, the presiding judge in the case is Senior Judge Robert C. "Bert" Richardson of Bexar County, who as a visiting judge can hear cases anywhere he's needed.
Richardson was assigned this case after all Travis County judges recused themselves in the Perry investigation.
Original story:
The Texas Tribune thanks its sponsors. Become one.
The special prosecutor who secured an indictment last week against Gov. Rick Perry said Monday that he's still discussing with defense attorneys about how and when Perry will be processed.
"There's some discussions with no date or time," said Michael McCrum, the San Antonio attorney appointed to be special prosecutor in the case.
Last Friday, grand jurors indicted Perry on two felony counts that accuse him of overstepping his authority with how he removed $7.5 million from the state's anti-corruption unit when Travis County District Attorney Rosemary Lehmberg — whose office houses the unit — refused to step down after a 2013 drunken driving arrest. Perry has denounced the indictment, saying they were without merit and that he was acting with his constitutional right as governor.
McCrum issued a summons, not an arrest warrant, for Perry to be processed. He said he does that in cases with an unlikelihood of a flight risk. But it's unclear whether Perry will have a mugshot and fingerprints taken.
Linda Estrada, with the Travis County district clerk's office, said any appearance by Perry at the Travis County Criminal Justice Center, where bookings typically take place, would not be happening Monday.
"All those decisions are going to be made by the judge," Estrada said.
Staffers with state District Judge Julie Kocurek's office could not be immediately reached.