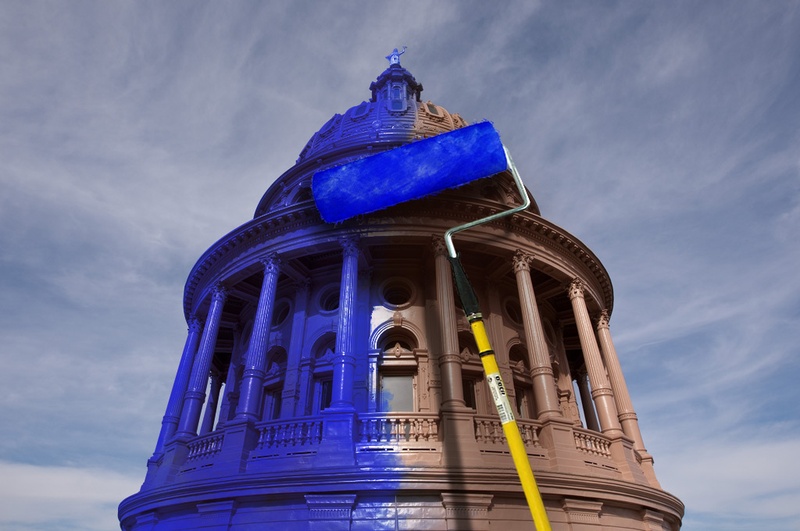 The Big Conversation
One of the most intractable questions in Texas politics in recent years is why the state hasn't moved blue despite drastic demographic changes. A new analysis from The New York Times sheds new light on why this is so.
The answer, in a nutshell, is that migration patterns are different in Texas than in other Southern states, such as Virginia, North Carolina or Florida, where a political shift in favor of Democrats is more pronounced. In those states, migration from the West Coast or the Northeast has eclipsed the number of people moving in from other Southern states. In Florida, for instance, the Times found that 26 percent of the population had moved from the West Coast or Northeast. Only 12 percent were from other Southern states.
In Texas, however, 8 percent of the population had moved from the West Coast or Northeast. That's less than the 10 percent who moved to Texas from another Southern state. As Nate Cohn writes:
There are certainly northeastern and West Coast expats in Texas: 1.6 million of them, in fact, including more than 600,000 from California. But although those numbers may seem impressive, they're relatively low compared to the state's population. The pace of migration is also low in comparison with the states along the Atlantic, which are proving to be more appealing destinations for coastal migrants. There are three times as many northeastern or Californian expats in Florida as there are in Texas; there are nearly as many in Virginia as there are in the far larger state of Texas.
So while domestic migration has driven demographic shifts in Virginia and Florida, immigration from abroad is the bigger factor in Texas. And as has often been noted, arrivals from other countries are less likely to be eligible to vote.
Cohn goes one step further in his analysis of Texas, noting that the relative lack of domestic migration from outside the South means that Texas' native-born population has a distinctly more Southern character than a fellow high-growth state like Florida.
The bottom line, according to Cohn is this: "Without additional gains among white voters, Democrats will be forced to wait a long time for the children of foreign-born residents to carry them to competitiveness in Texas, a state that Mr. Obama lost by 17 points in 2012, and where there isn't a flood of Democratic-leaning voters from New York to bail them out."
The Day Ahead
• The Senate Health and Human Services Committee meets at 9 a.m. in the Capitol Extension to check on initiatives to improve mental health and substance abuse services, take a further look at efforts to curb prescription drug abuse and further evaluate the Temporary Assistance for Needy Families (TANF) program. (agenda)
• The Secretary of State at 5:30 p.m. will canvass the vote in the Senate District 4 special runoff election won by Brandon Creighton.
Trib Must-Reads
Business Sees Pros of Lieutenant Governor Candidates, by Alexa Ura
Veterinary Medicine Lacks Hispanics in Texas, U.S., by Corrie MacLaggan
In Final Months, Cigarroa Rises to His Own Defense, by Reeve Hamilton
Van de Putte Calls for Subsidized Community College, by Alexa Ura
Elsewhere
The Clintons break bread and build ties with Julian Castro, stoking talk of a 2016 ticket, Washington Post
Is Perry going to run in 2016? Check his schedule, Houston Chronicle
Texas lieutenant governor candidates agree to debate date, Austin American-Statesman
Avoiding Medicaid expansion, lawmakers seek a 'Texas way', Austin American-Statesman
First wave of National Guard troops takes up posts along the Texas-Mexico border, The Associated Press
Judge rules against family in Eagle Ford air emissions case, San Antonio Express-News
STAAR scores, rating plunged at top elementary after Dallas ISD determined teachers had been cheating, The Dallas Morning News
Appeals court strikes down PAC waiting period, Houston Chronicle
Quote to Note
"It's a natural friendship waiting to bloom."
— Former Clinton Cabinet member Henry Cisneros on the Clintons' outreach to soon to be sworn-in Housing and Urban Development Secretary Julián Castro, who is being mentioned frequently for the vice presidential slot in 2016.
Today in TribTalk
Texas Democrats' unspoken predicament, by Jim Henson and Joshua Blank
Trib Events for the Calendar
• Health Care: What's Next?: Tribune CEO and Editor-in-Chief Evan Smith will lead a discussion with two of the Legislature's most respected thinkers on health care, state Reps. Garnet Coleman and John Zerwas, on Aug. 18 in Richardson. The event is free and open to the public, but an RSVP is required.
• The Texas Tribune Festival runs from Sept. 19-21 at the University of Texas at Austin.