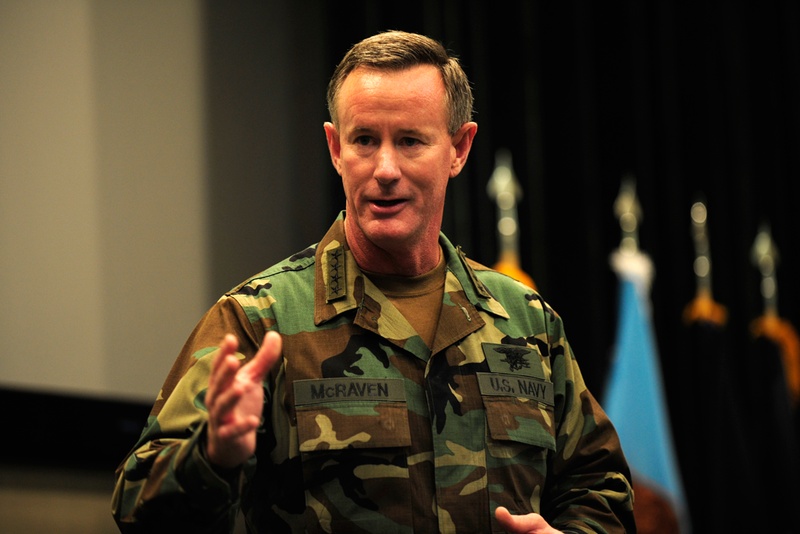 The Big Conversation
At a special University of Texas System regents meeting on Tuesday evening, they are expected to name a sole finalist for the system's next chancellor. And their choice is expected to be Admiral William H. McRaven, sources tell The Texas Tribune.
As the Tribune's Reeve Hamilton reports, the decision is expected to be made in a Tuesday evening teleconference of the system's board of regents. McRaven, the holder of a UT undergrad degree, "is a Navy Seal best known for coordinating the successful operation to kill Osama bin Laden. He is currently the commander of the U.S. Special Operations Command, which is headquartered in Florida."
Both he and Dallas Fed President Richard Fisher had been under consideration to succeed outgoing Chancellor Francisco Cigarroa. "Either McRaven or Fisher would be an unusual choice for the post, as neither is a product of state politics or academia, the typical backgrounds of the heads of university systems in Texas. Four of the six major Texas university system chancellors have a history in Texas politics," Hamilton wrote.
The Day Ahead
• State Rep. Charles Perry, R-Lubbock, will formally announce at a lunch hour event his candidacy for the state Senate seat vacated by Robert Duncan, who is now chancellor at Texas Tech University.
• The House select committee looking at the fiscal impact of the border surge meets at 10 a.m. in the Capitol Extension. (agenda)
• The House Criminal Jurisprudence Committee meets at 10 a.m. in Corpus Christi to address a handful of interim charges, including looking at the care of inmates with a mental health diagnosis. (agenda)
Trib Must-Reads
Congress Holds Hearing on Red River Fight, by Gilad Edelman
TSTC Launches Center for Employability Outcomes, by Reeve Hamilton
Castro Invites Perry to Discuss Border With Texas Reps, by Julián Aguilar
GOP Senate Nominees Speak Out Against Historical Racing, by Eli Okun
Elsewhere
Van de Putte proposes five debates in lieutenant governor's race, The Dallas Morning News
Choking child saved by Texas congressman on flight home, Houston Chronicle
10 active militia groups patrolling Texas-Mexico border, San Antonio Express-News
Deal Allots $17 Billion for Overhaul of V.A. Care, The New York Times
House GOP scales back border bill in scramble for conservative support, The Hill
Julián Castro celebrated as newest Latino Cabinet official, The Dallas Morning News
Delwin Jones enters Senate District 28 race, Plainview Daily Herald
Quote to Note
"Embrace the irony."
— Slogan of the recently created the Mayday PAC, a "super PAC" formed with the goal of diminishing the impact of big political donors.
Today in TribTalk
How to solve the Texas traffic problem, by Deirdre Delisi
Trib Events for the Calendar
• The Texas Tribune Festival runs from Sept. 19-21 at the University of Texas at Austin.
Bonus event! Skip the line and join us at legendary Franklin Barbecue for an intimate dinner and a lively discussion about the upcoming election with Chris Hayes of MSNBC. This event is not included in the regular Festival badge and requires an extra ticket. Barbecue and beer are included with the ticket price of $250.
Purchase your ticket when you register, but hurry as space is extremely limited. Tickets on sale now.
Disclosure: The University of Texas at Austin is a corporate sponsor of The Texas Tribune. A complete list of Texas Tribune donors and sponsors can be viewed here.