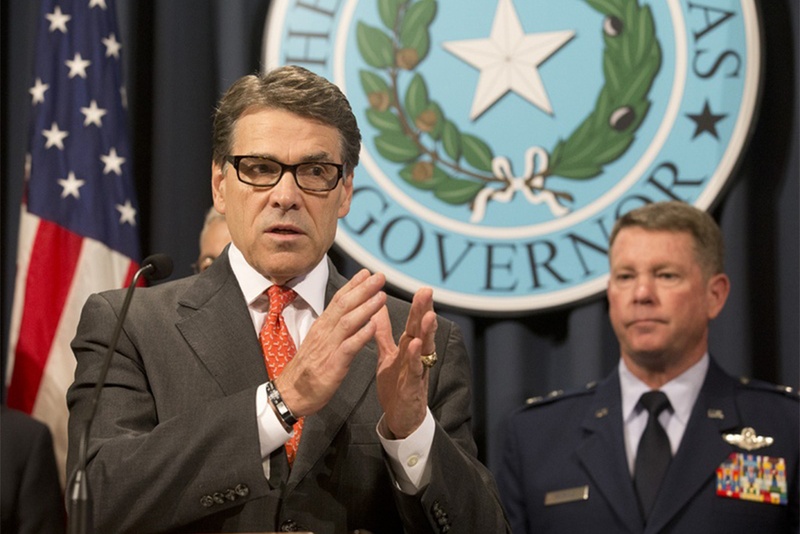 The Big Conversation
The words of the day on Monday were "force multiplier," as in what Gov. Rick Perry said the activation of up to 1,000 National Guard troops would do for the border surge effort already underway by the Department of Public Safety.
The Tribune's Jay Root reported:
"Adjutant General John Nichols, head of the Texas Military Forces, said he expected 1,000 troops to be mobilized within a month. The National Guard will also provide helicopters that will offer nighttime surveillance to law enforcement, he said. ... Nichols said most of the soldiers are trained in life-saving techniques and will be prepared to deal with unaccompanied minors from Central America. ... He said he expected to be in communication with law enforcement to help process the immigrants."
Reaction to Perry's announcement split predictably along party lines. The Houston Chronicle's Brian Rosenthal also reported that reaction from Rio Grande Valley officials amounted to a shrug of the shoulders.
"Cameron County Sheriff Omar Lucio said he has not noticed a crime increase in recent months and that National Guard troops do not have authority to arrest and question illegal immigrants," wrote Rosenthal. "'I really don't know what they're going to do,' Lucio said. 'The National Guard is trained in warfare. They're not trained in law enforcement. This is not a war. This is people asking for help.'"
The New York Times' Manny Fernandez and Michael D. Shear wrote that Perry had multiple intended audiences, including Iowa caucus voters.
"After 13 years as governor, Mr. Perry is contemplating another run for the presidency in 2016, and he has sought to raise his national profile. His weekend trip to Iowa, the site of the nation's first presidential contest, was his fourth in eight months. ... By seeking more military resources at the border, Mr. Perry may also be trying to repair his standing among some conservatives who had expressed doubts about his willingness to be tough on immigration."
The Day Ahead
• The Senate Higher Education Committee meets at 9 a.m. in the Capitol Extension. (agenda)
Trib Must-Reads
Farmers Insurance PAC Gives to Abbott Amid Lawsuit, by Edgar Walters
Video: Veterans Health Care Strike Force Taking Shape, by Alana Rocha and Justin Dehn
In Waco, Checking on Defendants' Claims of Poverty, by Gilad Edelman
Race for Railroad Commissioner Revives Overhaul Talk, by Jim Malewitz
Elsewhere
Davis and Abbott camps agree to terms for Valley debate, McAllen Monitor
Conservative activist hit with ethics fine, San Antonio Express-News
City Council set to select Castro replacement, San Antonio Express-News
In rare move, CPS sends migrant child, 7, back to homeland, Houston Chronicle
Herman: Rick Perry looking like a candidate again, Austin American-Statesman
How Texas Lawmakers Closed Abortion Clinics, Governing
Houston Chronicle announces relocation and renovation, Houston Chronicle
Quote to Note
"I will not stand idly by while our citizens are under assault and little children from Central America are detained in squalor. We are too good a country for that to occur."
— Gov. Rick Perry, explaining his decision to activate up to 1,000 National Guard troops to send to the Texas-Mexico border to back up personnel from the Department of Public Safety and other state police
Today in TribTalk
We can do better, Gov. Perry, by Beto O'Rourke
Trib Events for the Calendar
• The Texas Tribune Festival runs from Sept. 19-21 at the University of Texas at Austin. The next round of participants has now been announced, a list headed by Dan Patrick, state Rep. Sarah Davis and Houston ISD Superintendent Terry Grier. Act now!