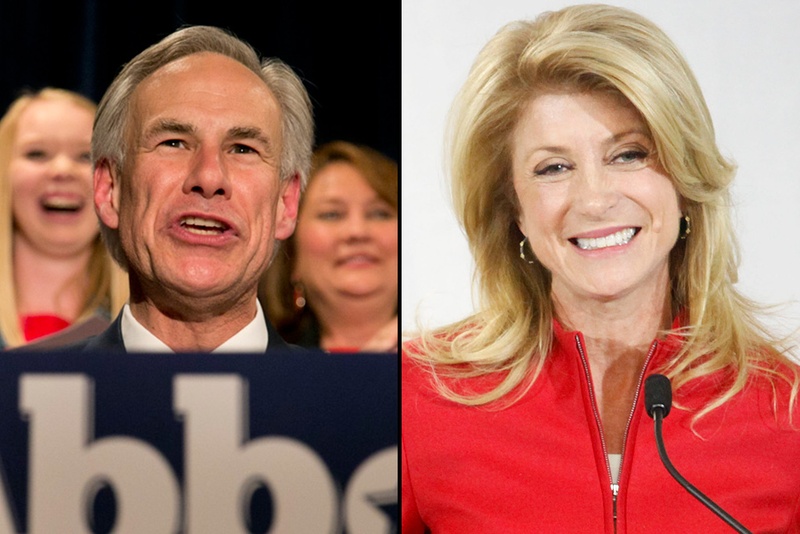 The Big Conversation
Greg Abbott's disclosure that he has close to $36 million banked as the campaign for governor starts to kick into high gear dominated a day where he and his Democratic rival Wendy Davis posted big fundraising numbers.
Abbott's totals were buoyed by at least 22 six-figure donations, reported the Tribune's Jay Root. The Abbott campaign was saying on Tuesday that no candidate for Texas governor ever had a campaign war chest this large. The Davis campaign, meanwhile, was touting its $13.1 million in cash on hand and the $27 million raised over the election cycle, the most by a Democratic gubernatorial candidate.
But it was the cash on hand disparity between the two candidates that led the coverage on Tuesday.
"The real story is the cash-on-hand gap between the two candidates," Rice University political scientist Mark Jones told the San Antonio Express-News. "Abbott, even if he were to not raise another dime during the second half of 2014, would still have enough money to run a very competitive campaign in the fall, whereas Davis does not have enough money to run a high-level campaign during the month of October."
The Tribune's Alexa Ura, meanwhile, reported that the two rivals for lieutenant governor — Republican Dan Patrick and Democrat Leticia Van de Putte — have "similar balances in their respective war chests, with Van de Putte reporting $1.1 million cash on hand while Patrick has $946,982 in the bank."
The Day Ahead
• Republican lieutenant governor candidate Dan Patrick addresses the 86th Annual FFA Texas State Convention in Fort Worth.
• The House Select Committee on Transparency in State Agency Operations meets at 9 a.m. in the John H. Reagan Building. (agenda)
• House Administration meets at 10 a.m. in the Capitol Extension. (agenda)
Trib Must-Reads
In DFW, Little Traction on Improving Air Quality, by Neena Satija
Fact Check: Greg Abbott at the State GOP Convention, by Edgar Walters
Fact Check: Wendy Davis at the Democratic Convention, by Edgar Walters
Charter Approval in Crosshairs at SBOE Meeting, by Morgan Smith
Transparency Committee to Question UT System Officials, by Reeve Hamilton
Elsewhere
Granger's border plan: National Guard, tweaks to 2008 trafficking law, The Dallas Morning News
Powers deal has not slowed regent impeachment proceedings, Houston Chronicle
UT can weigh race in admissions, court rules, Austin American-Statesman
Texas AG's office vows to fight Confederate flag license plate ruling, The Dallas Morning News
Immigration advocate released after detention at McAllen airport, San Antonio Express-News
Conservative groups: Slow state budget growth, Houston Chronicle
The Senator From San Antonio, Texas Monthly
Quote to Note
"We found out that the president and the first ladies of Guatemala and Honduras want their children back and they're willing to cooperate with us to send their children back as quickly as possible."
— U.S. Rep. Kay Granger, R-Fort Worth, on what she heard in meetings with Central American leaders over the weekend
Today in TribTalk
No end to crisis means Texas must act alone, by Matt Krause
Trib Events for the Calendar
• The Texas Tribune Festival runs from Sept. 19-21 at the University of Texas at Austin. The next round of participants has now been announced, a list headed by Wendy Davis, Rick Perry, John Cornyn and Atlanta, Ga., Mayor Kasim Reed. Act now!