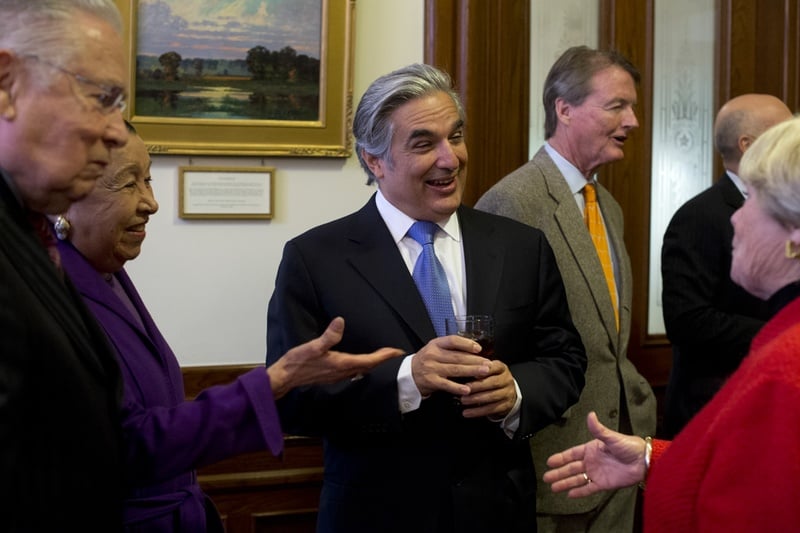 The Big Conversation
The fate of University of Texas at Austin President Bill Powers continued to draw the attention of lawmakers on Monday while a new statement from UT System Chancellor Francisco Cigarroa made explicit the breakdown in the working relationship between the two men.
The Tribune's Reeve Hamilton reported that Cigarroa said that his call for Powers to resign in October was due to "a breakdown of communication, collegiality, trust and a willingness to work together for the good of the university." As has been previously reported, Powers countered the call for his resignation later this year with a proposal to allow him stay on through next year's legislative session.
Hamilton reported that alternative now has the backing of Lt. Gov. David Dewhurst. "Let Bill Powers leave when he wants to on May 30 with his head held high," Dewhurst said. "He deserves it. And if the UT regents don't permit him, they will make it near impossible to replace Powers with a world-class president."
Other lawmakers coming to Powers' defense on Monday included two state representatives from San Antonio — Trey Martinez Fischer and Lyle Larson — who also sit on the House panel weighing articles of impeachment against UT System Regent Wallace Hall.
The Houston Chronicle's Benjamin Wermund and Lauren McGaughy wrote that the increasingly personal conflict has gotten the attention of the larger higher education community. "Caught in the cross-hairs of the ongoing drama is the reputation of the state's premier research university," they wrote. "National experts said they were baffled that Powers — who has kept costs at the flagship campus low compared to peer institutions and has maintained broad support from faculty, students and alumni — still faces the possible loss of his job."
The Day Ahead
• Democratic gubernatorial candidate Wendy Davis is in Fort Worth and Waco, the first stops in a seven-city tour intended to keep the spotlight on Greg Abbott, her GOP rival, and his ruling that state agencies aren't obligated to reveal information on potentially dangerous chemicals.
Trib Must-Reads
Despite Success, Some Shortcomings in Texas Higher Ed, by Reeve Hamilton
Timeline: A History of Lethal Drug Use in Texas, by Terri Langford, Alex Duner and Jessica Hamel
In Border Crisis, Perry Finds a Political Advantage, by Ross Ramsey
Elsewhere
Anti-government citizen militia groups want to 'secure the border' in Texas, San Antonio Express-News
Rick Perry Wants Meeting With Obama, Not Handshake, Wall Street Journal
Dallas to get the word Tuesday on GOP's plans for 2016, The Dallas Morning News
In deep South Texas, a daily tide of poor migrants, The Associated Press
Fostering Neglect, Texas Observer
Coalition Prods Congress on Transportation Fund, The New York Times
Evangelicals Are Changing Their Minds on Gay Marriage, Politico
Quote to Note
"I'm to be cremated and the ashes are to be thrown into Rick Perry's hair. Yeah, I'm done. I'm not whining. I'm liberated."
— Humorist and occasional candidate for office Kinky Friedman, declaring his political career over
Today in TribTalk
Powers must go, by Charles Miller
Let Powers stay, by John Curtiss
Trib Events for the Calendar
• The Texas Tribune Festival runs from Sept. 19-21 at the University of Texas at Austin. The next round of participants has now been announced, a list headed by Wendy Davis, Rick Perry, John Cornyn and Atlanta, Ga., Mayor Kasim Reed. Also, you have just until Thursday to lock in the early bird price of $150 — that's 50 percent off the walk-up rate rate. And as a reminder, students and educators get in for $50. So act now!