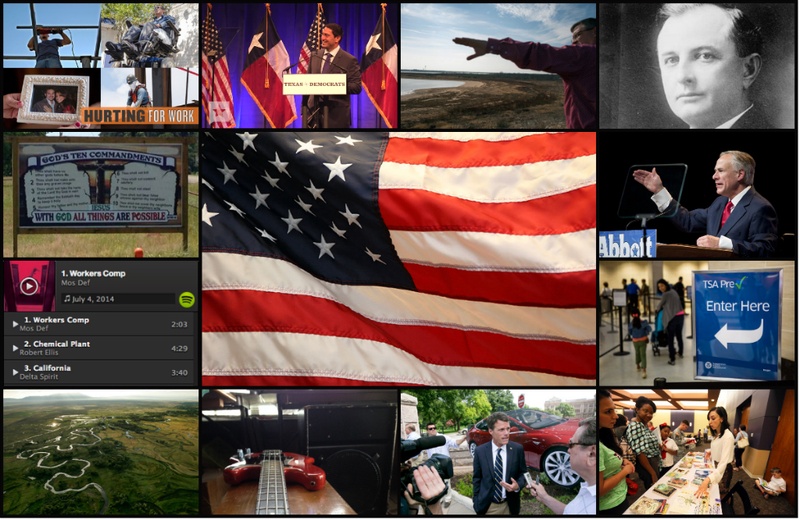 In a four-part series, the Tribune took an in-depth look at the workers' compensation system in Texas, so we lead off our playlist of songs inspired by the week's news with Mos Def's "Workers Comp."
The easiest way to enjoy the playlist is to download Spotify, which is a free program. But even without it, you can still follow along. Here are the other selections for the week:
Greg Abbott, the Republican attorney general and gubernatorial nominee, made news by suggesting that Texans could drive around and ask if potentially dangerous chemicals are being stored at nearby facilities, which brought to mind "Chemical Plant" by Robert Ellis.
Next up is Delta Spirit's "California," because a state senator from the Sunshine State, stealing a page from the Rick Perry playbook, traveled to Texas this week with an intent to — as he put it — "capture jobs." And then we offer "The Sign" by Ace of Base, since the Texas Department of Transportation proposed changes to a potentially unconstitutional rule that prohibits some people from expressing themselves through signs on their property.
The Texas Tribune thanks its sponsors. Become one.
The City of Wichita Falls, in an effort to hold onto what water is left in its reservoirs, may mix in an "evaporation suppressant" chemical, so we added Charlie Robison's "Something In The Water" to the playlist. The Transportation Security Administration is working to bring its PreCheck program to Central Texas, so we included "Airport Security" by The Bouncing Souls.
That's followed by Gregory Isaac's "Objection Overruled," which is a nod to the Arizona-based charter school's proposed expansion into the Dallas area, which was initially denied by the State Board of Education but is being allowed to proceed by Texas Education Commissioner Michael Williams.

Comments from state Rep. Trey Martinez Fischer, D-San Antonio, about "gringos" prompted questions about his party's relationship with the state's white voter population, and inspired the selection of Robert Earl Keen's "Gringo Honeymoon." In piece for the Trib, Nicole Shealy looked at the similarities between the state's first impeachment and a current impeachment effort, and so we have "This Has Happened Before" by Roseanne Cash.
And finally, in light of a journey that will take reporter Colin McDonald and photojournalist Erich Schlegel along the entire length of the Rio Grande, we close with Johnny Rodriguez singing — what else? — "Down On The Rio Grande."
Enjoy!