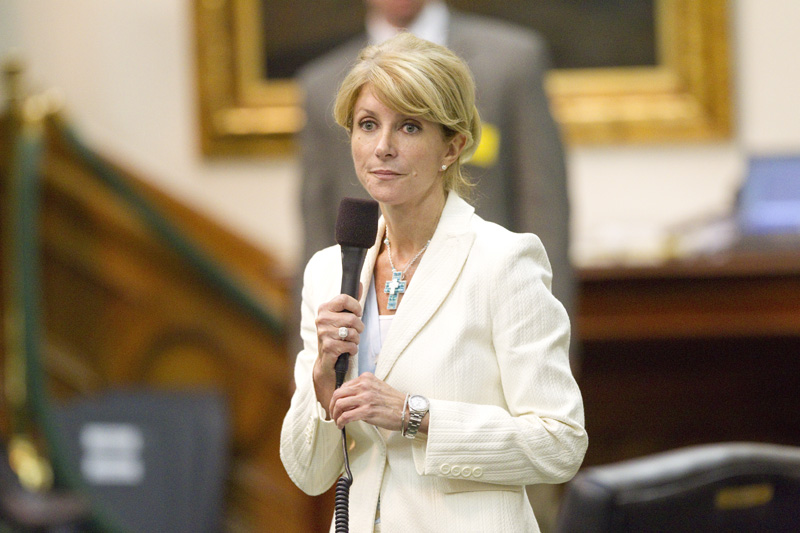 The Big Conversation
In positioning themselves as the party of contrast to Republicans who hold the levers of power in Texas, Democrats are making a conscious bid to appeal to women voters as they kick off their state convention this weekend.
The messaging begins at the top of the ticket where the nominees for governor and lieutenant governor — Wendy Davis and Leticia Van de Putte — were at the forefront of ultimately unsuccessful efforts last summer to stop Republicans from passing legislation imposing tighter abortion restrictions. But abortion is just one of the issues on which contrasts are being drawn.
"Democrats updating their party platform will draw a contrast to the GOP document that includes a hard line on immigration and an embrace of therapy to make gay people straight," wrote Peggy Fikac of the San Antonio Express-News and Mike Ward of the Houston Chronicle. "Democrats also are emphasizing the need to invest in education, as Abbott defends the current public education finance system. And Democrats are pushing their support for more equal pay protections, which Abbott says are unnecessary.
"They hope their message will lure the additional women voters they need to have a prayer of winning their uphill battle in Texas, where their candidates trail in the polls and a Democrat hasn't won statewide elected office in two decades."
Republicans, of course, aren't buying the argument. Republican Party of Texas Chairman Steve Munisteri said the bigger factor is whether the candidate fits better with the predominant views in the state. "It's not about trying to find a candidate that fits in a demographic or gender box," he said. "You want to find a candidate that fits in the ideological box of the state."
The Day Ahead
• The Texas Democratic Party state convention continues in Dallas. Keynote speeches are on the schedule for this evening, culminating in addresses by the women at the top of the Democratic ticket this year — lieutenant governor candidate Leticia Van de Putte and governor candidate Wendy Davis. We will livestream the proceedings.
Trib Must-Reads
Political Landscape Shifts as Hall Inquiry Continues, by Reeve Hamilton
Volunteers Provide Care, Shelter to Incoming Immigrants, by Julián Aguilar
Analysis: Finding Property Tax Cuts That Taxpayers Feel, by Ross Ramsey
Elsewhere
Abbott fires first salvo in ad war with $10M buy, San Antonio Express-News
Obama names three Texas judges in apparent deal with Cornyn and Cruz, The Dallas Morning News
Abbott latest to announce Valley visit, McAllen Monitor
Candidates talk school choice, testing at Fort Worth convention, Fort Worth Star-Telegram
Garcia: Bexar Dem chair paid $452,000 by Alameel primary campaign, San Antonio Express-News
Former Rep. Terri Hodge on ballot again after year in prison, The Dallas Morning News
Karl Rove and the Modern Money Machine, Politico
Quote to Note
"They're both being creamed in the polls. It's not because they're women. It's because they're liberal women.
— Republican Party of Texas Chairman Steve Munisteri on Wendy Davis and Leticia Van de Putte, the women at the top of this year's Democratic ticket.
Today in TribTalk
On immigration, polling defies assumptions, by Jim Henson and Joshua Blank
News From Home
Beginning Sunday, The Texas Tribune is launching "Hurting for Work," a four-day investigative series examining what happens when Texas workers get hurt or killed on the job. The stories reveal how disdain for government regulation in Texas sparked a "miracle" economy while tearing down protections for the workers who built it.
Trib Events for the Calendar
• The Texas Tribune Festival runs from Sept. 19-21 at the University of Texas at Austin. Tickets are on sale now.