"Bernie" Victim's Family Files Objection to His Release from Prison
The family of the widow whose murder was the focus of the 2011 film "Bernie" objects to the court's decision to free the man who killed her, and wants the court to hear their case.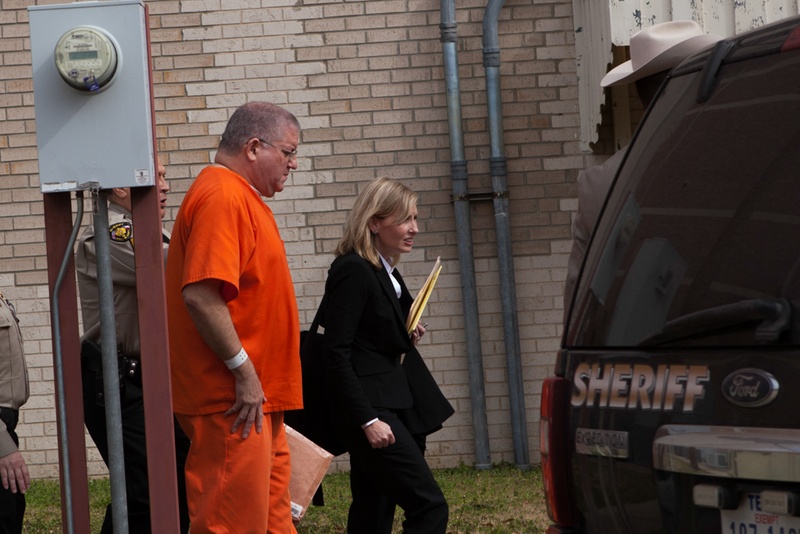 The Texas Tribune thanks its sponsors.
Updated, 5 p.m., June 25:
The family of Marjorie Nugent filed an amicus brief with the Texas Court of Criminal Appeals on Tuesday afternoon protesting the early release of Nugent's killer, Bernie Tiede.
Tiede, whose crime and conviction were the subject of the 2011 film "Bernie," was released last month, 17 years into a life sentence, after his defense team uncovered evidence that he was sexually abused as a teenager. The Nugent family's amicus brief argues that because Tiede knew about his own abuse at the time of his trial, the evidence isn't "new" and shouldn't be used to reduce Tiede's sentence.
Original story, June 18:
The Texas Tribune thanks its sponsors. Become one.
The family of Marjorie Nugent — the widow whose murder was the focus of the 2011 film "Bernie" — filed a petition with the state's highest criminal court on Wednesday asking to submit a brief opposing the release of the man who killed her.
Last month, a state district judge freed Bernie Tiede, who had served 17 years of a life sentence for murdering Nugent in 1996. Tiede's lawyers discovered new evidence that he had been sexually abused as a young man. Psychiatrists hired by his defense team and by the office of Panola County District Attorney Danny Buck Davidson agreed that the psychological damage of the abuse lessened Tiede's culpability for the crime. Davidson, who prosecuted Tiede in 1999, agreed that he should be released.
The petition filed by the Nugents objects to the decision to free Tiede and argues that Davidson failed to notify them about the court hearing to determine whether he would be released, preventing them from expressing their opposition.
"At minimum, the Court should have the benefit of hearing both sides of the argument," the Nugent petition says. "No one can be harmed by permitting the presentation of countervailing arguments."
Niether Davidson nor Tiede's lawyer could be immediately reached for comment.
Tiede was released on bond last month under strict conditions, including that he live with Richard Linklater, the director who made the dark comedy about the bizarre murder case. The court of criminal appeals must still approve a reduced sentence for Tiede.
The Texas Tribune thanks its sponsors. Become one.
Disclosure: Richard Linklater is a major donor to The Texas Tribune. A complete list of Texas Tribune donors and sponsors can be viewed here.
Meet Paige: Our new Facebook Messenger bot helps you keep track of the 85th Legislature. Subscribe by messaging HELLO to m.me/texastribune.org. Learn more.