Further Tensions at UT System Revealed in Internal Emails
For months, UT Regent Wallace Hall has been trying to have a private meeting with Kedra Ishop, the director of admissions at UT-Austin. The strife it has caused is the latest dispute involving Hall, UT-Austin and system leaders.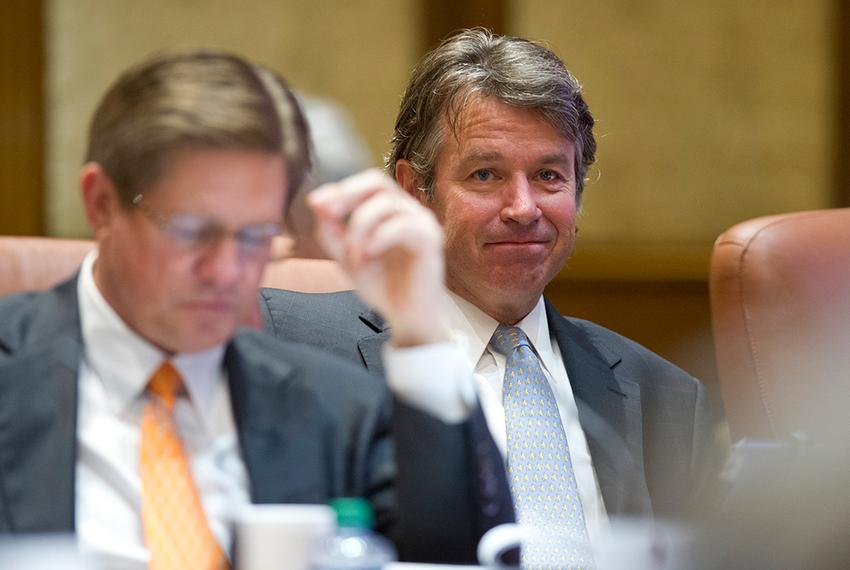 For months, University of Texas System Regent Wallace Hall has been trying to have as private a meeting as possible with Kedra Ishop, the vice provost and director of admissions at the University of Texas at Austin. The strife it has caused is just the latest in a series of disputes involving Hall, UT-Austin and system leaders.
The meeting spat, captured in emails obtained by The Texas Tribune through an open records request, provides insight into the disagreements that have exacerbated tension between Hall and UT in recent years. Those disagreements have grown increasingly public, in large part due to a legislative investigation of Hall.
For some, this particular squabble is illustrative of the UT-Austin administration's perennial stubbornness — what former UT Board Chairman Charles Miller recently described in an email to current chairman Paul Foster as "the serious difficulties that have existed continuously for a long time between the leadership at UT-Austin and the chancellors, the system staff, the various board members and chairs."
For others, including those who have called for Hall's resignation, it serves as yet another example of behavior that Texas Coalition for Excellence in Higher Education spokeswoman Jenifer Sarver called "totally bizarre."
Ishop reports to the provost at UT-Austin. As a UT System regent, Hall and his board colleagues are essentially four degrees up from Ishop in the chain of command. But Hall has been unable to schedule a meeting with Ishop, which he initially attempted to do in March, largely because of repeated objections from others in the chain of command to Hall's insistence that no other university officials be allowed in the meeting.
"This is obviously a highly charged issue," UT-Austin spokesman Gary Susswein said Wednesday. "It would be unfair and unusual to insert a valued employee in the middle of it without her supervisor."
Hall declined to comment on his meeting request.
A legislative committee has been investigating Hall for the better part of the last year following allegations from some lawmakers that he has been on a "witch hunt" to oust UT-Austin President Bill Powers. The lawmakers recently approved a motion saying that grounds to impeach Hall exist; they are currently in the process of drafting articles of impeachment, which could be sent to the full House for consideration.
Hall and his supporters have steadfastly argued that he has done nothing inappropriate, and has instead been fulfilling his oversight role as a regent by uncovering questionable activity at the university. The allegations he has leveled at UT-Austin by way of his attorneys include "secret favoritism" in the admissions process for some students who were recommended by certain lawmakers.
Because of Hall's concerns, the system's interim general counsel, Dan Sharphorn, and Wanda Mercer, the associate vice chancellor for student affairs, conducted an inquiry into admissions at UT-Austin, the results of which were presented to the board in May.
The admissions inquiry determined that there was not systematic favoritism for candidates on whose behalf lawmakers had sent letters of recommendation to the president. However, it also found that such students were admitted at a higher rate than the overall acceptance rate, which raised enough concern for UT System Chancellor Francisco Cigarroa to announce a review and revision of admissions practices at all of the system's campuses.
In May, though the system's inquiry had already been conducted, Hall decided to personally dig deeper into the matter. He renewed his attempt to schedule a meeting with Ishop. Hall told the chancellor, who had suggested that several system and university officials be present, that he wanted to meet only with Ishop and one system representative, preferably a member of the board general counsel's team.
"You and Chairman Foster may have differing opinions on who you believe I need present at this meeting to fulfill my duties as a regent, for which I am most grateful, but nevertheless this is my request," Hall wrote on May 23.
Cigarroa responded in a May 26 email, proposing there be further UT-Austin representation at such a meeting. "If I deny the opportunity for Dr. Ishop to have a representative with her such as the provost, and the meeting is then a meeting with only you and an attorney from the Office of the Board of Regents or UT System," Cigarroa wrote, "then it appears (right or wrong) that the meeting is for the purpose of an interrogation of an employee. This is turn can be perceived (right or wrong) as a regent embarking upon an inquiry or investigation."
Hall was not persuaded by Cigarroa's argument. He responded to the chancellor that they would have to "agree to disagree on the best path forward."
Hall also pointed to two sections of the Regents' Rules, the code by which the board is run. The first says that regents are responsible for being knowledgeable about the operations of each institution, and that each regent may inform him or herself "in such a manner as they each deem proper." The second says that regents "are to be provided access to such personnel as in their judgments will enable them to fulfill their duties and responsibilities as regents of the UT System."
"I do believe the Rules & Regulations support both the purpose and appropriateness of my request," Hall wrote. "And although I have made multiple requests to schedule this meeting, I do unfortunately continue to face obstacles evidenced by the lack of a scheduled meeting."
Three days later, Cigarroa wrote to Powers with a proposal that the president provide a list of experts whom Hall could meet with individually in addition to meeting with Ishop to provide a broader sense of the university's admissions policies.
"I respect Regent Hall's position that he would like to visit with these experts individually as it is within his right as a regent," Cigarroa wrote to Powers. "I cannot deny this right to a regent as it is within our Regents Rules."
Cigarroa noted that Hall had consented to allowing Pedro Reyes, the system's executive vice chancellor of academic affairs, to attend the meeting so that an academic officer would be present in addition to a system attorney. Cigarroa also thanked Powers for his "cooperation and professionalism" in discussing the matter.
Susswein told the Tribune on Wednesday that UT-Austin had balked at the individual meeting with Hall in part because of a lack of clarity over how it related to the system's recently completed inquiry into the admissions process.
"The nine-month review that found no evidence of wrongdoing required large amounts of time, energy and effort from our staff members," he said, "so we want to be sure that any additional investigations are done properly, appropriately and in compliance with all regents rules."
Hall still has yet to get his meeting. On Wednesday, a spokeswoman for the UT System said that after further discussion, Hall had decided not to pursue the meeting "at this time." In the meantime, the legislative committee plans to meet again in early July to further discuss articles of impeachment against Hall.
Disclosure: The University of Texas at Austin is a corporate sponsor of The Texas Tribune. Paul Foster is a major donor to the Tribune. A complete list of Texas Tribune donors and sponsors can be viewed here.
---
Information about the authors
Quality journalism doesn't come free
Perhaps it goes without saying — but producing quality journalism isn't cheap. At a time when newsroom resources and revenue across the country are declining, The Texas Tribune remains committed to sustaining our mission: creating a more engaged and informed Texas with every story we cover, every event we convene and every newsletter we send. As a nonprofit newsroom, we rely on members to help keep our stories free and our events open to the public. Do you value our journalism? Show us with your support.
Yes, I'll donate today