USCIS Announces Instructions for Deferred Action Renewals
UPDATED: Two years after President Obama announced his executive decision on deferred action, benficiaries are nothing the anniversary with gratitude and trepidation. And they now have instructions on renewing their status.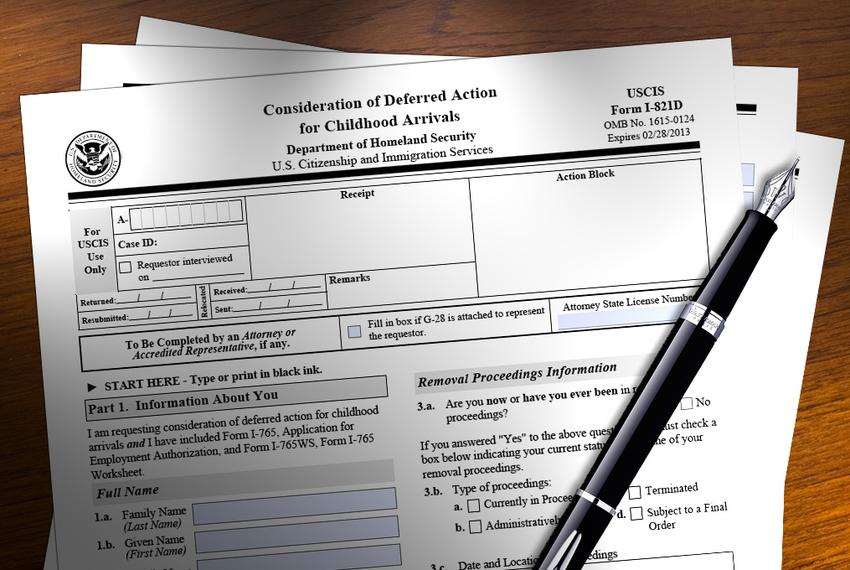 Updated, June 5:
U.S. Citizenship and Immigration Services on Thursday released official instructions on how to renew the two-year deferred action status for the estimated 560,000 undocumented immigrants enrolled in the program.
Deferred Action for Childhood Arrivals, or DACA, grants qualified applicants a two-year reprieve from deportation proceedings and a work permit. With immigration reform stuck in partisan gridlock in Congress, DACA renewal is the best chance that qualified applicants — including more than 88,000 in Texas — have at avoiding deportation, provided they have lived in the country since 2007 and have stayed out of trouble.
"Despite the acrimony and partisanship that now exists in Washington, almost all of us agree that a child who crossed our border illegally with a parent, or in search of a parent or a better life, was not making an adult choice to break our laws, and should be treated differently than adult law-breakers," Department of Homeland Security Secretary Jeh Johnson said in a statement. "By the renewal of DACA, we act in accord with our values and the code of this great Nation. But, the larger task of comprehensive immigration reform still lies ahead."
Johnson recommended that DACA holders file for their renewal four months before their current status expires. For some, that deadline is as early as September. Applicants must pay a $465 fee, submit fingerprint records and undergo a background check.
Original story, June 4:
Two years after President Obama's executive decision to allow thousands of qualifying undocumented immigrants to get relief from deportation proceedings, recipients of deferred action — many of whom live in Texas — are marking the anniversary of the announcement with both gratitude and trepidation.
They are thankful for the opportunity to come out of the shadows — even temporarily — in the country they have called home for most of their lives. But many face uncertainty as critics continue to question deferred action amid stalled progress in the broader immigration reform debate.
Deferred Action for Childhood Arrivals, or DACA, allows successful applicants a two-year reprieve from deportation proceedings and a work permit. Undocumented immigrants who have lived in the country for at least five straight years, are in school or have graduated from high school or have obtained a GED, or are honorably discharged from the military may apply.
Texas is second to California in the number of deferred action applications, according to U.S. Citizenship and Immigration Services. As of April, about 105,260 applications had been accepted in Texas, and about 88,100 had been approved. (California had 183,500 and 162,000, respectively.)
Those who submitted applications in 2012 had hoped that they would need only one two-year permit to live here without the looming threat of deportation. Immigration reform, advocates had hoped, was poised to pass in the upcoming months. But an omnibus U.S. Senate bill that passed that chamber in June 2013 has since stalled in the House, and hopes for immigration reform before this year's general election are fading. The initial two-year permits will begin expiring this summer.
Not only are deferred action recipients concerned about the legislative stalemate, Austin-based immigration attorney Jackie Watson said, but they also worry about what happens after the 2016 presidential election.
"The ones I actually talk to, they are not hopeful at [about reform]; it's so sad," she said. "And if anything, they have a lot of trepidation about what's going to happen after Obama" leaves office.
House Republicans have been critical of the Obama administration's immigration policies, saying he has selectively enforced only some laws on the books, which has created a magnet for increased illegal migration.
Last month, U.S. Rep. Steve King, R-Iowa, filed a measure that would require the Department of Justice to investigate the president's immigration policies, including deferred action. And this week, when responding to the administration's creation of a multiagency task force to deal with the record-breaking number of unaccompanied children crossing the Rio Grande, House Judiciary Chairman Bob Goodlatte, R-Va., said DACA was partially to blame.
"Many of the Obama Administration's policies, such as Deferred Action for Childhood Arrivals (DACA), … have led to a surge of minors arriving at the U.S.-Mexico border," a statement from Goodlatte's office said.
Despite the uncertainty, Watson said she expects that a steady flow of undocumented immigrants would seek to renew their deferred action status, joined by more first-time applicants.
"I've gotten a few people that have just turned of age that are eligible to apply. So eligibility wasn't just stagnant, like this group of people and that's all that will ever be able to apply," she said. "As they turn 15 … they are eligible."
Current DACA beneficiaries are also moving forward, regardless of what the future holds.
Javier Huamani, 22, came to the U.S. from Peru in 2000 with his family on a visa that eventually expired. He has since graduated from the University of Texas at Austin with a mechanical engineering degree and has a job waiting for him. Were it not for DACA, he said, he would probably be without employment and possibly face the threat of deportation. It's not comprehensive reform, he said, but it's better than nothing at all.
"I also know that DACA does not have a pathway to citizenship and it also has to be renewed every two years, so it's not a permanent thing. It's at least a first step," he said.
Huamani, who was the treasurer for UT-Austin's University Leadership Initiative, a student group that advocates for immigration reform, said he's taking what he's learned and letting others know what to expect through what the group calls "Life After DACA" clinics. Key to success, he said, is applying for a Social Security number to work. That process is separate from the DACA application, but many people aren't aware of it.
"Last summer when I had my first internship after DACA, the company that I worked for almost fired me because they thought that my Social Security number was not legitimate," he said. "I had to explain to them that I had DACA, and they understood."
Huamani is also trying to calm nerves. The USCIS, he said, has yet to release details about DACA renewals, which has many recipients fearing the agency has pulled the plug on the program.
"The application should be coming out soon, but obviously that information is not known by everybody, so that's where a lot of confusion occurs," he said.
William Wright, a USCIS public affairs officer, told The Texas Tribune that information on renewals would be available soon.
Watson said she isn't surprised the agency has yet to release details.
"I have no doubt that it's going to happen and they'll get it done," she said. "They did the same thing with — now this is on a larger scale, granted — but with the Syrian [Temporary Protective Status] renewals. They waited until the last minute and said, 'We will get them done on time' … and they did."
Disclosure: The University of Texas at Austin is a corporate sponsor of The Texas Tribune. A complete list of Texas Tribune donors and sponsors can be viewed here.
Quality journalism doesn't come free
Perhaps it goes without saying — but producing quality journalism isn't cheap. At a time when newsroom resources and revenue across the country are declining, The Texas Tribune remains committed to sustaining our mission: creating a more engaged and informed Texas with every story we cover, every event we convene and every newsletter we send. As a nonprofit newsroom, we rely on members to help keep our stories free and our events open to the public. Do you value our journalism? Show us with your support.
Yes, I'll donate today
---
Information about the authors