The Brief: NRA — We Don't Need to Be Victims of Friendly Fire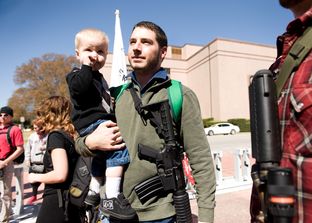 The Big Conversation
As some open-carry activists look to take their long-gun-brandishing demonstrations outside the state GOP convention in Fort Worth, the movement's efforts are catching criticism from a pair of unlikely sources — the nation's largest gun-rights group and a state legislator who has pushed open-carry legislation.
The National Rifle Association provoked headlines Monday after its lobbying arm, the Institute for Legislative Action, posted on Friday an item on its website taking to task the Texas open-carry activists for hurting the cause of gun rights through their demonstrations, which have involved, among other things, toting long guns into chain restaurants like Chipotle and Chili's.
"Using guns merely to draw attention to yourself in public not only defies common sense, it shows a lack of consideration and manners," the NRA wrote. "That's not the Texas way. And that's certainly not the NRA way."
Meanwhile, state Rep. George Lavender, R-Texarkana, was joined on Monday by Land Commissioner Jerry Patterson in saying that future activity by open-carry demonstrators could hurt the chances of open-carry legislation next legislative session. "I have told the groups that I have talked to not to do this right now. This could be harmful in getting it passed," Lavender told the San Antonio Express-News' David Saleh Rauf and Lauren McGaughy.
Meanwhile, Republican Party of Texas Chairman Steve Munisteri clarified that open-carry demonstrators would not be able to bring their weapons inside the convention center during his party's state convention later this week. The Fort Worth Star-Telegram's Anna Tinsley reported that Munisteri issued a statement saying that "anyone carrying an openly exposed weapon will be asked to do so outside of the building."
Tinsley added that some open-carry supporters still intend to try to bring black powder guns inside, claiming that they are not considered firearms under Texas law.
The Day Ahead
• The Senate Jurisprudence Committee meets at 10 a.m. in the Betty King Committee Room to get an update on implementation of SB 393, which was passed to end the use of tickets to punish misbehavior at schools. (agenda)
Today in the Trib
Texas Students Receive Fewer Disciplinary Tickets: "New court data show that the number of tickets written by public school police officers for student misbehavior has fallen 71 percent since new laws designed to reduce the procedure went into effect late last year."
Uncertain Future at Institutions for Disabled Texans: "A recommendation from the state's Sunset Advisory Commission to shutter six of Texas' 13 state-supported living centers has reopened a giant divide in the disability community that had seemed to narrow in recent years."
What Planned Carbon Regulations Mean For Texas: "On Monday, President Obama announced a plan for sweeping climate regulations that would dramatically slash carbon emissions from power plants. Here's a look at how the rules — which are sure to be challenged — would impact Texas."
Must-Read
State seeks to remove judge in school finance case, The Dallas Morning News
Keller trustee says her anti-Muslim comments were 'stupid', Fort Worth Star-Telegram
Chasnoff: Right-wing conservatives take aim at Castro, San Antonio Express-News
Rand Paul headed to Texas, The Hill
Taking Page From Health Care Act, Obama Climate Plan Relies on States, The New York Times
With new rules from EPA, Texas considers fate of energy industry, Austin American-Statesman
War Without End, Texas Monthly
Quote to Note
"Let's not mince words, not only is it rare, it's downright weird and certainly not a practical way to go normally about your business while being prepared to defend yourself. ... It makes folks who might normally be perfectly open-minded about firearms feel uncomfortable and question the motives of pro-gun advocates."
— From the statement on the website of the NRA's Institute for Legislative Action critical of open-carry activists in Texas
Today in TribTalk
What real budget transparency looks like, by Chuck DeVore: "The Texas Public Policy Foundation has spent time deciphering Texas' arcane budget, creating a decade's worth of apples-to-apples budget comparisons to produce a publication that details Texas' true state budget history since 2004."
EPA plan is a win for Texas, by Jim Marston: "The announcement on Monday of the Environmental Protection Agency's plan to curb carbon pollution from existing power plants couldn't have come fast enough."
Trib Events for the Calendar
• The Texas Tribune Festival runs from Sept. 19-21 at the University of Texas at Austin. Tickets are on sale now.