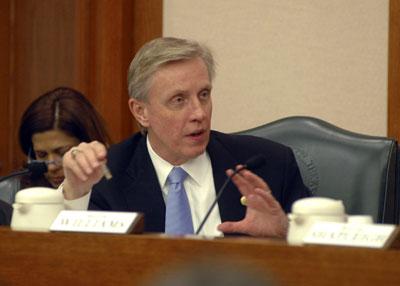 Editor's note: This story has been updated throughout.
State Sen. Bob Deuell, R-Greenville, who lost his Republican primary runoff by 300 votes to Tea Party candidate Bob Hall, announced Friday morning that he would not seek a recount.
"After carefully studying the 36,000 ballots cast across the nine counties of our district, we concluded the election was well conducted and there is no need for a recount," Deuell said in a statement.
Deuell has represented Senate District 2 in northeast Texas since winning election to the seat in 2002. During this year's campaign, he was targeted in a radio ad aired by Texas Right to Life for his involvement in the ultimately unsuccessful end-of-life legislation.
The Texas Tribune thanks its sponsors. Become one.
Tuesday's SD-2 runoff drew 36,160 votes. More than 49,000 voted in the March 4 primary for SD-2, in which Deuell won just over 48 perecent of the vote.
Deuell said that in the remaining seven months of his term as chairman of the Economic Development Committee, he would help with state infrastructure projects and campaign to pass a constitutional amendment on using money from the Rainy Day Fund to help with transportation funding. That amendment will be up to voters in November.
Hall, a retired businessman, will face Libertarian candidate Don Bates in the general election.