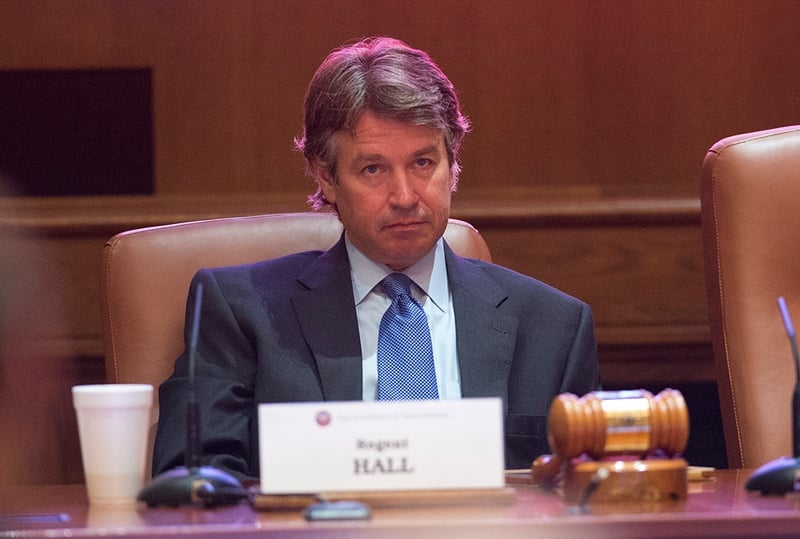 The Big Conversation
A lawmaker involved in the House's investigation of UT System Regent Wallace Hall said the process of drafting articles of impeachment could take months. Also, Gov. Rick Perry gave his most forceful defense to date of his appointee to the university system's governing board.
Those were the highlights Wednesday from the seemingly never-ending tug-of-war over Hall's future with the regents.
As Ralph K.M. Haurwitz of the Austin American-Statesman noted, Perry's decision to defend Hall ("Texans should be outraged by his treatment") also set him at odds with the system's chairman of the board of regents, Paul Foster, who also happens to be a Perry appointee and donor. Foster last week publicly called on Hall to resign, something that Hall refused to do.
The House panel investigating Hall started work behind closed doors on articles of impeachment but canceled a meeting scheduled for today. Their next meeting is July 7. Panel co-chair Carol Alvarado, D-Houston, said, "It's a real lengthy process. ... We're looking at a couple of months"
The Day Ahead
• GOP gubernatorial candidate Greg Abbott is in Wichita Falls to speak at the Wichita County Republican Women luncheon.
Today in the Trib
Indigenous Texans Want UN Support Against Border Fence: "A Native American tribe has added a new layer to the border wall debate. Lipan Apaches allege the fence discriminates against them because they've been forced to give up some tribal land to accommodate it."
State Could Employ Task Force To Help Reduce Veterans' Wait Times: "More attention is being paid to the quality of care at VA medical centers in Texas with lawmakers calling for action at the state level to address the wait times at the facilities by creating an oversight team to serve as an independent watchdog for veterans."
In Ag Race, Focus Not On The Farm: "Farmers and ranchers in Texas are in trouble, according to recently-released data, but the candidates for Texas agriculture commissioner are talking more about conservative credentials and pot than farming woes."
Female Lawyers in TX AG's Office See Bigger Pay Gap Than in California: "A comparison of pay in the state attorney generals' offices in California and Texas reveals no major discrepancies, but shows the pay of female lawyers at the Texas agency fell farther behind their male colleagues."
Must-Read
Dewhurst border surge stalled by Straus, San Antonio Express-News
Border Patrol detains 1,000 people at McAllen Station, agents warn about overcrowding, McAllen Monitor
Big-name backers pull support for House candidate Chart Westcott, The Dallas Morning News
Hundreds of thousands of dollars flow into SD 10 race, Fort Worth Star-Telegram
Chasnoff: Villarreal wants to run for mayor, San Antonio Express-News
Doctor calls VA denial "a cover-up.", Austin American-Statesman
Memories of '80s oil bust keep bank regulators vigilant, Houston Chronicle
Census: Texas tops list of fast-growing cities, The Associated Press
Quote to Note
"This is our government medicating citizens without their consent. This isn't about dental hygiene."
— Texas State student government senator Taylor Zavala arguing to take the fluoride out of San Marcos' water supply
Today in TribTalk
Why me and not Patrick or Van de Putte, by David Dewhurst: "In the race for lieutenant governor, Texans must choose the candidate with experience, integrity and conservatism. With all due respect to the state senators from San Antonio and Houston, I'm tops in all three categories."
Why me and not Dewhurst or Van de Putte, by Dan Patrick: "I'm running for lieutenant governor because of what I see as a lack of leadership in the Texas Senate. I am running to advance the conservative agenda that voters have waited far too long for."
Why me and not Dewhurst or Patrick, by Leticia Van de Putte: "When politicians refuse to cooperate or lack the political courage to take a stand, all of Texas pays the price. If you hate Washington more than you love Texas, maybe it's time to reassess your priorities."
Trib Events for the Calendar
• A Conversation With Sen. Glenn Hegar, Candidate for State Comptroller, at the Austin Club, 5/29
• The Texas Tribune Festival runs from Sept. 19-21 at the University of Texas at Austin. Tickets are on sale now.
Disclosure: The University of Texas at Austin is a corporate sponsor of The Texas Tribune. Paul Foster is a major donor to the Tribune. A complete list of Texas Tribune donors and sponsors can be viewed here.