The Brief: Dewhurst, Patrick Eschew Fireworks in Final Debate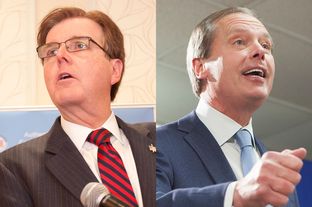 Enlarge
Daniel Kramer / Michael Stravato
The Big Conversation
David Dewhurst and Dan Patrick, the Republican candidates for lieutenant governor, gave one last surprise in their final debate before the May 27 primary runoff election — a largely civil debate that avoided mention of the personal attacks that have come to dominate the last few weeks.
"On climate change and gay marriage, and University of Texas regent Wallace Hall and Los Angeles Clippers owner Donald Sterling, each Republican candidate fought to frame himself as the more conservative and effective choice in next week's primary runoff," wrote the Houston Chronicle's Brian Rosenthal. "But they largely agreed on almost every question, breaking little new ground in a race that Patrick is expected to win."
It was on the question of the potential impeachment of Hall, though, where the biggest differences between the two candidates could be found. Patrick said Hall should not be impeached and that he was looking out for taxpayers in his often criticized investigation of UT officials. Dewhurst did not commit to a position, saying instead he needed to be impartial should the Senate be asked to try Hall.
In making what amounts to their closing arguments to voters, the men stressed what they perceived to be their strengths. Dewhurst concentrated on his record, while Patrick described himself as a "grassroots conservative before it was known as the Tea Party."
The Day Ahead
• GOP lieutenant governor candidate Dan Patrick casts his vote in the runoff election outside Houston at 10:30 a.m.
• The House Select Committee on Transparency in State Agency Operations meets at 1 p.m. in the John H. Reagan Building to begin work on articles of impeachment against UT System Regent Wallace Hall. (agenda)
• The House Appropriations subcommittee on Articles VI, VII and VIII and the House Natural Resources Committee hold a joint hearing at 10 a.m. in the Capitol Extension to oversee funds made available to Texas following the 2010 Deepwater Horizon oil spill. (agenda) The appropriations subcommittee meets at 1 p.m. to look at progress made toward less reliance on dedicated accounts to certify the budget. (agenda)
• The House Government Efficiency and Reform and Technology committees hold a joint hearing at 10 a.m. in the Capitol Extension to look at the Department of Information Resources. (agenda) The Government Efficiency and Reform panel meets at 1 p.m. to look at wider use of the "Work in Texas" website (agenda) while the Technology panel looks at the feasibility of an integrated identity management program for state agencies. (agenda)
• The House Elections Committee meets at 10 a.m. in the Capitol Extension to consider online voter registration and to review a study on moving the date of the Texas presidential primary. (agenda)
• The House Investments and Financial Services Committee meets at 10 a.m. in the Capitol Extension to look at the state's home equity laws and to weigh the costs and benefits of an equity crowd funding system. (agenda)
Today in the Trib
Panel Set to Start Working on Impeachment Articles: "For the first time since voting that grounds exist for the impeachment of University of Texas System Regent Wallace Hall, a legislative committee is scheduled to reconvene Wednesday afternoon."
Drilling and Water Interests Clash on Disposal Wells: "Groundwater districts are increasingly challenging oil-and-gas interests over the deep injection of industry waste into brackish water aquifers. Now, the energy industry is fighting back, arguing that water managers lack authority to do so."
Paxton, Branch Attorney General Brawl Gets Expensive: "In the Republican race for attorney general, state Sen. Ken Paxton is spending hundreds of thousands of dollars to tell voters his opponent, state Rep. Dan Branch, is too liberal. Branch is buying airtime to question Paxton's ethics."
Must-Read
Abbott, Davis argue over debates, San Antonio Express-News
Hall hits Ratcliffe over controversial Border Patrol prosecution handled by a law partner, The Dallas Morning News
Attorney general hopeful Paxton gets boost from $1.2 million in loans, Austin American-Statesman
Kennedy: Perry and Dewhurst too liberal? Welcome to the new right-wing Texas, Fort Worth Star-Telegram
Washington's 'corporate cronyism' takes hit from rising Texas lawmaker, The Hill
UT regents keep tuition flat, institute new board rules, Houston Chronicle
Texas nuke site increases monitoring of containers, The Associated Press
$60M Allen football stadium deemed 'not safe,' will close this season, The Dallas Morning News
Quote to Note
"Our students are much more than a once-a-year pencil and bubble sheet test. Your child means immeasurably more than just a number generated in Austin. There is no test that can assess all of what makes each child unique."
— Paris ISD Superintendent Paul Jones, in a letter to school district parents that became something of an internet sensation after it was posted to the district's website late last week.
Today in TribTalk
Texas is a women's health nightmare, by Cecile Richards: "A small group of politicians bent on imposing their personal agenda have created a health care catastrophe for Texas women. It's time to put an end to this appalling situation."
Why me and not Sid Miller, by Tommy Merritt: "I have unimpeachable ethics and a record of fighting for transparency in state government. I won't give the Democrats an issue that will let them capture this seat in November."
Why me and not Tommy Merritt, by Sid Miller: "My opponent is a good man and he has served our state honorably, but he simply does not have the agriculture background, training, and real world farming, ranching, and agribusiness experience that I have earned over the last 50 years."
Trib Events for the Calendar
• A Conversation With Sen. Glenn Hegar, Candidate for State Comptroller, at the Austin Club, 5/29
• The Texas Tribune Festival runs from Sept. 19-21 at the University of Texas at Austin. Tickets are on sale now.