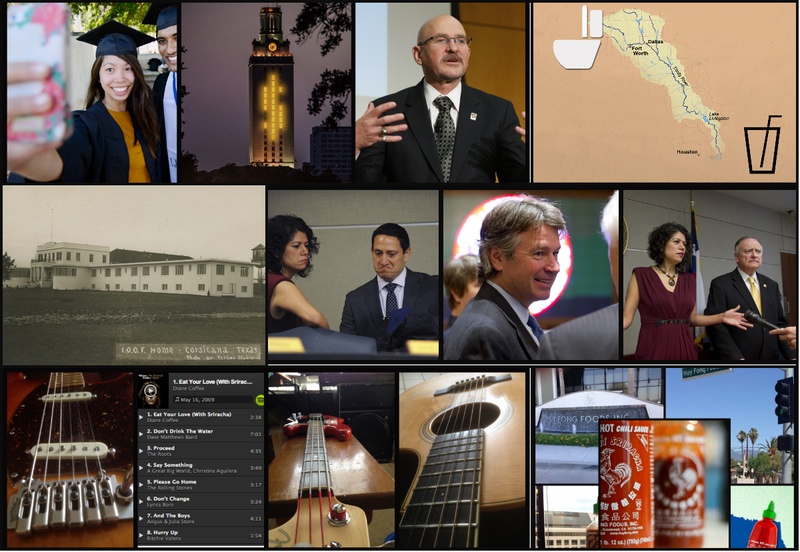 A delegation of Texans traveled to California this week to woo the makers of the hot sauce Sriracha to the Lone Star State, so we kick off this week's news-inspired playlist with Diane Coffee's "Eat Your Love (With Sriracha)."
The easiest way to enjoy the playlist is to download Spotify, which is a free program. But even without it, you can still follow along. Here are this week's other selections:
We've got Dave Matthews Band's "Don't Drink the Water," since Wichita Falls has become the butt of late-night jokes over plans to use treated sewer water as drinking water.
A legislative committee concluded that there are grounds to move forward with impeachment proceedings in the case of University of Texas System Regent Wallace Hall, so "Proceed" by The Roots was added to the playlist. But committee members sent a clear message to the UT System that they would prefer that the system be more proactive about dealing with controversy surrounding Hall, so we added "Say Something" by A Great Big World. A few days later, the chairman of the UT System board demonstrated that he had gotten the message and publicly asked Hall to resign, so we added "Please Go Home" by The Rolling Stones.
The Texas Tribune thanks its sponsors. Become one.
The UT System board was also enouraged by Gov. Rick Perry to not raise tuition at its institutions, so we included "Don't Change" by Lyrics Born. And in other higher education news, I wrote about how state policymakers are focusing more on why males are continuing to lag behind their female peers in degree attainment, so "And the Boys" by Angus & Julia Stone was added.
Two North Texas mayors told a state House subcommittee that the state has moved too slowly in investigating what's behind a series of earthquakes in the region, so we selected "Hurry Up" by Ritchie Valens. Because the state is paying $100,000 per month for a vacant juvenile facility, we offer Gary Moore's "Empty Rooms."
And finally, Robert Nelsen, the president of University of Texas-Pan American, announced that he will be stepping down at the end of August, inspiring the addition of Motley Crue's "Time For a Change."
Enjoy!