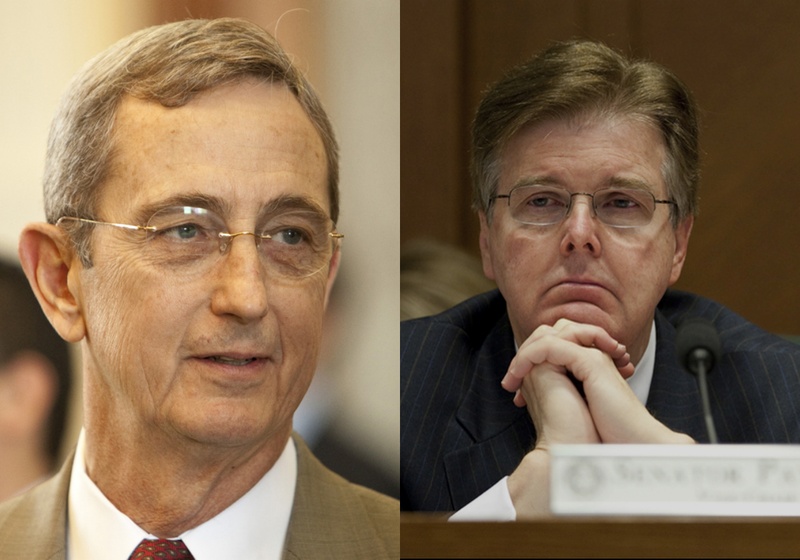 The Big Conversation
News reports late Thursday that lieutenant governor candidate Dan Patrick had received treatment for depression and exhaustion in the 1980s threatened to roil further an already tense runoff contest just days before voters begin casting ballots. The early voting period begins Monday.
With the Patrick campaign blaming incumbent David Dewhurst for the release of documents to media outlets, the question quickly became one of who was responsible for the release of documents, which received widespread (and bipartisan) condemnation on social media on Thursday night.
The San Antonio Express-News reported that Land Commissioner and former lieutenant governor candidate Jerry Patterson was the man responsible. The Tribune's Morgan Smith and Ross Ramsey reported that when asked, Patterson texted that "I haven't seen them. They've been read to me."
The Day Ahead
• The House Judiciary & Civil Jurisprudence Committee holds an interim hearing at 10 a.m. in the Capitol Extension to hear from the State Office of Administrative Hearings and to look at litigation brought by local governments on environmental contamination. (agenda)
• The House Committee on Culture, Recreation & Tourism holds an interim hearing at 1:30 p.m. at the Zapata Technical & Advanced Education Center to look at the health of the alligator gar and largemouth bass populations in Falcon Lake. (agenda)
• A joint legislative committee on aging will meet at 10 a.m. in the Betty King Committee Room to get an update on initiatives to meet the needs of the state's aging population. (agenda)
• Today is the last day to apply for a mail-in ballot for the May 27 primary runoff elections.
Today in the Trib
UT Board Chairman Calls for Regent Hall to Resign: "Three days after a legislative committee said there were grounds to impeach University of Texas System Regent Wallace Hall, the chairman of UT's board of regents said Hall should resign."
Despite Water Woes, Texas Says "Pass The Hot Sauce": "Texas politicians' attempt to lure the popular sriracha sauce factory here from California is part of a strategy to bring more agribusiness to the state, they say. But some farming advocates complain that agriculture is being left behind in the scramble to accommodate growth."
In HD-53's GOP Runoff, Debate Shifts Sharply: "Andrew Murr and Rob Henneke are facing off in the GOP runoff in the race to succeed state Rep. Harvey Hilderbran, R-Kerrville. The conversation in the race has shifted as each tries to stand out as the conservative choice."
Analysis: Impeachment Could Give Hall a Stage: "University of Texas System Regent Wallace Hall is under fire for bullying records out of UT's flagship in Austin, and might get impeached for it. That could give him a stage to produce the fruits of his search."
GOP Ag Race Pits Conservatism Against Experience: "In the runoff for the Republican nomination for agriculture commissioner, former state Rep. Sid Miller is touting his conservative credentials, but his opponent, former state Rep. Tommy Merritt, is more focused on experience."
Must-Read
Texas agency: Firefighters unprepared for blast, The Associated Press
EPA tightens decades-old refinery pollution rules, Houston Chronicle
Abbott: 'I will get the vote in the Rio Grande Valley', McAllen Monitor
Sen. Bob Deuell seeks to stop radio ads targeting end-of-life bill, The Dallas Morning News
Candidates to succeed Abbott double-down ahead of early voting, San Antonio Express-News
Patrick wants to refund tax surplus despite state debts, Houston Chronicle
FCC moves forward with net plan, Los Angeles Times
Who Gets to Graduate?, The New York Times
Medical markup: An inside look at billing practices 'vulnerable to fraud and abuse', The Dallas Morning News
Quote to Note
"I do not believe you have violated current board rules or policy, and I do not believe a vote on your service is appropriate. However, something must change, and I urge you to take the selfless step to benefit the UT system and to resign immediately."
— Paul Foster, chair of the UT System board of regents, asking embattled Regent Wallace Hall to step down
Today in TribTalk
Let's reimagine Texas' land-grant universities, by John Sharp: "The 'A' and the 'M' in our university system's name are symbolic links to our history. But as our reputation shifts, the land-grant mission we started with must be redefined."
The next UT chancellor should be..., by Francisco Cigarroa: "Anyone who follows the news is aware of the strong debates and varying views that have occurred during my tenure. This job is not for the timid."
Trib Events for the Calendar
• A Conversation With Sen. Glenn Hegar, Candidate for State Comptroller, at the Austin Club, 5/29
• The Texas Tribune Festival runs from Sept. 19-21 at the University of Texas at Austin. Tickets are on sale now.