The Brief: Perry Attorney Asks for Private Route to Grand Jury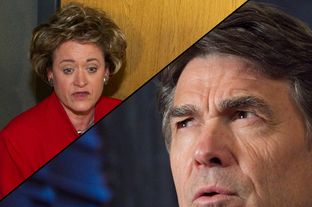 Enlarge
Marjorie Kamys Cotera / Bob Daemmrich
The Big Conversation
Gov. Rick Perry's attorney is asking for the ability to get witnesses for his client before a Travis County grand jury without making them appear in public. But in a twist in a case that has already had plenty of them, the only way to circumvent the public entrance is to go through DA Rosemary Lehmberg's office.
"Yes, I was asked whether there was a way for the governor's staff to get to the grand jury room without walking through the lobby. I believe everyone should enter the grand jury room like everyone else. ... It's a short walk," Lehmberg told the Tribune's Terri Langford, who reported on the request for the TW Politics blog, a premium site for Texas Weekly subscribers.
The inherent chutzpah in the request is the fact that the grand jury is looking at whether Perry's attempts to induce Lehmberg to resign after a DWI conviction last year rose to criminal activity.
The Austin American-Statesman's Tim Eaton and Tony Plohetski wrote that Perry would not want images of him showing up for an appearance in front of a grand jury as it "would be a reminder that he's facing potential legal trouble just as he's largely repaired his national image following embarrassing stumbles during his 2012 presidential bid."
The Day Ahead
• Republican gubernatorial candidate Greg Abbott is in McAllen to take part in an 8:30 a.m. newsmakers breakfast conversation hosted by The Monitor and the McAllen Chamber of Commerce.
• Join us for a conversation at 8 a.m. with Steve Patterson, the UT men's athletic director, at the Austin Club. If that's too early, we will livestream the event.
• The House County Affairs Committee holds an interim hearing at 10 a.m. in the Capitol Extension to discuss implementation of the Healthcare Transformation and Quality Improvement Program 1115 Waiver. (agenda)
• The joint legislative committee on human trafficking holds a noon hearing in the Capitol Extension to take invited testimony updating anti-human trafficking efforts. (agenda)
• The University of Texas System board of regents meets for a second day at 8:00 a.m. in Austin.
Today in the Trib
Vacant Juvenile Facility Costing $100,000 Monthly: "Last year, lawmakers told the Texas Juvenile Justice Department to close a facility, and the agency drew up plans to shutter its aging Corsicana detention center. Now, lawmakers are keeping it open at a cost of $100,000 a month."
Lawsuit Over Road Funding Program Leaves Funds in Limbo: "LaSalle County, which is in the heart of the Eagle Ford Shale, has sued the Texas Department of Transportation over a $225 million grant program aimed at repairing roads damaged by oilfield traffic."
Brian McCall: The TT Interview: "The chancellor of the Texas State University System talks about the system's progress over the last four years, what it is still struggling with and the significance of $10,000 degrees."
Must-Read
Virginia agency pursues charge in Dallas race, The Dallas Morning News
Conservatives prod House Republicans on immigration, The Hill
Lawmakers must authorize new teacher evaluations, official says, Houston Chronicle
Following Gov. Perry's lead, UT board scales back tuition-increase plan, Austin American-Statesman
California's Thirst Shapes Debate Over Fracking, The New York Times
Unintended Consequences: Fracking and the Flow of Drugs, National Journal
Arkansas voter ID law reinstated, The Associated Press
Times Ousts Its Executive Editor, Elevating Second in Command, The New York Times
Quote to Note
"I hope the governor offered to restore her budget if she honors his request."
— Craig McDonald on the request by Gov. Rick Perry's attorney to use Travis County DA Rosemary Lehmberg's office to allow witnesses to avoid appearing in public en route to appearing before a grand jury looking at Perry's actions intended to force Lehmberg to resign after a DWI conviction. McDonald's criminal complaint spurred the investigation.
Today in TribTalk
Get big donors out of energy policy, by Ted Cruz: "Texas — a place where the energy economy isn't under siege by ideologues and special interests — shows exactly how Americans will benefit once the nation overcomes those awful influences."
Wallace Hall should step aside, by Lyle Larson: "UT Regent Wallace Hall should step aside and let the board get about its business."
Wallace Hall should stand his ground, by Jonathan Stickland: "UT Regent Wallace Hall has done nothing wrong and shouldn't cave to pressure for him to step aside."
Trib Events for the Calendar
• A Conversation With Sen. Glenn Hegar, Candidate for State Comptroller, at the Austin Club, 5/29
• The Texas Tribune Festival runs from Sept. 19-21 at the University of Texas at Austin. Tickets are on sale now.