The Brief: Potshots at Wichita Falls Muddy Water Reuse Issue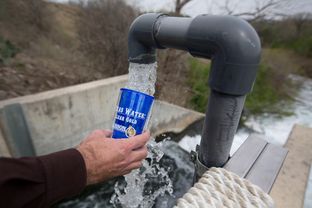 The Big Conversation
Wichita Falls is catching more than a little flak for its plan to take treated sewer water and use it for drinking water, a plan that got put on the fast track with the current drought. But the Tribune's Neena Satija writes today that the wisecracks hide an important fact — wastewater reuse is already common across the state.
The public policy discussion isn't helped by headlines that refer to "potty water," Satija writes. "When talking about the yuck factor associated with water reuse projects, people seem to be distraught over the fact that the water would go directly from a sewer treatment plant to the tap. That's the short-term plan in Wichita Falls during this extreme drought. Eventually, the city plans to blend treated sewer water with reservoir water before anyone drinks it — not unlike what happens in other cities."
The fact is, Satija writes, that treated wastewater can actually be much cleaner than other sources of drinking water. And with cities across Texas looking for creative ways to stretch their water supplies, it's perhaps no surprise that Wichita Falls and other cities such as San Antonio, Austin and Fort Worth are all looking at this potential solution.
The Day Ahead
• The House County Affairs and Defense and Veterans' Affairs committees hold a joint interim hearing at 10 a.m. in San Antonio to discuss veterans courts in Texas and other states. (agenda)
• The House Public Education Committee holds an interim hearing at 10 a.m. in the Capitol Extension to consider a range of topics including improving student achievement and methods to evaluate teachers. (agenda)
• The University of Texas System board of regents begins a two-day meeting at 9:30 a.m. in Austin.
Today in the Trib
Analysis: Big Money, Big Names Mark HD-108 Race: "Morgan Meyer and Chart Westcott are battling for an open Dallas County House seat in an urban Republican district where the pockets are deep, the endorsers are famous and the Tea Party is relatively weak."
In Midland, a Political Donor With a Private School: "A decade before Tim Dunn became the benefactor behind one of the state's most aggressive conservative groups, the West Texas oil and gas developer founded a school. The move marked his personal interest in education policy."
North Texas Rancher's Power Line Battle Gains Attention: "A North Texan's battle to budge a power line on his land, which he says was built in the wrong place, is gaining attention as Texas regulators prepare to decide the structure's fate. Landowners and utilities say that the case could have far-reaching implications for how power lines are built."
Must-Read
Killer gets stay, halting first execution in U.S. since botched one in Okla., Houston Chronicle
Drought among the worst in Texas in past 500 years, San Antonio Express-News
US Sen. Cruz of Texas to visit Ukraine, The Associated Press
Cruz looking to blunt FCC authority, The Hill
Lon Burnam's legal appeal denied, Fort Worth Star-Telegram
Texas congressmen call for wider inquiry into Veterans Administration, Austin American-Statesman
Jeb Hensarling's deep ties to Wylys could bring trouble, The Dallas Morning News
Quote to Note
"I'm just dying to know why this happened and who approved it, because it was a dumb idea. You just can't make a change to the procedure without reviewing it."
— Jim Conca, a scientist who worked at a nuclear waste disposal facility near Carlsbad, N.M., on the possibility that a radioactive leak there in February was caused by a switch in types of kitty litter used during the packing of barrels of waste
Today in TribTalk
Highway fund should only be used for roads, by Joe Straus: "Let's stop diverting hundreds of millions of dollars a year from the State Highway Fund to finance other agencies. We need all of that money for our roads."
Memo to Texas cities: Adapt or fail, by Julián Castro: "The state's law that bans Tesla from selling cars directly to consumers makes no sense. Texas cities must remove obstacles that hinder innovations in business, like Uber and Google Fiber."
Trib Events for the Calendar
• A Conversation With Steve Patterson, UT Men's Athletic Director, at the Austin Club, 5/15
• A Conversation With Sen. Glenn Hegar, Candidate for State Comptroller, at the Austin Club, 5/29
• The Texas Tribune Festival runs from Sept. 19-21 at the University of Texas at Austin, tickets on sale now