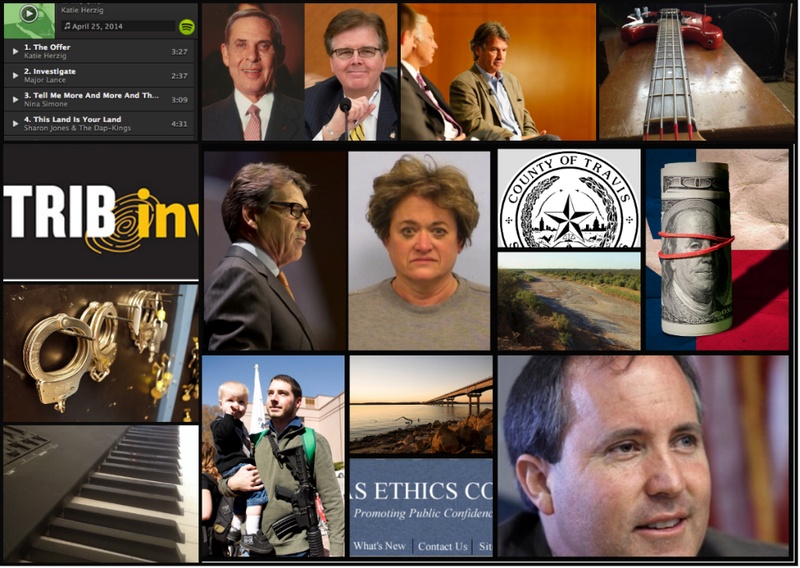 The past week featured revelations about the behind-the-scenes proposals Gov. Rick Perry made in his attempts to oust Travis County District Attorney Rosemary Lehmberg, so our news-based playlist starts off with "The Offer" by Katie Herzig.
The easiest way to enjoy the playlist is to download Spotify, which is a free program. But even without it, you can still follow along. Here are this week's other selections:
The public integrity unit in the Travis County district attorney's office opened an investigation into University of Texas System Regent Wallace Hall, so we have Major Lance's "Investigate." That's followed by Nina Simone's "Tell Me More and More and Then Some," which was added in light of questions raised about attorney general candidate Ken Paxton's failure to properly disclose some of his business and professional relationships.
As Texas officials continue to grapple with the federal government over who should control 90,000 acres of land along the Red River, we have "This Land is Your Land" as performed by Sharon Jones & The Dap Kings. The Texas Juvenile Justice Department named its third leader in a month, so we added "3" by Britney Spears.
The Texas Tribune thanks its sponsors. Become one.
Next up is Moon Taxi with "River Water," added as the prospect of increased regulation of a section of the Brazos River has deepened divisions among its users. In upcoming bond elections, local voters are being asked to approve more than $6.6 billion in new debt, so we included Aloe Blacc's "Owe It All."
Gun rights advocates have taken to carrying their weapons into the streets, drawing criticism from gun control supporters who say that such methods are unnecessarily provocative — and inspiring the addition of Junior Byles' "Demonstration" to the playlist. The Trib's Ross Ramsey took a look at what history can teach those who might want committee chairs from only one party in the Texas Senate, so we also have "A Short History Lesson" by Less Than Jake.
And finally, in honor of Juan Salaz, who slipped through an open Texas prison cell door 17 years ago and was just returned to Houston this week, we close with "Boogie Back to Texas" by Asleep At The Wheel.