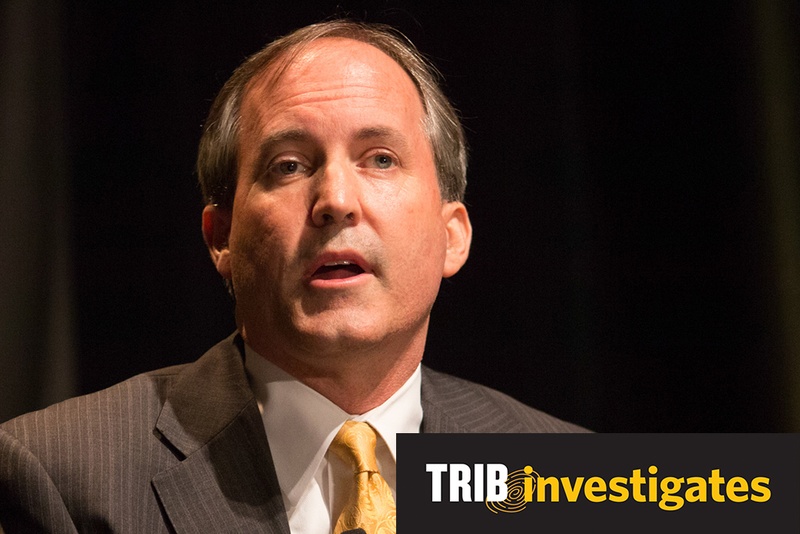 * This story has been updated with comment from state Rep. Dan Branch's campaign.
Sen. Ken Paxton, R-McKinney, has amended nine of his personal financial statements to correct omissions in his disclosures, all of them related to his service on nonprofit boards, newly obtained filings show.
The corrected disclosures come in the wake of a Texas Tribune investigation into business and professional relationships that Paxton had not disclosed, including the ones related to the nonprofits. Paxton is running for attorney general and the disclosure issue has become a flashpoint in his campaign against Rep. Dan Branch, R-Dallas.
Paxton spokesman Anthony Holm said the campaign took the disclosure lapses seriously and "took immediate action where necessary."
The Texas Tribune thanks its sponsors. Become one.
"Through the years Sen. Paxton has helped nonprofits such as Bible teaching ministries, Alzheimer's awareness and caregiver support groups, and an organization to assist abused women and children,'' Holm said. "These nonprofits, on whose board of directors Sen. Paxton serves or has served, are now reflected on his filings. Sen. Paxton has always championed transparency and will continue to do so."
It is not immediately clear how the Paxton campaign will resolve regulatory filings related to his work as an investment adviser representative. The Tribune investigation obtained documents showing Paxton was being paid to solicit clients for a North Texas investment firm, Mowery Capital Management, at a time when he was not registered with state authorities as an investment adviser representative.
Despite the paid relationship with Mowery Capital, Paxton has not reported income from the firm on the work history section of his ethics filings. Branch, who trailed Paxton in the first primary round, has seized on his rival's disclosure lapses. On Friday, Branch campaign manager Enrique Marquez said, "There are still many serious questions Ken Paxton has yet to answer."
In an earlier statement, Holm said the Paxton campaign was conducting a review of all the potential lapses, including the ones involving his work as a solictor.
Paxton's newly amended ethics disclosures, covering the period between 2006 and 2013, were filed the day after the Texas Tribune published the results of its investigation. In the new filings, Paxton revealed his membership on the boards of six nonprofits, including the Collin County Student Aviation Initiative. Paxton has served on that board with Fritz Mowery, head of the firm that employs him as an investment adviser representative, records show.
He also disclosed for the first time his service on the board of the Sacra Script Ministries, a Bible study organization, and the Amazon Friendly Coalition, which was set up to promote what the organizers considered to be rainforest-friendly products from the Amazon region of South America.