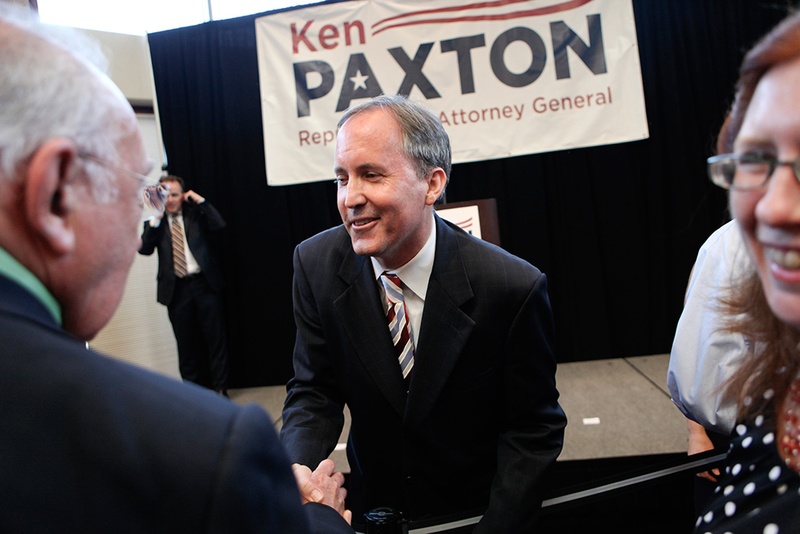 The Big Conversation
GOP attorney general candidate Ken Paxton was a no-show at a Northeast Tarrant Tea Party event on Monday night. The reason given was Paxton's decision to review past financial disclosures in response to a Tribune story published earlier in the day.
Here's the write-up from the Tribune's Jay Root, who wrote the original piece on Paxton's lapses in disclosure:
"There were some things that came out today that, apparently Sen. Paxton had forgotten to reveal some information. I apologize we did not get this information until late in the day today," the moderator said. "He decided to take it very seriously. He is working on that today. He's not going to be here."
The moderator was referring to a story in The Texas Tribune about Paxton launching a review of his disclosures to state regulatory authorities and the Texas Ethics Commission to determine whether he violated any laws by failing to report several business and professional relationships. Paxton's campaign could not immediately be reached for comment late Monday night.
Paxton's rival for the GOP nomination for attorney general, Dan Branch, addressed the gathering, saying the story "raised troubling questions." Paxton, meanwhile, was represented by state Rep. Jonathan Stickland, R-Bedford, who described the Tribune story as "a coordinated effort by the liberal media."
The Day Ahead
• The House Corrections and Criminal Jurisprudence committees will hold a joint interim hearing in the Capitol Extension at 10 a.m. (agenda). The two committees will then hold separate hearings at 2 p.m. (Corrections agenda and Criminal Jurisprudence agenda)
• The House Business and Industry Committee will hold an interim hearing in the Capitol Extension at 10 a.m. (agenda)
• The House Public Education Committee will hold an interim hearing in the Capitol Extension at 10 a.m. (agenda)
Today in the Trib
Carter Fights to Keep Seat in HD-102 Runoff: "Stefani Carter might have had an easy time seeking re-election to the House. But after she reversed a decision to run for railroad commissioner, she re-entered a crowded field. She's in a tight spot heading into a runoff with Linda Koop."
Advocates Urge More Resources for Art Therapy in Prison: "Behind bars, art can be an important form of expression for many women who have suffered from trauma, drug addiction or mental illness."
Lawmakers Examine Rehab of Mentally Ill, Addicted Inmates: "Lawmakers on Tuesday will examine ways to reduce recidivism among prisoners with mental illness and substance addiction."
Must-Read
Jeffers: Wendy Davis hitting campaign stride, but numbers are tough, The Dallas Morning News
UT-Austin president says $325,000 payment was properly approved, The Associated Press
Group seeks to draw Texas Senate districts based in part on eligible voters, Austin American-Statesman
A year after West blast, political support for chemical safety reform isn't certain, The Dallas Morning News
Proposal would allow city to fine businesses for discrimination, Houston Chronicle
District 23 candidates farm rural GOP votes, San Antonio Express-News
Report recommends A/C for Texas prisoners, Houston Chronicle
Quote to Note
"He was just a very sensitive guy who was constantly trying to find stories for his readers. He'd make a U-turn on a one-way street if he saw a story over his shoulder."
— Henry Holcomb, remembering former Fort Worth Star-Telegram assistant managing editor Ken Bunting, who died Sunday of an apparent heart attack. Holcomb gave Bunting his first newspaper job at the Cincinnati Post.
Trib Events for the Calendar
• Slate's Live Political Gabfest in Austin at Scholz Garten, 4/23
• A Panel Discussion on Keeping the Lights on in Texas at St. Mary's University in San Antonio, 4/29
• The Texas Tribune Festival On the Road presents a one-day symposium on STEM Education at UT-Dallas, 5/5
• A Conversation With Rep. Dan Branch, Candidate for Attorney General at the Austin Club, 5/8
• A Conversation With U.S. Rep. Mike Conaway at Midland College in Midland, 5/13
• A Conversation With Steve Patterson, UT Men's Athletic Director at the Austin Club, 5/15
• A Conversation With Sen. Glenn Hegar, Candidate for State Comptroller at the Austin Club, 5/29
• Save the date for the 2014 Texas Tribune Festival: 9/19-9/21