The Brief: Paxton's Personal Transparency Re-emerges as Issue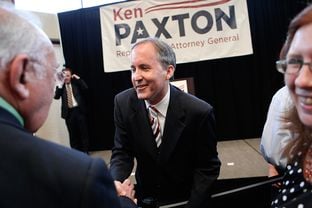 The Big Conversation
GOP attorney general candidate Ken Paxton is reviewing past filings with state regulators after the Tribune obtained letters "showing the McKinney lawmaker was being paid to solicit clients for a North Texas financial services firm at a time when he was not registered with the State Securities Board."
The Tribune's Jay Root also reported that Paxton failed to disclose his solicitor work on personal financial statements, which are filed with the Texas Ethics Commission. Also of significance: Root noted this is not the first time Paxton has failed before to disclose a business interest, referencing his 2008 Associated Press report that revealed "his interest in a lucrative state contract on 2007 ethics disclosures."
The Paxton campaign has responded with a statement saying, "The campaign is in the process of reviewing and researching the questions raised by The Texas Tribune." Paxton was the leading vote-getter after the March primary election with 44 percent of the vote. He and Dan Branch, who received 33 percent of the vote, face off in the May 27 runoff election.
The letters surfaced after a lawsuit filed against Paxton and a business associate, Frederick "Fritz" Mowery, emerged as an issue in the first round of the party primaries. Questions about transparency arguably have more relevancy in the race for attorney general "because the attorney general's office decides what records state and local government entities in Texas must release," Root wrote.
Today in the Trib
House Bill 5 Brings Opportunity for Technical Colleges: "At the state's technical colleges, controversial changes to the state's high school curriculum in House Bill 5 have been met with a sense of excitement — and anticipation that the shift could lead to significant expansion."
For Budget Writers, Tax Cuts are Spending Decisions: "Lawmakers have a hard job when money is tight and they're writing state budgets. It's even harder when they have all the money they need."
Brazos Watermaster Hotly Contested: "The Brazos River's hotly contested lower basin will soon be subject to much more regulation than its users have experienced in the past. Will that help solve disputes or deepen divisions?"
Must-Read
Guy Diedrich the latest to resign from the the Texas A&M University System, Bryan-College Station Eagle
Fikac: Davis trails in poll, but GOP trying to give her a chance, San Antonio Express-News
Lab delays create Texas' unknown exonerees, Austin American-Statesman
Texting while driving a divisive issue, Corpus Christi Caller-Times
Inmate stuck in legal limbo for more than three decades, Houston Chronicle
Investigation of Gov. Perry picks up momentum, Austin American-Statesman
Rick Perry's extreme makeover, Politico
Jeb Bush's Rush to Make Money May Be Hurdle, The New York Times
Quote to Note
"Ten other people will probably throw their hat in the ring. They're not going to say, 'Gov. Perry is in the race, so I'll step aside.'"
— Former Rick Perry adviser Dave Carney on the challenges should Perry run for president in 2016
Trib Events for the Calendar
• Slate's Live Political Gabfest in Austin at Scholz Garten, 4/23
• A Panel Discussion on Keeping the Lights on in Texas at St. Mary's University in San Antonio, 4/29
• The Texas Tribune Festival On the Road presents a one-day symposium on STEM Education at UT-Dallas, 5/5
• A Conversation With Rep. Dan Branch, Candidate for Attorney General at the Austin Club, 5/8
• A Conversation with U.S. Rep. Mike Conaway at Midland College in Midland, 5/13
• A Conversation With Steve Patterson, UT Men's Athletic Director at the Austin Club, 5/15
• A Conversation With Sen. Glenn Hegar, Candidate for State Comptroller at the Austin Club, 5/29
• Save the date for the 2014 Texas Tribune Festival: 9/19-9/21