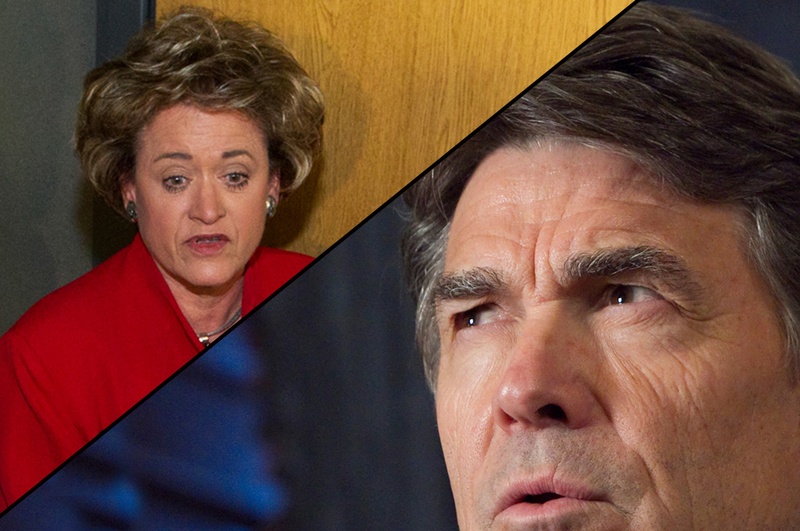 The Big Conversation
The Austin American-Statesman is reporting that Gov. Rick Perry has hired a defense lawyer to represent him in an ongoing investigation into his veto of funding for the Public Integrity Unit housed in the Travis County DA's office.
"The hiring of David L. Botsford is the latest signal that the inquiry into Perry's conduct might be gaining momentum after a seven-month investigation," wrote the Statesman's Tony Plohetski. A grand jury that could hear the case is expected to be chosen on Monday.
Botsford, Plohetski reported, is a well-known criminal defense lawyer who specializes in white-collar defendants and was president of the Texas Criminal Defense Lawyers Association in the 1990s.
Perry's threat to withhold funding for the Public Integrity Unit in an attempt to get Travis County DA Rosemary Lehmberg to resign following her DWI arrest and conviction last year drew a complaint from a watchdog group. Earlier this month, the special prosecutor in the case said he was "very concerned" about aspects of the case and affirmed that his concerns were directed at Perry or his staff, Plohetski reported.
The Day Ahead
• Democratic gubernatorial candidate Wendy Davis will talk to supporters in Austin at 2 p.m. on her proposal to offer all-day pre-K programs. She will be joined by Democratic lieutenant governor candidate Leticia Van de Putte and state Sen. Kirk Watson, D-Austin.
• The Senate Education Committee holds an interim hearing at 10 a.m. in the Capitol Extension on implementation of HB 5. (agenda)
• The House Homeland Security and Public Safety Committee holds an interim hearing at 9 a.m. in the Capitol Extension on the West explosion and the Driver Responsibility Program. (agenda)
• The House Public Health Committee holds an interim hearing at 10 a.m. in the Capitol Extension on compounding pharmacies. (agenda)
• The House Transportation Committee holds an interim hearing at 1 p.m. in the Capitol Extension on ports and rail in the state. (agenda)
Today in the Trib
Medicare Data Shines Light on Billions Paid to Texas Doctors: "Texas doctors who treat Medicare patients earned a combined $4.6 billion from the federal insurer of the elderly in 2012, with the state's ophthalmologists and oncologists raking in the most."
Criticism of Water Policy Flows From Conservatives: "Many conservative activists in Texas worry that when it comes to state water policy, Republican leaders have not focused on principles like small government, private property rights and local control."
Analysis: Property Tax Irritation Includes Fairness Question: "Not everybody who is upset with property taxes wants them abolished. A new group that started in Houston wants to increase appraised values on commercial property."
Railroads Filling Void as Oil Pipeline Falls Short: "As drillers produce millions of barrels of crude oil in shale plays in Texas and the Midwest, railroad companies are finding booming business in transporting the oil to Gulf Coast refineries."
Must-Read
West Explosion: One Year Later, The Dallas Morning News
Texas remains wary of regulation after West, Houston Chronicle
As state senator, Davis voted on bills that aided clients, The Dallas Morning News
Castro, Patrick set for immigration debate, San Antonio Express-News
Brady's leadership bid must get past Ryan's fame, Houston Chronicle
Texas agency to weigh slotlike devices at bingo halls, The Associated Press
Texas Supreme Court again tackles tort-reform law, Austin American-Statesman
Quote to Note
"I'm not against single or childless folks trying to serve."
— Former House candidate Samuel Brown, defending himself against charges of sexism after criticizing state Rep. Stefani Carter, R-Dallas, in a letter where he noted she is "not married with children to provide for or nurture, and has refused to plant roots and share a property tax burden with so many of us."
Trib Events for the Calendar
• A Conversation With Mike Collier, Candidate for State Comptroller at the Austin Club, 4/17
• Slate's Live Political Gabfest in Austin at Scholz Garten, 4/23
• A Panel Discussion on Keeping the Lights on in Texas at St. Mary's University in San Antonio, 4/29
• The Texas Tribune Festival On the Road presents a one-day symposium on STEM Education at UT-Dallas, 5/5
• A Conversation With Rep. Dan Branch, Candidate for Attorney General at the Austin Club, 5/8
• A Conversation with U.S. Rep. Mike Conaway at Midland College in Midland, 5/13
• A Conversation With Steve Patterson, UT Men's Athletic Director at the Austin Club, 5/15
• A Conversation With Sen. Glenn Hegar, Candidate for State Comptroller at the Austin Club, 5/29
• Save the date for the 2014 Texas Tribune Festival: 9/19-9/21