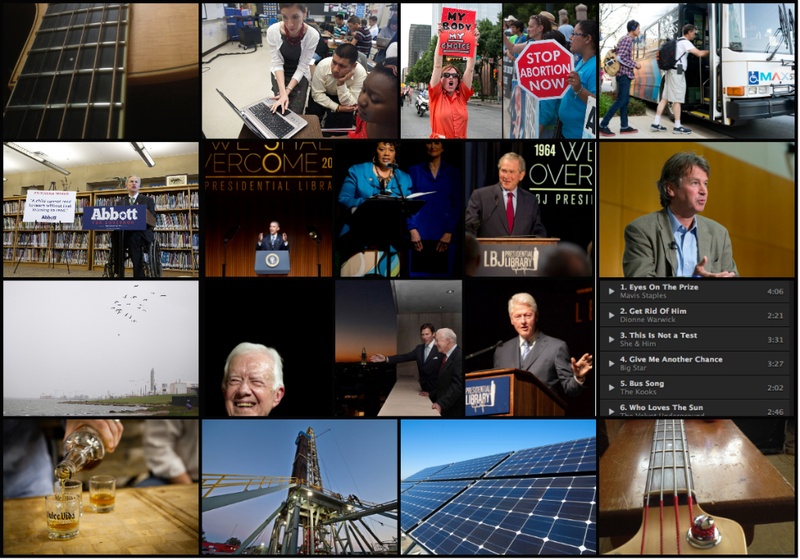 We kick off this week's Texas news-based playlist with "Eyes On The Prize" as sung by Mavis Staples, who participated in the LBJ Presidential Library's three-day summit commemorating the 50th anniversary of the 1964 Civil Rights Act.
The easiest way to enjoy the playlist is to download Spotify, which is a free program. But even without it, you can still follow along. Here are this week's other selections:
Because a legislative committee was advised in a report from its special counsel that there are multiple grounds for impeaching a controversial University of Texas System regent, we have Dionne Warwick's "Get Rid of Him." And then, in light of gubernatorial candidate Greg Abbott clarifying that his early education plan does not call for submitting pre-kindergarten students to standardized tests, we have "This is Not a Test" by She & Him.
That's followed by Big Star's "Give Me Another Chance," which was added because abortion providers filed a petition asking the full 5th Circuit Court of Appeals to reconsider a previous ruling on the constitutionality of new abortion regulations.
The Texas Tribune thanks its sponsors. Become one.
Arlington, which had been one of the largest U.S. cities without public transportation, recently launched its first commuter bus line on a trial basis, so we also included "Bus Song" by The Kooks.
In light of a new report in which San Antonio ranks sixth among U.S. cities in installed solar power capacity, and Austin ranks sixteenth, we added "Who Loves the Sun" by The Velvet Underground. Another report makes dire predictions about what will happen to air quality in South Texas as the Eagle Ford Shale boom continues, so the next song is "Dirty Air" by Silkworm.
Volunteers have playing a pivotal role in the cleanup efforts following the recent oil spill in Galveston Bay, so we also included "Volunteers" by Jefferson Airplane. For the first time since it launched in 2011, the Texas Higher Education Coordinating Board's annual almanac includes earnings data so students can anticipate how much money they'll be making after graduation. This inspired the addition of "Make the Money" by Macklemore and Ryan Lewis.
And finally, in honor of a longtime ban on tequila in China getting lifted, which is likely to benefit producers and distributors in Mexico and Texas, we close with the Eagles' "Tequila Sunrise."
Enjoy!