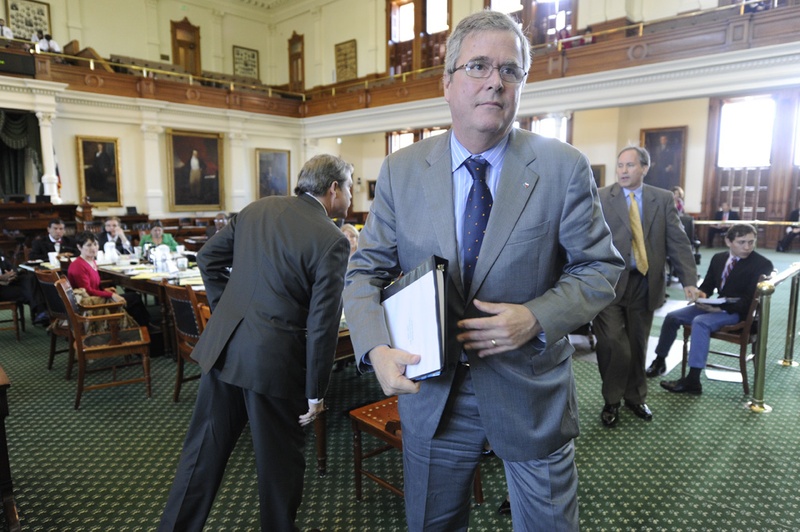 The Big Conversation
Because it's never too early to talk about 2016, here are a couple of reads for your Monday on what to expect from some high-profile Republicans should they pull the trigger on a White House run.
The New York Times' Peter Baker was in College Station to cover a talk on Sunday by Jeb Bush at his father's presidential library. Baker found a potential candidate willing to talk about how he would handle a presidential run, "one arguing against ideological purity tests while challenging party orthodoxy on issues like immigration and education." Bush said he would decide on a run by year's end and that it would hinge on whether he could run on "a hopeful message."
Baker reported that Bush said, "Campaigns ought to be about listening and learning and getting better. I do think we've lost our way. ... I'm not being critical of my party, but campaigns themselves are reflective of this new America."
Meanwhile, The New Yorker's Ryan Lizza has a long-read on New Jersey Gov. Chris Christie's political history and what the George Washington Bridge scandal says about his political style:
"Before the bridge scandal, Christie was known as a governor who transcended New Jersey's reputation for toxic politics and toxic dumps. He took on the exploding costs of the state's pension system, reformed property taxes, and worked with his opponents in the legislature, and he provided decisive leadership after the devastation of Hurricane Sandy. But the scandal hinted at a darker story line: that Christie's barrelling style, and the dealmaking that had secured his rise through New Jersey politics, might as easily undo him."
The Day Ahead
• Democratic lite guv candidate Leticia Van de Putte is in Austin to wrap up her eight-day statewide bus tour with a speech to supporters on the UT Campus West Mall. We will livestream the event beginning at 6 p.m.
• Democratic gubernatorial candidate Wendy Davis is in Houston to contrast her education plan with her GOP rival Greg Abbott's announced reform plan for pre-K education.
• The Senate Agriculture, Rural Affairs and Homeland Security Committee holds an interim hearing at 9 a.m. in the Capitol Extension to look at border security, the reporting of crime statistics and recommendations on expanding gun rights, including open carry. (agenda)
• The House Public Health Committee holds an interim hearing at 10 a.m. in the Capitol Extension to take testimony on charges related to nonmedical prescription drug use and the update of the state's immunization registry. (agenda)
Today in the Trib
Afraid It Was Missing the Boat, Arlington Tries the Bus: "Arlington, which had been one of the largest U.S. cities without public transportation, launched its first commuter bus line on a trial basis last year. Converting the pilot program to a permanent city fixture remains a challenge."
Sales Tax Plan Would Redefine School District Wealth: "Replacing property taxes with sales taxes sounds simple, but would have huge consequences for the state's school districts and for other local governments."
Patrick, Now in Driver's Seat, Credits Grass Roots: "State Sen. Dan Patrick has credited his success to grassroots support. But the Houston Republican's momentum has also been built on lessons learned navigating the old-school politics of Harris County."
Must-Read
Texas transportation agency's land deals under federal grand jury investigation, The Dallas Morning News
Obama to visit Fort Hood on Wednesday for memorial service, Austin American-Statesman
Business interests question Republican truths, The Associated Press
Greg Abbott aims high for education with modest budget, Austin American-Statesman
George W. Bush can't be ignored if GOP meets in Dallas, The Dallas Morning News
Oil boom creating population boom, San Antonio Express-News
More Deportations Follow Minor Crimes, Records Show, The New York Times
Quote to Note
"Yes, they broke the law, but it's not a felony; it's an act of love. It's a different kind of crime. There should be a price paid. It shouldn't rile people up that people are actually coming to provide for their families."
— Former Florida governor and rumored presidential contender Jeb Bush challenging his party's orthodoxy on immigration in an address at the George Bush Presidential Library and Museum in College Station.
Trib Events for the Calendar
• A Conversation With Mike Collier, Candidate for State Comptroller at the Austin Club, 4/17
• Slate's Live Political Gabfest in Austin at Scholz Garten, 4/23
• A Conversation With Rep. Dan Branch, Candidate for Attorney General at the Austin Club, 5/8
• A Conversation with U.S. Rep. Mike Conaway at Midland College in Midland, 5/13
• A Conversation With Steve Patterson, UT Men's Athletic Director at the Austin Club, 5/15
• A Conversation With Sen. Glenn Hegar, Candidate for State Comptroller at the Austin Club, 5/29
• Save the date for the 2014 Texas Tribune Festival: 9/19-9/21