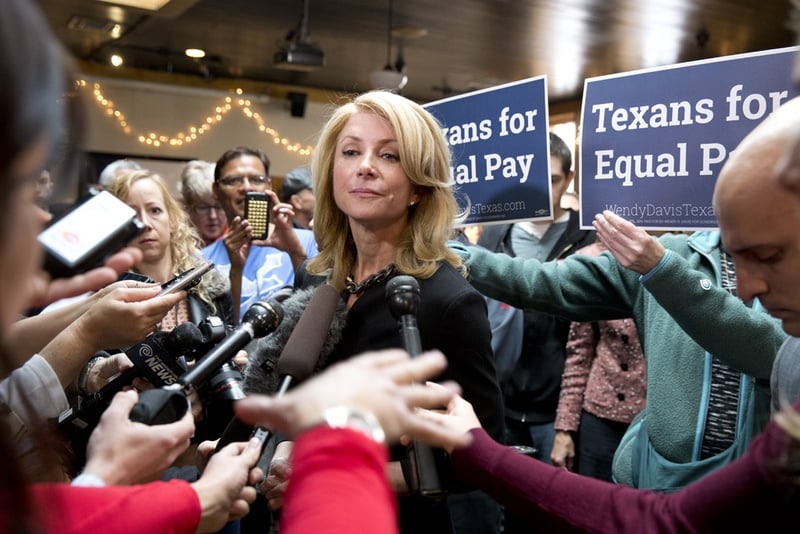 The Big Conversation
The Dallas Morning News has taken another look at wage disparities between men and women, this time expanding the focus to look at trends across the country and not just in Texas.
Texas — where women earn 79.1 cents for every dollar a man earns — comes in 18th when it comes to equal pay among the states. The best? The District of Columbia, where women earn 90.1 cents for every dollar earned by a man. The worst? Wyoming, where women earn 63.8 cents for every dollar earned by a man.
The News' Sheryl Jean reported that even excluding factors like education, occupation and hours worked, "the wage gap narrows ... but it does not disappear, leading many to think there's a real problem." In addition, women start their working lives one year after college earning less — 82 cents to the dollar earned by a man — and that the gap worsens with time with a resultant drag on women's earning power and ability to save for retirement.
Equal pay, of course, has become a touchstone of Democrat Wendy Davis' run for governor in Texas. Jean reported that equal pay has popped up as an issue in other campaigns, notably in contests in Maryland and North Carolina.
The Day Ahead
• GOP gubernatorial candidate Greg Abbott is in San Antonio to continue the rollout of his pre-K through third grade education proposals.
Today in the Trib
Analysis: On Education, Abbott Must Aim Carefully: "Gubernatorial candidate Greg Abbott says he's looking 'to make Texas the No. 1 education system in the United States within 10 years.' He has to find a way to suggest improvements while not criticizing his ally Rick Perry."
Marijuana: A Potential Cash Crop for Texas Farmers?: "Agriculture commissioner candidate Kinky Friedman argues that marijuana legalization is the future of Texas. But for farmers in states where growing it is legal, the crop has come with a new set of problems."
Texas Hoping for Edge Over New Mexico in Water Battle: "With the official support of the U.S. government, Texas now hopes it has a substantial edge over New Mexico in an interstate legal battle over water from the Rio Grande River."
Report: Texas Public School Enrollment Tops 5 Million: "Surpassing the 5 million mark, student enrollment in Texas public schools has hit a new record, according to the Texas Education Agency. And Hispanic enrollment continues to mark the majority."
Must-Read
Greg Abbott's education plan cites controversial thinker on race, gender, The Dallas Morning News
Kennedy: Utah's campaign cash scandal reads like a TV script. So how about Texas?, Fort Worth Star-Telegram
Ken Paxton getting newfound support from Austin lobby, establishment Republicans, The Dallas Morning News
Convicts: No lethal drug details, no executions, Houston Chronicle
Fight begins on 2nd phase of Texas abortion law, The Dallas Morning News
With fracking sites in Central Texas, water could become greater issue for thirsty cities, Austin American-Statesman
House rep wants to lift ban on crude exports, The Hill
Perry in 2016? Gov's keeping the schedule of a campaigner, Lubbock Avalanche-Journal
Charles Keating Jr., key figure in '80s savings and loan scandal, dies, The Associated Press
Quote to Note
"I'm proud to stand with Winston Churchill. And I've got to say my wife was fairly astonished."
— U.S. Sen. Ted Cruz, R-Texas, unveiling his April Fools' prank on Fox News: a tattoo on his arm of the late British prime minister
Trib Events for the Calendar
• A Conversation With Mike Collier, Candidate for State Comptroller at the Austin Club, 4/17
• Slate's Live Political Gabfest in Austin at Scholz Garten, 4/23
• A Conversation With Rep. Dan Branch, Candidate for Attorney General at the Austin Club, 5/8
• A Conversation with U.S. Rep. Mike Conaway at Midland College in Midland, 5/13
• A Conversation With Steve Patterson, UT Men's Athletic Director at the Austin Club, 5/15
• A Conversation With Sen. Glenn Hegar, Candidate for State Comptroller at the Austin Club, 5/29
• Save the date for the 2014 Texas Tribune Festival: 9/19-9/21