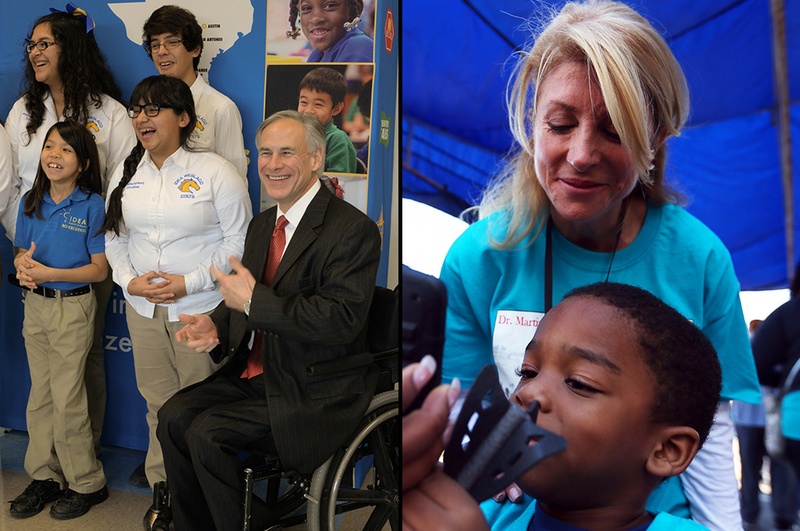 The Big Conversation
The focus of the governor's race swung back to public education on Monday with GOP candidate Greg Abbott rolling out a pre-K proposal in a Weslaco elementary school.
Abbott, as the Austin American-Statesman's Kate Alexander wrote, "called for the state to invest first in improving the quality of pre-kindergarten before opening the door for more students to attend full-day classes. The estimated two-year cost of Abbott's quality initiative would be $118 million in the 2016-17 two-year budget." That would be a fraction of the $750 million price tag attached to the proposal from his Democratic rival, Wendy Davis, to fund all-day pre-K.
Abbott argued it was more important first to improve the quality of the state's pre-K programs. Expansion of those programs, wrote The Dallas Morning News' Terrence Stutz, without paying attention to their quality "would be an act of negligence and waste."
The Davis camp was quick to seize on the "waste" comment with criticism from the candidate on Monday. The campaign has also organized a press conference in Austin on Tuesday morning where Texas teachers plan to further highlight Abbott's comment.
The Day Ahead
• Democratic lite guv candidate Leticia Van de Putte is in El Paso as part of her statewide bus tour.
Today in the Trib
EPA Seeks to Clarify Federal Water Law: "The EPA and the Army Corps of Engineers are backing a rule change that would better define bodies of water protected by the Clean Water Act. That could mean increased government oversight of streams and wetlands across Texas."
Drug Testing for Unemployed Texans Months Away: "It will be months before the state can begin drug testing certain unemployment insurance benefit applicants, and some Texas lawmakers and business leaders are frustrated with the delay."
Medicare Providers Want Permanent "Doc Fix": "Members of Texas' congressional delegation say they got closer than ever this year to fixing a federal Medicare formula that leaves doctors threatened with payment cuts annually."
Los Alamos Waste Bound for West Texas: "A radioactive waste site in West Texas is expected to soon receive up to 420 truckloads of radioactive waste from the federal government's nuclear weapons program, following wildfires and a radiation leak in New Mexico."
Perry Lobbying for A&M Official to Take Over TxDOT: "Gov. Rick Perry is encouraging state transportation commissioners to tap Joe Weber, Texas A&M's vice president of student affairs, to be the next executive director of the Texas Department of Transportation."
Today in TW Politics
Democratic comptroller candidate Mike Collier drops a TV ad that will run in the Houston media market critical of his Republican rival, state Sen. Glenn Hegar, R-Katy. Collier takes Hegar to task for suggesting replacing the property tax with a sales tax, which he says would more than double the state's sales taxes. Check it out on the TW Politics page. ($)
Must-Read
Van de Putte stumps at Pharr-Reynosa International Bridge — in English and Spanish, McAllen Monitor
Ray Hutchison: Point man for creating airport, DART, stadiums, The Dallas Morning News
Gov. Rick Perry supports radioactive waste disposal site, Austin American-Statesman
Windstorm association sued to get $600M from insurance companies, Corpus Christi Caller-Times
Audio recordings provide new details of Ship Channel collision, Houston Chronicle
Health Website Failures Impede Signup Surge as Deadline Nears, The New York Times
Senate sends 'doc fix' to Obama, The Hill
How the Texas Testing Bubble Popped: Shaking the Foundations of Testing Part 3, The Dallas Morning News
Quote to Note
"When you talk about the most influential bond lawyer, legislators in Texas history, that's a pretty small room. And Ray was at the head of the table."
— Former Dallas Mayor Ron Kirk on the outsize influence of Ray Hutchison, who died on Sunday
Trib Events for the Calendar
• A Conversation With Mike Collier, Candidate for State Comptroller at the Austin Club, 4/17
• Slate's Live Political Gabfest in Austin at Scholz Garten, 4/23
• A Conversation With Rep. Dan Branch, Candidate for Attorney General at the Austin Club, 5/8
• A Conversation with U.S. Rep. Mike Conaway at Midland College in Midland, 5/13
• A Conversation With Steve Patterson, UT Men's Athletic Director at the Austin Club, 5/15
• A Conversation With Sen. Glenn Hegar, Candidate for State Comptroller at the Austin Club, 5/29
• Save the date for the 2014 Texas Tribune Festival: 9/19-9/21