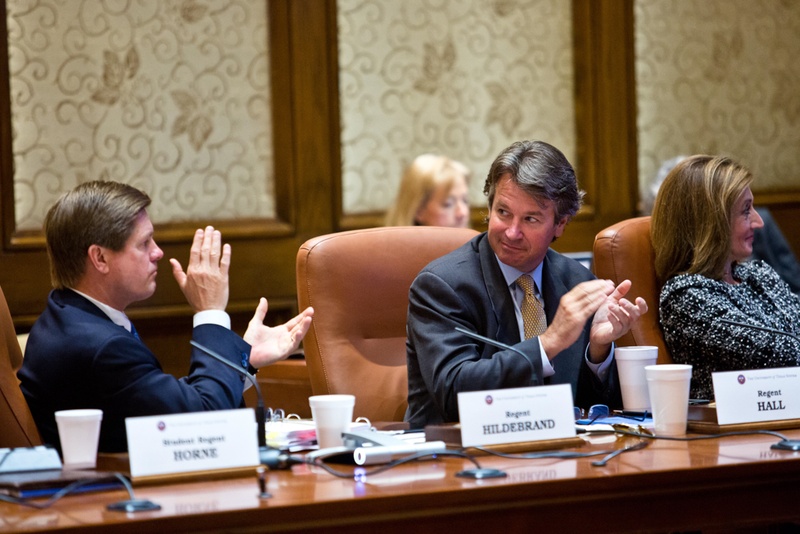 The Big Conversation
The release of more than 2,000 email documents by the University of Texas System to news outlets is providing a fuller — albeit heavily redacted — picture of the various conflicts between regents and administrators.
"The documents, provided under the state's public information laws, offer a glimpse into some of the recent infighting among the system's top officials, their inquiries, arguments and discussions. Some key details may be missing as a result of the extensive redactions made to the documents by the system's lawyers," wrote The Texas Tribune's Reeve Hamilton. "Despite these constraints, it is clear from the emails that [Regent Wallace] Hall, who did not respond to a request for comment, has, at times, felt inadequately supported by the system as he tried to get information out of the university."
The documents also provide some additional context for prior coverage of a letter from board of regents Chairman Paul Foster to Chancellor Francisco Cigarroa defending him against an accusation that "you have not done your job."
Hamilton wrote: "In late January, Hall wrote to Cigarroa, attaching links to university and system policies for his review along with Hall's suggestion that they 'deal with your duties and responsibilities as well as those of President [Bill] Powers concerning these allegations.' The following week, Paul Foster, the board's chairman, felt compelled to write to Cigarroa and reject 'the inference that 'you have not done your job'' that he felt was contained within Hall's messages. Hall's specific allegations in his note were redacted, though they appear to deal with Powers' testimony to the House Select Committee on Transparency in State Agency Operations, which is currently investigating Hall."
Other topics covered in the document dump include compensation practices at the UT Law School, travel arrangements for Powers as well as an inquiry into admissions practices at UT, particularly in the law school.
The Day Ahead
• Democratic gubernatorial nominee Wendy Davis is in El Paso with state Sen. José Rodríguez to discuss equal pay for equal work.
• The House Select Committee on Criminal Procedure Reform will hold an interim hearing at 10 a.m. in the Capitol Extension to examine the use of a paperless system in handling Class C misdemeanors. (agenda)
• The House Public Education Committee will hold an interim hearing at 10 a.m. in the Capitol Extension to look at testing and accountability issues. (agenda)
Today in the Trib
Schools on Their Own to Avoid Double-Testing Math: "Federal and state officials are in talks to work out a conflict in testing requirements under the state's new high school graduation standards and federal education law that could mean 'double-testing' eighth-graders who take algebra I."
Oil Spill Threatens Galveston Bay's Fishing Industry: "While the most compelling scenes of devastation from the oil spill in Galveston Bay have been above the water, scientists and fishermen worry about the underwater ecosystem that feeds a multibillion-dollar industry."
Despite Galveston Spill, Gulf Beaches Getting Cleaner: "Oil spills are not uncommon in Texas waterways, particularly along the Gulf Coast, where more than 50 billion gallons of oil are transported each year. But the number of spills has declined in recent years."
Must-Read
Ship Channel reopens after spill, Houston Chronicle
Van de Putte to launch Texas bus tour in S.A., San Antonio Express-News
Conservative groups back Hall's primary foe, The Hill
Senators demand inspection of juvenile lockups, Houston Chronicle
As Texas woos Tesla, Perry has no plans for special session for carmaker, Austin American-Statesman
U.S. to Extend Sign-Up Period For Insurance, The New York Times
Conservative activist Michael Quinn Sullivan fights lobbyist label, The Dallas Morning News
Quote to Note
"If they want to talk about substantive issues in Texas in this governor's race, then let's talk about tax policy, regulatory policy, legal policies. But to go focus on this issue of a piece of legislation that we already have laws that protect, is nonsense."
— Gov. Rick Perry, critical in an interview with MSNBC's Morning Joe of the current discussion of equal pay for equal work in the contest for governor
Trib Events for the Calendar
• A Conversation With Sen. Charles Schwertner and Reps. John Raney and Kyle Kacal at Texas A&M University in College Station, 3/27
• A Conversation With Mike Collier, Candidate for State Comptroller at the Austin Club, 4/17
• A Conversation With Rep. Dan Branch, Candidate for Attorney General at the Austin Club, 5/8
• A Conversation with U.S. Rep. Mike Conaway at Midland College in Midland, 5/13
• A Conversation With Steve Patterson, UT Men's Athletic Director at the Austin Club, 5/15
• Save the date for the 2014 Texas Tribune Festival: 9/19-9/21