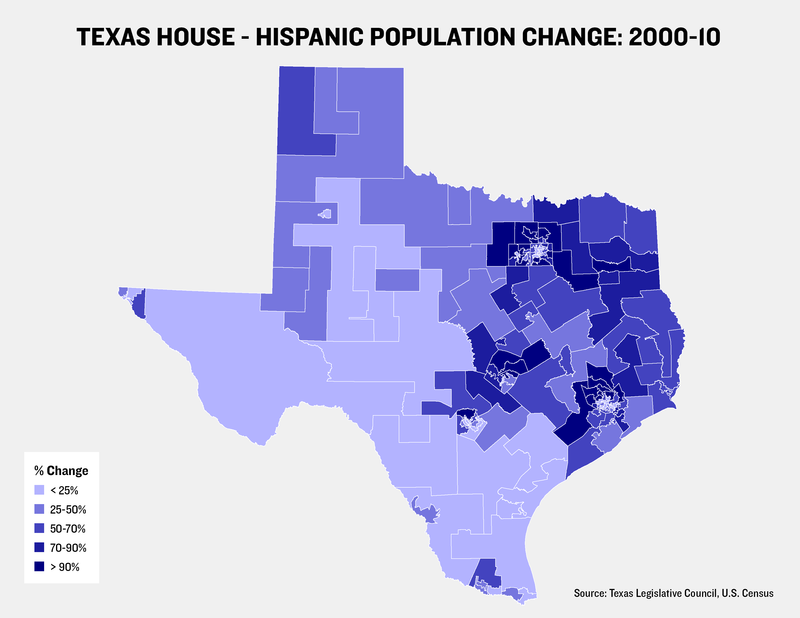 The Big Conversation
Writing in The Wall Street Journal, Dante Chinni of the American Communities Project at American University makes the argument that if Texas flips blue, it could do so in a hurry. And it's not just because of the state's growing Hispanic population, he adds. "Age also plays a role," Chinni wrote. "And when you look at how Texas' changing ethnic landscape combines with its age breakdown, you'll see signs that if Texas flips, it could go from red to purple to blue relatively quickly."
In other words, it's also important where the growth in the Hispanic population is taking place. More older Texans are Anglo, but there are 1.1 million more Hispanics than Anglos among Texans under the age of 18. (Click here for the graphic that neatly illustrates these divergent trend lines.)
Some of those younger Texas Hispanics might not be able to vote because of their citizenship status. But Chinni wrote that national figures show the vast majority of undocumented immigrants are older. "When you look at the big population differences among Texas' youth, it's hard to imagine illegal immigration would alter the numbers much," he wrote.

Even though Hispanics in Texas favor Republicans slightly more than Hispanics nationwide do, they still decidedly favor Democrats. These numbers don't mean Republicans are necessarily in danger in the next election or two, "but the Democratic pressures on the state are real and growing quickly," Chinni concluded.
The Day Ahead
• Candidates wishing to withdraw from a runoff election have until 5 p.m. today to do so.
Today in the Trib
Time Lag Could Shape Runoff Races: "Will primary night results carry into runoffs? Not necessarily, political observers say. A recent change in election law has prompted Texas to extend the time between primaries and runoffs."
Groups See Release of CBP Directive as a First Step: "Some Texas-based advocacy groups say the release of Customs and Border Protection's use-of-force policy for Border Patrol agents is a positive step for transparency. But they add that more could be done."
As Abortion Clinics Close, Student Creates Travel Fund: "A 19-year-old UT-Austin student responded to Texas lawmakers' restrictive abortion regulations by founding Fund Texas Women, a nonprofit that pays travel expenses to help Texas women get abortions in and outside of the state."
Patterson, Staples Reflect on Failed Lt. Gov. Bids: "A week after the primary election, Land Commissioner Jerry Patterson and Agriculture Commissioner Todd Staples reflect on their failed bids for lieutenant governor, weigh in on the May runoff and talk about what's next for them."
Must-Read
Joaquin Castro to boycott Buc-ee's after owners back Dan Patrick, San Antonio Express-News
Kennedy: Buc-ee's backpedals over endorsement of Patrick, Fort Worth Star-Telegram
Wendy Davis says Greg Abbott has fought equal pay for women in the courtroom, The Dallas Morning News
Wendy Davis rebuffs Abbott criticism over clients, San Antonio Express-News
Perry still mum about presidential run on Kimmel, San Antonio Express-News
14 conservatives urge Dan Branch to drop out of runoff, Austin American-Statesman
A Brokered GOP Convention in 2016?, US News & World Report
Quote to Note
"When you look at the relatively small number of people who cared to vote in the Democratic primary, that suggests the potential pool for boycott participants is relatively shallow."
– Rice University political scientist Mark P. Jones, assessing a Democratic call to boycott Buc-ee's convenience stores — famous for its immaculate restrooms — after the chain's owners endorsed Dan Patrick for lite guv
Trib Events for the Calendar
• A Conversation With Sen. Charles Schwertner and Reps. John Raney and Kyle Kacal at Texas A&M University in College Station, 3/27
• A Conversation with U.S. Rep. Mike Conaway at Midland College in Midland, 5/13
• Save the date for the 2014 Texas Tribune Festival: 9/19-9/21