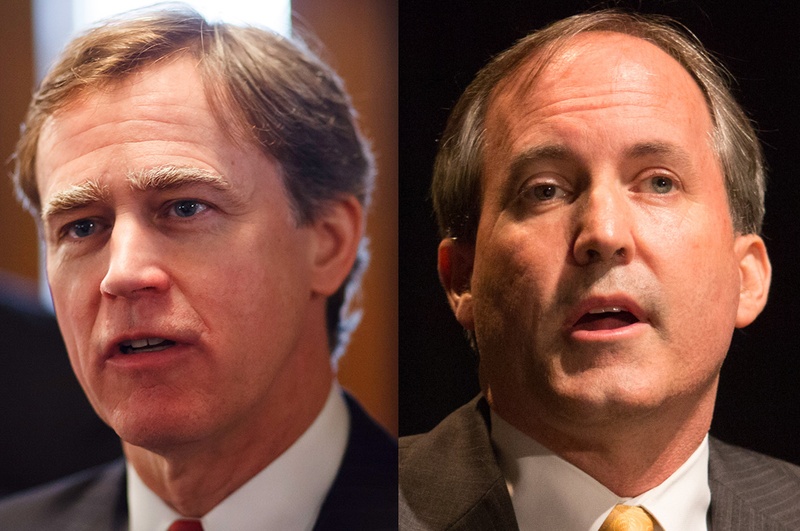 A group of 14 state representatives who endorsed state Sen. Ken Paxton, R-McKinney, in his bid for attorney general are calling on his remaining opponent to drop out of the runoff.
State Rep. Dan Branch, R-Dallas, garnered more than 33 percent of the vote in last week's primary, but Paxton outdid him with more than 44 percent. Instead of Branch fighting it out until the runoff in May, some of his soon-to-be-former colleagues would prefer to see him allow Paxton to head straight into the general election.
"Rather than moving forward with a campaign that will divide Texas Republicans, we hope upon careful reflection you will agree with us that moving forward with this continued campaign is not in the best interests of you, our party, or the state we know you dearly love," wrote the group, which included state Rep. Van Taylor, R-Plano; state Rep. Dan Flynn, R-Van; and state Rep. Phil King, R-Weatherford.
They cited the example of state Rep. Harvey Hilderbran, R-Kerrville, who decided not to proceed with a runoff in the GOP race for comptroller after his opponent, state Sen. Glenn Hegar, R-Katy, earned a hair below 50 percent of the vote on primary night. Hilderbran won about 26 percent.
The Texas Tribune thanks its sponsors. Become one.
Should Branch follow Hilderbran's lead, the representatives wrote to him, "you will earn the lasting respect and admiration of Texans all across our state as we band together as Republicans and fight to Keep Texas Red!"
Branch's campaign manager, Enrique Marquez, was unmoved. "Dan Branch looks forward to being our next attorney general of the state of Texas," he said.
Reference Material