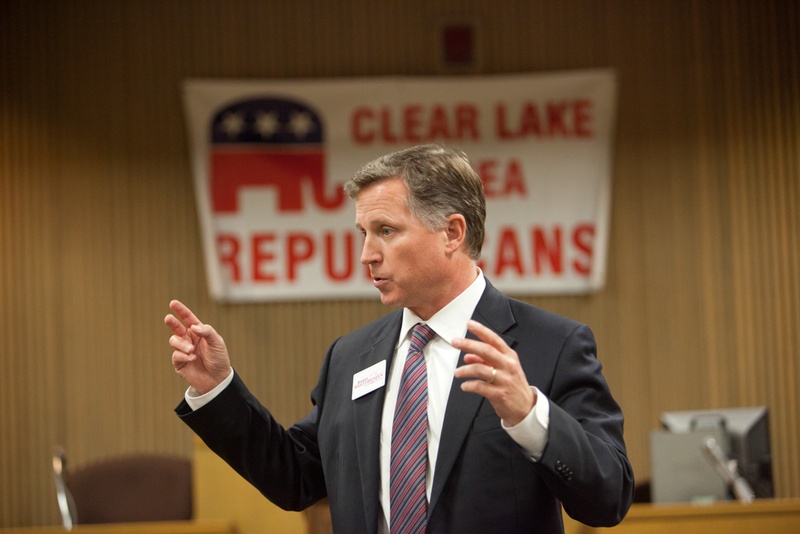 Editor's note: This post has been updated with additional information.
At the Bexar County Republican Women's luncheon on Friday, attorney general candidate Barry Smitherman went after supporters of an opposing campaign for making personal attacks against his wife.
Smitherman, the chairman of the Texas Railroad Commission, is running against state Rep. Dan Branch, R-Dallas, and state Sen. Ken Paxton, R-McKinney, in the Republican primary.
In a video of Friday's event, obtained by the Tribune, Smitherman can be heard discussing the tone of the campaign, which he said has generally been positive.
The Texas Tribune thanks its sponsors. Become one.
"Dan and I will kind of kid each other when we're together," he said. "I'll make fun of him for being a real estate lawyer; he'll make fun of me for being a baby prosecutor. It's all pretty good natured."
"But our other opponent," he continued, referring to Paxton, "has some followers that accused my wife of having an affair. There's no place for that."
"We all put our families out every day to advocate for our perspective, and you shouldn't be subjected to that," Smitherman said.
When asked about his comments, Smitherman's campaign — which went up with an attack ad against Paxton earlier this week — stood by the account, and offered as evidence a Facebook post from an apparent Paxton supporter. In an email, campaign spokesman Jared Craighead wrote that an unnamed State Republican Executive Committee member "called the campaign to alert us a Paxton supporter had said that on social media."
In a statement, Paxton spokesman Ashley Sewell responded, "From last week's attack on Greg Abbott, to now citing social media hearsay, this outrageous claim is the latest in a series of bizarre and reckless statements from Barry Smitherman."
The Houston Chronicle reported last week that Smitherman had referred to some workers in the office of the state's current attorney general as "disinterested paper pushers."
Branch spokesman Enrique Marquez also commented on the issue via email, writing, "Personal attacks on candidates and family members have no place in campaigns."
Reference Material