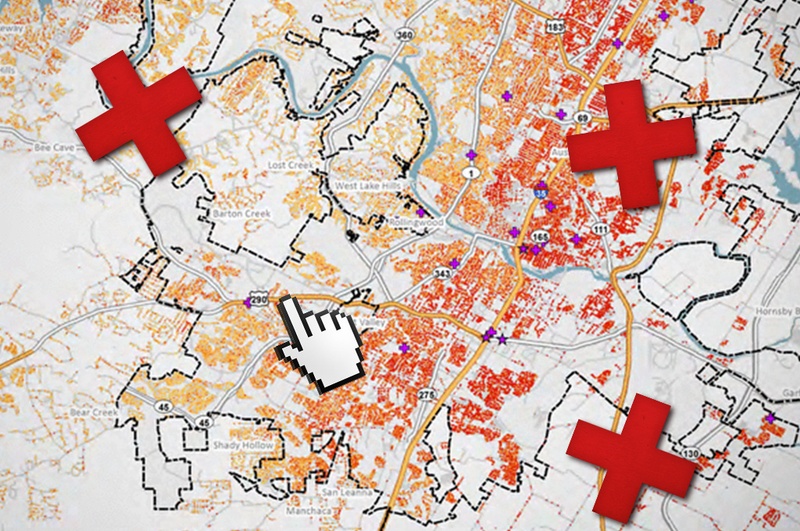 To help uninsured Texans find coverage through the Affordable Care Act, the Get Covered America campaign is targeting Texas neighborhoods with a high rate of residents without health insurance. On Friday, the group released detailed maps showing the types of enrollment assistance available in Texas metropolitan areas.
"We know from both research and our work on the ground that one of the major factors that influences an uninsured person's decision to get enrolled is having a person nearby who can help support them in the process and answer their questions," Mimi Garcia, Texas state director of Get Covered America, said in a statement.
The maps show areas where residents are likely to be uninsured, and the locations of five types of enrollment assisters. Health care organizations across the state are relying on maps such as these to target their enrollment efforts, but as the maps indicate, many areas with a high concentration of uninsured residents do not have enrollment assistance nearby. For example, there are more than 60 locations in Houston where a person can find in-person assistance, but only a handful are located east of Interstate 45 and north of Interstate 10, even though a high concentration of people without health insurance live in that area.
As of Feb. 2, only 207,500 Texans had selected a health plan on the federal marketplace. Texas has the nation's highest rate of people without health insurance at 24.6 percent, according to U.S. census data. About 48 million Americans — including more than 6 million Texans — were uninsured in 2011 and 2012. This Tribune interactive provides details on the state's uninsured residents, and enrollment efforts, so far.
The Texas Tribune thanks its sponsors. Become one.
The Affordable Care Act, also known as Obamacare, requires most Texans to have health insurance by March 31. Texas' Republican-led Legislature, which staunchly opposes the ACA, declined to establish a state-based insurance marketplace, so the federal government has done so instead. Texas Republicans have said that the insurance mandate is federal overreach and that the law could stifle Texas' economy.
The Texas Department of Insurance has also issued state regulations that added further training and other requirements for the navigators hired and trained by recipients of federal grants to help people enroll in the health marketplace. Although they're concerned the new regulations could impede enrollment efforts, government officials and community-based organizations are working together to incorporate the new rules, maximize their resources and educate uninsured Texans on how to take advantage of the federal law.
A full guide to deciphering the maps can be found here.
Texas Tribune donors or members may be quoted or mentioned in our stories, or may be the subject of them. For a complete list of contributors, click here.