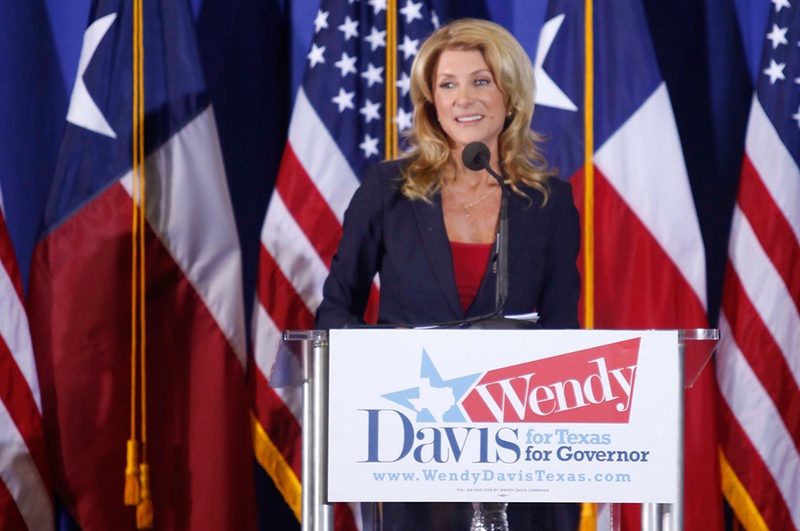 Wendy Davis on Monday afternoon pushed back hard against the latest round of coverage of her early life and subsequent attacks from national conservative mainstays such as Rush Limbaugh and Breitbart.com.
The touchstone this time was a Sunday piece by Wayne Slater of The Dallas Morning News that focused on details such as whether she was divorced at 21 or at 19 and for how long she lived in a mobile home after she was separated from her husband. Slater said that Davis "acknowledged some chronological errors and incomplete details" and also quoted her as saying, "My language should be tighter."
In Monday's statement, Davis said: "I've always been open about my life not because my story is unique, but because it isn't. The truth is that at age 19, I was a teenage mother living alone with my daughter in a trailer and struggling to keep us afloat on my way to a divorce. And I knew then that I was going to have to work my way up and out of that life if I was going to give my daughter a better life and a better future and that's what I've done. I am proud of where I came from and I am proud of what I've been able to achieve through hard work and perseverance. And I guarantee you that anyone who tries to say otherwise hasn't walked a day in my shoes."
This, of course, has hardly been the first time that the subject of Davis' beginnings as a teenage mother has been written about. After Gov. Rick Perry brought up the subject in a speech to the National Right to Life Convention on June 27 — two days after Davis' headline-grabbing filibuster in the Texas Senate — PolitiFact Texas' W. Gardner Selby wrote a fact check on the question.
The Texas Tribune thanks its sponsors. Become one.
In early September, The Texas Tribune's Jay Root and the Houston Chronicle's Peggy Fikac both made deep dives into Davis' biography.
Root's piece delved into the same details of her single motherhood and her divorce from Jeff Davis that were later covered by Slater. Root also dug up details on tenure on City Council, including her suit against the Fort Worth Star-Telegram that alleged biased coverage leading to her defeat.
"As it turns out, Davis' story is more complicated and nuanced than legend would have it," Root wrote. "That is not altogether surprising. Getting to know people, even famous ones, takes time. But Davis — whose moribund party badly needs a superstar — rode a filibuster into the political stratosphere, and now her supporters are all but forcing her to run for Texas governor."
Fikac's piece included an interview with Jeff Davis, who also talked to Slater for his story. In both interviews, Davis gave quotes that give the impression that he believed he was helping his ex-wife by talking to reporters about their courtship, marriage, finances and divorce.
"If she runs, the scrutiny on her will be extraordinary. She needs to deal with it in a constructive way. She needs to take control of the message," Davis told Fikac. "My goal in all this, I think, is just try and protect the kids as much as I can."
"She got a break," Davis told Slater four months later. "Good things happen, opportunities open up. You take them; you get lucky. That's a better narrative than what they're trying to paint."
Texas Tribune donors or members may be quoted or mentioned in our stories, or may be the subject of them. For a complete list of contributors, click here.