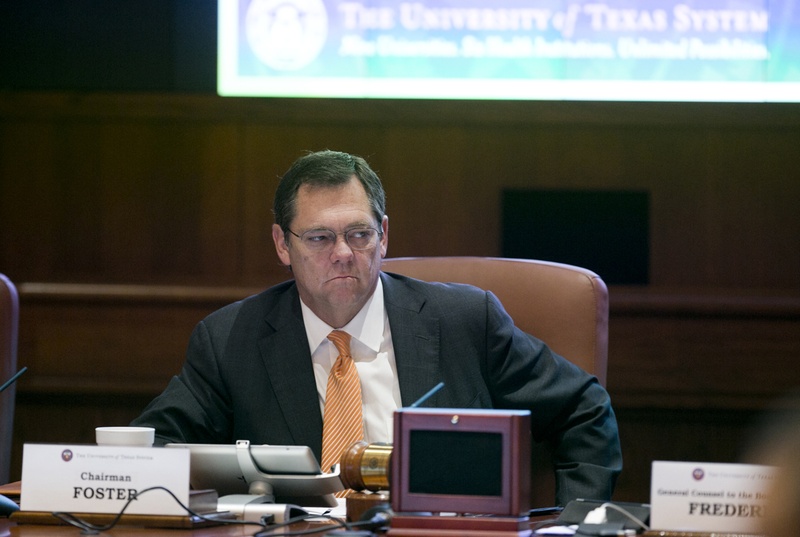 In mid-December, the co-chairs of the legislative committee considering recommending the impeachment of one of the University of Texas System regents sent Chancellor Francisco Cigarroa a letter making it clear that although though the committee does not currently have any future hearings on the matter scheduled, it is still monitoring the system.
State Reps. Carol Alvarado, D-Houston, and Dan Flynn, R-Van, who jointly run the House Select Committee on Transparency in State Agency Operations, wrote that the hearings they had held over the last few months had "highlighted some areas of the System's operations that may need improvement."
To address these issues, to keep an eye on the system and to obtain further information as they prepare their final recommendations on the fate of Regent Wallace Hall — who is under investigation for allegedly overstepping his authority in his personal investigations of the University of Texas at Austin, endeavors he has said he undertook as part of his duties as a regent — the co-chairs said, "Over the coming months, the Committee intends to exercise its oversight authority over the system and the board of regents through directives."
In the Dec. 20 letter, they issued their first directive, requesting certain information to be provided by Feb. 1. On Thursday, a spokeswoman for the system said via email, "We're reviewing the request and will certainly respond before the deadline."
The Texas Tribune thanks its sponsors. Become one.
The committee called for a detailed accounting of any requests for information from a university made by a regent since the directive was issued. It also asked for a description and explanation of any potential board policy changes, such as those being considered by Chairman Paul Foster, which would include tightening communications policies and considering the use of system-issued emails by the regents, who currently use their personal email addresses for system business.
Separately, the committee requested updates of any actions relating to the regents' electronic communication.
The committee also asked for information on any pending inquiries and investigations being conducted by the system, which would likely include a probe of allegations of political influence in the admissions process at UT-Austin, as well as a review of UT-Austin President Bill Powers' travel.
And following the revelation that private student information was improperly shared, the co-chairs asked for a description of actions being taken by the board and the system "to prevent the mishandling of confidential student information."
There's more — and possibly more to come. The committee asked for monthly updates on the issues it raised. And, in closing, it noted: "The report may be expanded to incluse additional information in the future. Moreover, the committee may also issue supplemental directives to the System."
Texas Tribune donors or members may be quoted or mentioned in our stories, or may be the subject of them. For a complete list of contributors, click here.
Reference Material