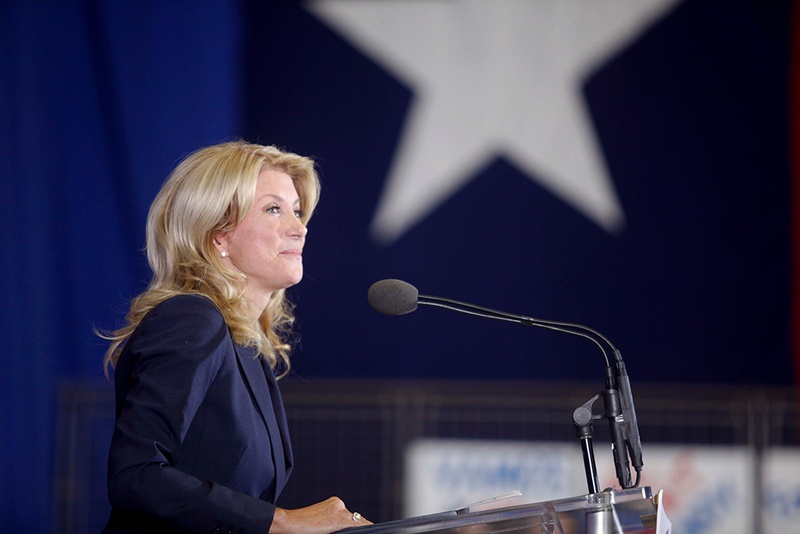 The Big Conversation
Wendy Davis has now laid out the first major policy initiative of her gubernatorial campaign. The policy area — education — was not surprising, but the extensive press coverage focused on a big unanswered question: How to pay for it?
The Tribune's Jay Root wrote, "Davis wouldn't say how much the plan might cost or how she would come up with the money to pay for it, but she said she believed she could implement it without raising new taxes." That led to a countercharge from the campaign of her general election rival, Greg Abbott, that her proposals involved "more fuzzy math."
Peggy Fikac, Austin bureau chief for the Houston Chronicle/San Antonio Express-News, talked to SMU political scientist Cal Jillson, who neatly summarized Davis' conundrum. The Democrat in the governor's race must counter the GOP's call for lower taxes and smaller government with a compelling argument the state must spend more on schools.
He said Davis would be better served by focusing on the ongoing lawsuit against the state on school funding rather than lay out school reforms with no underlying funding sources. "Proposing education reforms but no new funds is timid," Jillson said. "But attaching a big price tag to the reforms would be politically dangerous. So, endorse the lawsuit and let the court set the price tag."
The Day Ahead
• U.S. Sen. Ted Cruz joins GOP gubernatorial candidate and Attorney General Greg Abbott to highlight the third and final day of the Texas Public Policy Foundation's policy orientation at the Sheraton Austin Hotel on E. 11th Street.
• Democratic lieutenant governor candidate and state Sen. Leticia Van de Putte is in Amarillo on Saturday for the annual banquet of the Potter/Randall Democratic Club.
Today in the Trib
Texas House Race Draws Focus to Vietnamese Voters: "A Democratic state representative who is the only Vietnamese-American ever elected to the Texas Legislature will face the winner of a Republican primary that has two Vietnamese-American hopefuls."
Border Towns Struggle to Protect Water Infrastructure: "A dispute in a South Texas border town that could keep hundreds of children out of school on Monday illustrates the struggles that small border communities face in upgrading long-neglected water and sewer systems."
Stockman Hopes to Hang Onto Cruz's Coattails: "In his bid to unseat U.S. Sen. John Cornyn, U.S. Rep. Steve Stockman is arguing that he is a 'fighter' in the same vein as the state's junior senator, Ted Cruz."
Legislative Scorecards are Easy to Manipulate: "The primaries are underway and a flurry of legislative scorecards is coming out, offering both information and misinformation about the candidates. The grades are useful so long as you know how they were determined."
Davis Discusses Plan to Increase Supply of Teachers: "State Sen. Wendy Davis, in her first major policy proposal as a candidate for Texas governor, said on Thursday that she would increase the supply of teachers and give them more money. But she didn't say how she'd pay for the new programs."
Must-Read
Davis lawyers awarded $260K in redistricting fight with Abbott, San Antonio Express-News
Kennedy: Marlise Muñoz and the politics of abortion in Tarrant County, Fort Worth Star-Telegram
Key lawmakers send "directive" to UT system, Houston Chronicle
State grid's reliance on wind generates some concern, Houston Chronicle
Texas elections officials look to fix 'confusing' voter ID cards, Austin American-Statesman
Quote to Note
"The problem for the Davis campaign is that Texas voters have preferred lower taxes to better schools since Sam Houston was a boy." — Southern Methodist University political scientist Cal Jillson on making the case to invest more in public education
News From Home
Big things are happening with The Brief as we move to a format ideally suited for your smartphone, tablet, flying drone, etc. Everything you need to keep you in the know as you start the day. Sign up today!
Trib Events for the Calendar
• Regional premiere of Watershed followed by a panel discussion at Stateside at the Paramount on 1/15
• Lt. Gov. David Dewhurst, candidate for lieutenant governor, at the Austin Club on 1/16
• A Conversation on Our Nation's Future Featuring U.S. Rep. Paul Ryan in San Antonio on 1/23
• Comptroller candidate Debra Medina at the Austin Club on 1/30
• Sen. Leticia Van De Putte, candidate for lieutenant governor, at the Austin Club on 2/6
• Sen. Kel Seliger and Reps. John Smithee and Four Price at West Texas A&M in Canyon on 2/7
• Save the date for the 2014 Texas Tribune Festival: 9/19-9/21
Texas Tribune donors or members may be quoted or mentioned in our stories, or may be the subject of them. For a complete list of contributors, click here.