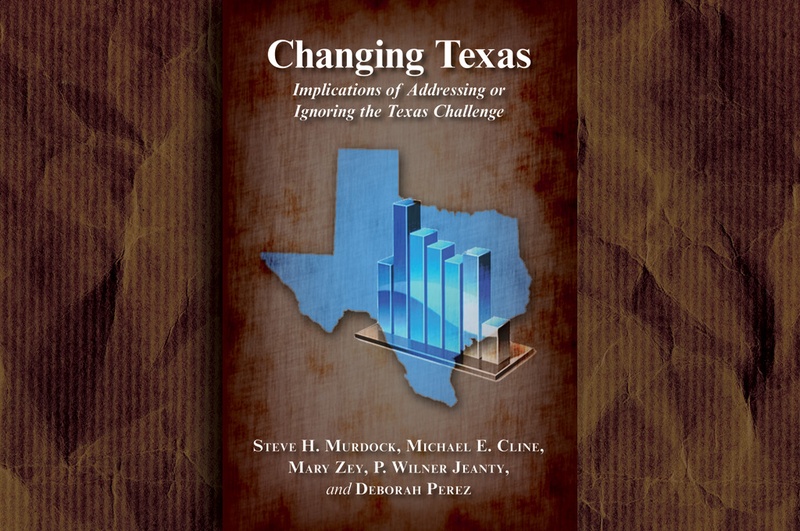 As Texas' rapid growth continues to be fueled by an increase in the Hispanic population, Hispanic and black Texans are likely to keep lagging socioeconomically behind whites, leading to a poorer and less competitive state, according to a new book by a leading expert on Texas demographics.
Changing Texas: Implications of Addressing or Ignoring the Texas Challenge, by Steve Murdock, a former state demographer and former director of the U.S. Census Bureau, examines the latest census data to predict how the second-most-populous state will evolve through 2050. The Texas challenge, he writes, is to consider ways — through education, for example — to level the playing field for disadvantaged Texans.
"Although closing the socioeconomic gaps for Texas minority populations will be difficult, it is clear that the state is better off if they become better off," writes Murdock, director of the Hobby Center for the Study of Texas at Rice University.
Black and Hispanic households in Texas in 2010 had median incomes in the $35,000 to $37,000 range, compared with $60,000 to $64,000 for white and Asian households. The types of households increasing fastest are those with the highest rates of poverty, writes Murdock, who projects that poverty rates in the state could increase from 14.4 percent in 2010 to 17.7 percent in 2050.
The Texas Tribune thanks its sponsors. Become one.
That's not just a problem for low-income families but for the state as a whole, the book says. A lack of well-educated workers makes the state less attractive to private companies. And more people living in poverty means the state has to spend more on education and social services.
While many of the projections in the data-table-filled book are bleak, Murdock writes that providing necessary resources in areas like education could change things. He leaves the details to policymakers.
"If Texas fails to adequately educate its growing population of minority students, the state will have a less well educated and a poorer population than it has today," the book says. "However, if it can successfully educate this population, it could have a younger and more competitive workforce than the nation as a whole."
Texas, now home to 26 million people, had the largest population increase in the country between 2010 and 2012 and the second-largest percentage increase in population during those years, after North Dakota. It had three of the nation's 10 largest cities in 2010 – Houston (No. 4), San Antonio (No. 7) and Dallas (No. 9).
By 2010, Texas was one of four majority-minority states — along with Hawaii, California and New Mexico — in which less than half of the population was white. The percentage of whites in Texas is expected to continue to shrink, and Hispanics are expected to drive the state's growth, accounting for more than 70 percent of the population increase through 2050, according to the book.
The book from Texas A&M University Press is set for publication in February. Murdock is the lead author, and the other authors are Michael E. Cline, Mary Zey, P. Wilner Jeanty and Deborah Perez.
Texas Tribune donors or members may be quoted or mentioned in our stories, or may be the subject of them. For a complete list of contributors, click here.