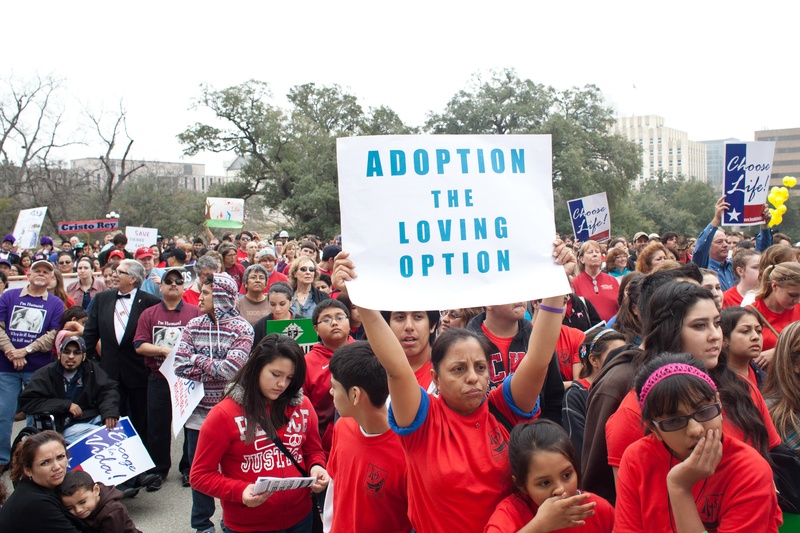 The Big Conversation
The challenge to Texas' law placing further restrictions on abortion facilities took another step toward a widely expected hearing by the U.S. Supreme Court with oral arguments before a three-judge panel from the 5th Circuit in New Orleans.
Drawing attention on Monday were questions posed by the judges reckoned skeptical of abortion rights groups' argument that the new restrictions would create an "undue burden" on women seeking an abortion. Judge Edith Jones questioned whether the closure of all the clinics in the Rio Grande Valley would pose a problem since the highways out of the region have high speed limits and are "particularly flat."
The fight over the law in Texas slots neatly into a national narrative of conservative states shifting from a straight-up challenge to Roe v. Wade to more "incremental measures" that have a better chance of surviving legal challenges, according to a Politico story by Natalie Villacorta. "At each level, the outcome would have repercussions well beyond Texas."

The Day Ahead
• The Texas Supreme Court today will hear oral arguments in an under-the-radar case pitting oil and gas interests against property rights advocates. Justices will weigh the broad question: Just how far below the earth's surface do property lines extend?
• The Texas Transportation Commission meets in San Antonio at 5 p.m. On the agenda is the election of an interim executive director.
Today in the Trib
Search Still On for Higher Ed Performance-Funding Model: "If state agencies made New Year's resolutions, high atop the Texas Higher Education Coordinating Board's list would likely be finding a politically palatable model of performance-based funding for the state's public universities."
Solitary Confinement Study Approved but Lacks Funding: "Lawmakers passed a bill that requires a study of solitary confinement in Texas prisons, but the panel charged with hiring a third party to conduct the research does not have money to fund the study."
5th Circuit Court of Appeals Weighs Abortion Rules: "While Texas awaits a decision by the 5th Circuit Court of Appeals on the state's abortion regulations, the strict new rules that have forced some facilities to stop performing the procedure remain in effect."
On White House Call, Democrats Hit Republicans on ACA: "On a White House conference call on Monday, Texas Democrats criticized Gov. Rick Perry and other Republican state leaders for 'getting in the way' of implementing federal health care reform."
Must-Read
Ted Cruz's dad, Rafael Cruz, backs Katrina Pierson for Congress over incumbent Pete Sessions, The Dallas Morning News
ERCOT: Texas narrowly avoided rolling power blackout, Austin American-Statesman
Spending in Eagle Ford forecast at $30B this year, San Antonio Express-News
TWIA withdraws Statesman subpoena, Austin American-Statesman
Sen. Wendy Davis: Attorney General Greg Abbott at fault for payday-lending uptick, El Paso Times
Witt: Star-Telegram report on Affordable Care Act left out key information, Fort Worth Star-Telegram
Quote to Note
"You know how long that takes in Texas at 75 miles an hour? That's a particularly flat highway." — U.S. 5th Circuit Court Judge Edith Jones, suggesting that quick highways mean traveling hundreds of miles from the Rio Grande Valley to obtain an abortion wouldn't be an "undue burden."
News From Home
Big things are happening with The Brief as we move to a format ideally suited for your smartphone, tablet, flying drone, etc. Everything you need to keep you in the know as you start the day. Sign up today!
For the Calendar
• Regional premiere of Watershed followed by a panel discussion at Stateside at the Paramount on 1/15
• Lt. Gov. David Dewhurst, candidate for lieutenant governor, at the Austin Club on 1/16
• Comptroller candidate Debra Medina at the Austin Club on 1/30
• Sen. Leticia Van De Putte, candidate for lieutenant governor, at the Austin Club on 2/6
• Sen. Kel Seliger and Reps. John Smithee and Four Price at West Texas A&M in Canyon on 2/7
Texas Tribune donors or members may be quoted or mentioned in our stories, or may be the subject of them. For a complete list of contributors, click here.