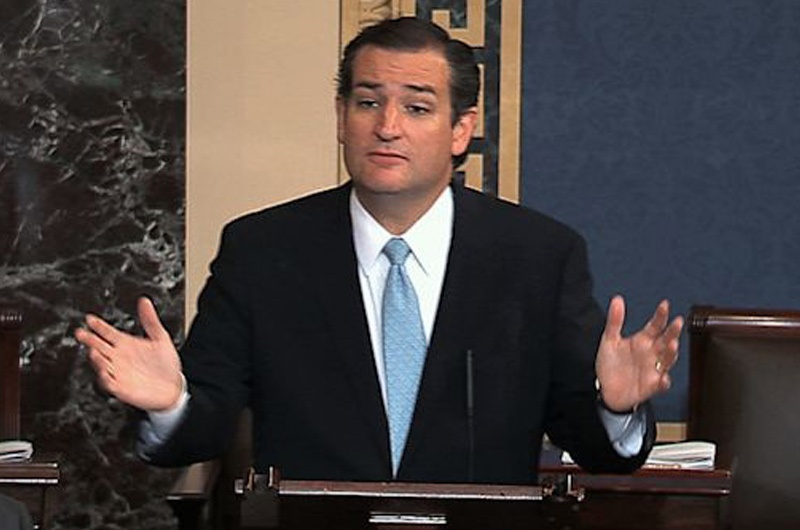 The Big Conversation
Ted Cruz made a big splash during a half-hour speech over lunch on Thursday to the American Legislative Exchange Council, covering a host of topics near and dear to the grassroots conservatives whose allegiance he'll need if he pulls the trigger on a 2016 presidential run.
Here are some highlights:
— He claimed vindication for his part in pushing the government into a shutdown while fighting to defund the Affordable Care Act. The subsequent botched rollout of the federal health insurance exchange website has changed the national conversation. "The most reasonable, pragmatic, middle-of-the-road, common-sense thing to do is to acknowledge it's not working and start over," Cruz said.

The Texas Tribune thanks its sponsors. Become one.
— The efforts to stop the implementation of the ACA is similar, Cruz said, to the grassroots rebellion that stopped new gun control measures in the aftermath of the shooting at Sandy Hook elementary school. "When millions of Americans rose up and even all of Washington thought those gun control policies were unstoppable, the American people stood up for us. And when [the proposals] came for a vote on the Senate floor, every single proposal of this administration to undermine the Second Amendment was voted down."
— Direct election of senators, a product of the 17th Amendment, has eroded states' rights, Cruz said. "If you have the ability to hire and fire me," he said, "I'm a lot less likely to break into your house and steal your television. So there's no doubt that was a major step toward the explosion of federal power and the undermining of the authority of the states at the local level."
Culled
• Davis Expresses Concerns on Energy Market Proposal (The Texas Tribune): "The Democratic gubernatorial candidate sent a letter to PUC Chairwoman Donna Nelson on Thursday calling for a comprehensive cost-benefit analysis before the commission makes a decision on whether Texas will shift its 'energy only' market to a 'capacity' market, which would pay electricity providers billions of dollars to maintain excess generating capacity."
• Ethical violation by Congressman Beto O'Rourke appears unlikely (El Paso Times): "It appears that the biggest mistake U.S. Rep. Beto O'Rourke made in investing in initial public offerings is not getting clearance of the House Ethics Committee in advance. Otherwise, if the way the El Paso Democrat described his participation in certain stock transactions is accurate, it seems unlikely that he violated House ethics rules or federal law."
• Patterson says GOP rhetoric too harsh, drives away Hispanics (The Dallas Morning News): "Lieutenant governor candidate Jerry Patterson says too many Texas Republican leaders use divisive language in discussing immigration and border security. It's turning off Hispanics in droves, he said Thursday. Actually, he said party rhetoric is alienating 'Tejanos.' That's his preferred term for Hispanics."
The Texas Tribune thanks its sponsors. Become one.
• Bungling the Easy Stuff (Time): "Obamacare is the President's signature domestic achievement. It's bad enough that the design and launch of its insurance-exchange website was bungled and required emergency treatment. ... But that they also haven't yet delivered on the easy stuff related to the President's highest priority suggests that the Obama team was so lacking when it came to turning law into reality — better known as governing — that the website never had a chance."
• UT president Powers refutes Saban rumors, leaves Brown's status open (Austin American-Statesman): "University of Texas President Bill Powers said Thursday that the school has not reached out to Alabama's Nick Saban and no decision has been made on the future of Longhorns football coach Mack Brown — or even a decision on whether any decision must be made."
Quote to Note: "Just a few weeks ago, people in Washington were saying, 'Why on earth are you fighting so hard against Obamacare?' Now, nobody's saying that. Over and over again you run into people who say, 'Now I understand what this is all about.'" — U.S. Sen. Ted Cruz, R-Texas, claiming some vindication for using the threat of a government shutdown to force the defunding of the Affordable Care Act

Must-Read
Texas Tribune donors or members may be quoted or mentioned in our stories, or may be the subject of them. For a complete list of contributors, click here.