Perry Awards Posthumous Military Honor to WWII Veteran Audie Murphy
Gov. Rick Perry awarded Audie Murphy the Texas Legislative Medal of Honor on Tuesday, more than 40 years after his death.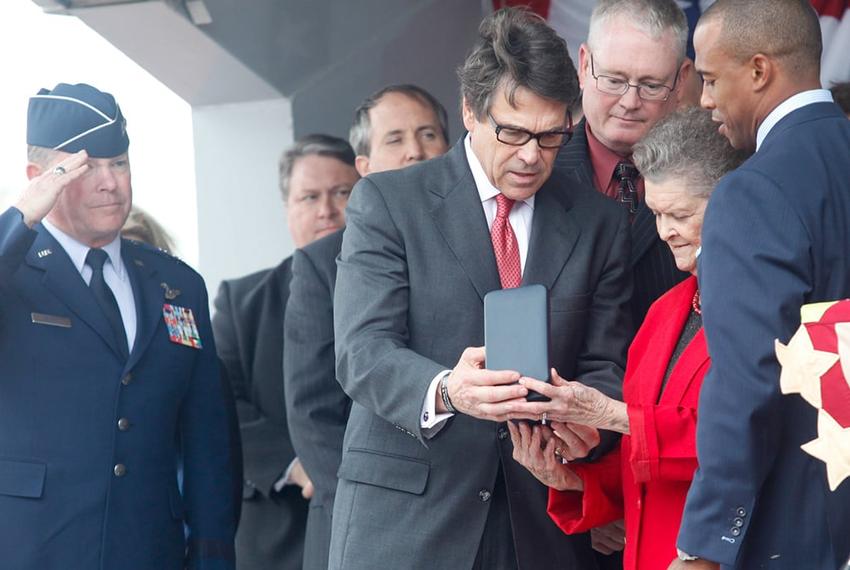 FARMERSVILLE — Gov. Rick Perry on Tuesday awarded World War II veteran Audie Murphy the Texas Legislative Medal of Honor, the state's highest military decoration, more than 40 years after Murphy's death.
Murphy was an "individual who helped define heroism for his community, his state and his country," Perry said at a ceremony in the town square.
Murphy, a native of Kingston whose portrait hangs in the Texas House chamber, was one of the most decorated soldiers in U.S. history, earning every military combat award for valor available from the U.S. Army and other awards from France and Belguim. The war hero went on to have a film acting career and died in a plane crash in 1971 at the age of 46.
Family members and fans of Murphy have been campaigning for him to receive the Texas Legislative Medal of Honor for years.
During this year's regular session, the Legislature passed House Bill 1589, which allowed Perry to award two Legislative Medals of Honor during a regular legislative session, up from one, to help address a backlog of worthy recipients. Under the bill, no more than one recipient can be awarded for military service after 1955. A second medal can be awarded for service between 1835 and 1956.
Perry didn't sign the bill until after the legislative ended, which appeared to quash any chance of Murphy receiving the medal this year. But in the second special session this year, lawmakers approved a resolution that directed Perry to posthumously bestow the medal on Murphy.
"More than four decades since his untimely passing, Audie Murphy lives on in the hearts and memories of a generation of Americans," Perry said Tuesday. "It's our obligation to keep his memory alive, telling and re-telling his stories, reminding new generations of Texans of what this sharecropper's son accomplished through the sheer power of his will."
Murphy's sister, Nadine Lokey, reminded the crowd that Murphy's memory lives on.
"You're not really dead until you are forgotten, so we don't want that to happen for the people that lost their lives defending our freedom," Lokey said.
She urged the crowd to pray for the men and women currently fighting oversees.
"One day we'll meet our loved ones up in heaven, and that will be in the best place of all," Lokey said. "In the meantime, pray."
Texas Tribune donors or members may be quoted or mentioned in our stories, or may be the subject of them. For a complete list of contributors, click here.
Support public-service journalism that's always free to read.
It's been a busy year. Through it all, The Texas Tribune's journalists have not missed a beat. And with redistricting starting in earnest next week and the 2022 elections on the horizon, we know our journalism will continue to be fundamental for Texans everywhere. Support our work today so we can be there for you in 2022 and for whatever else 2021 might throw at us.
Yes, I'll donate today