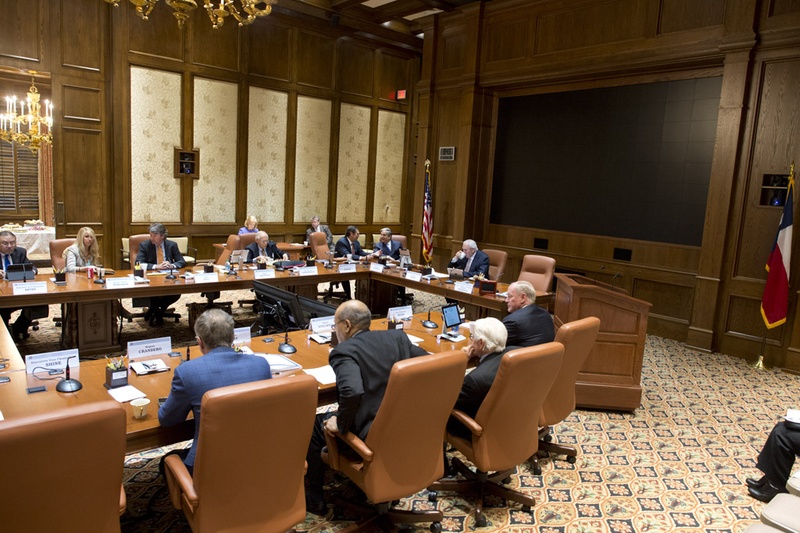 The University of Texas System has hired Hilder & Associates, a Houston-based law firm, as outside counsel to assist in its dealings with the House Select Committee on Transparency in State Agency Operations.
The legislative committee is conducting an investigation and considering filing articles of impeachment against one of the System's regents, Wallace Hall, though its charge is broad enough to allow for the filing of such articles against any of the regents or, for that matter, any gubernatorial appointees.
To hire outside counsel, the System had to seek permission from the attorney general, which it did successfully.
According to a statement provided by a System spokeswoman, matters and questions that may arise during the proceedings for which the System or the board may require outside counsel could relate to "the privileged nature of legal advice and communications provided by System officers and employees to members of the Board of Regents and others and to the waiver of such privilege in the context of a quasi-judicial legislative proceeding, including closed sessions of a legislative committee."
The Texas Tribune thanks its sponsors. Become one.
The committee plans to hold a closed meeting on Monday to plan for hearings, which may be held next month. They have hired their own special counsel, Houston attorney Rusty Hardin, to help them with their efforts.
The selection was seen as show of strength. Hardin recently served as the special prosecutor in the Michael Morton wrongful conviction case. Over the years his star-studded client list has included baseball star Roger Clemens and football star Warren Moon. In the mid-1990s, he served under Bob Fiske and Ken Starr in the Whitewater Independent Counsel's Office.
But Philip H. Hilder is also a heavyweight. His own high-profile clients have included the whistleblowers in the Enron and Countrywide scandals. He formerly served as the attorney-in-charge of the U.S. Department of Justice Organized Crime Strike Force in Houston.
The UT System board has a meeting scheduled for Thursday at which the regents are expected to approve an expanded search advisory committee for the purpose of finding a president for a new university in South Texas. They are also expected to approve a loan to the University of Texas at Austin to allow the flagship to build a much-needed and long-awaited new engineering education and research center.
The regents will also hold a closed-door executive session. The agenda calls for, among other things, "discussion regarding legal issues related to matters to be considered by the Select Committee on Transparency in State Agency Operations of the Texas House of Representatives, including discussion with outside counsel."
Texas Tribune donors or members may be quoted or mentioned in our stories, or may be the subject of them. For a complete list of contributors, click here.