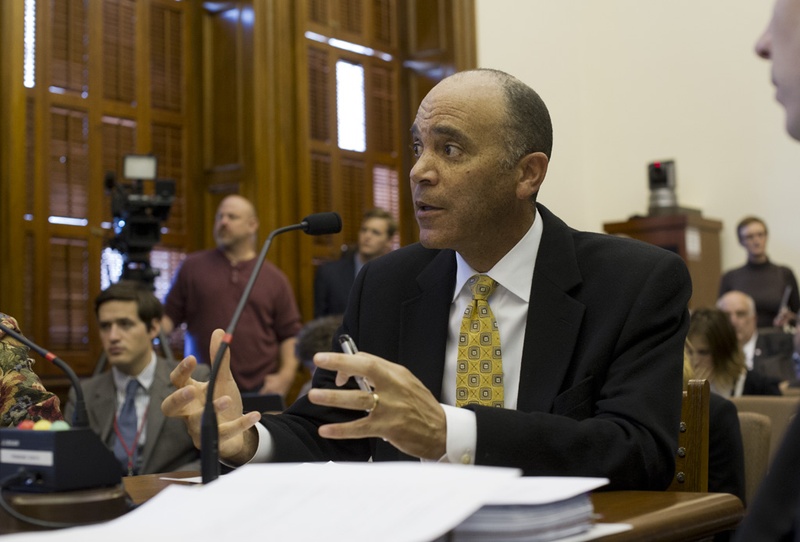 Wallace Jefferson, chief justice of the Texas Supreme Court, announced this week that he will resign at the end of the month, so we begin the latest edition our news-inspired playlist with "Had Enough" by Mr. Big.

The easiest way to enjoy the playlist is to download Spotify, which is a free program. But even without it, you can still follow along. Here are this week's other selections:
We have "Father and Son" by Cat Stevens in light of an acknowledgement by state Rep. Jim Pitts, R-Waxahachie, that he wrote a letter of recommendation for his son who was seeking acceptance to law school. That is followed by Willie Nelson singing "Desperadoes Waiting for a Train," in light of news that Julian Castro and Lee Leffingwell, the mayors of San Antonio and Austin, respectively, are in talks with federal officials about developing a high-speed rail project between their two cities.
San Antonio passed a controversial ordinance prohibiting discrimination based on sexual orientation or gender identity. Representing the victors in that dispute, we have the gay rights anthem "Same Love" by Macklemore & Ryan Lewis.
The Texas Tribune thanks its sponsors. Become one.
In the Lower Rio Grande Valley, eradication efforts aimed at the boll weevil, which can destroy the yields of cotton plants, are progressing, so Leadbelly's "Boll Weevil" was added to the playlist. For officials in Hidalgo County who say the 2010 census dramatically undercounted the county's population and are working to ensure a more accurate count in the future, we included "Count Me In" by Gary Lewis & the Playboys.

The state's water policy is on the minds of the Republicans running for agriculture commissioner, inspiring the selection of "Give Me Water" by John Forte and Valerie June.
A federal panel of judges ruled Friday that the 2014 primaries will be held using the political maps approved this summer by lawmakers during a special session, so we have "Get Out the Map" by the Indigo Girls. In light of a report on efforts at the University of Texas at Austin to create courses that are available to massive numbers of students, including those who are not enrolled at the university, we added "I'd Like to Teach the World to Sing" by The New Seekers.
And we end with a nod to a recent Tribune symposium on Mental Health: "Where Is My Mind?" by The Pixies.
Enjoy!
Texas Tribune donors or members may be quoted or mentioned in our stories, or may be the subject of them. For a complete list of contributors, click here.