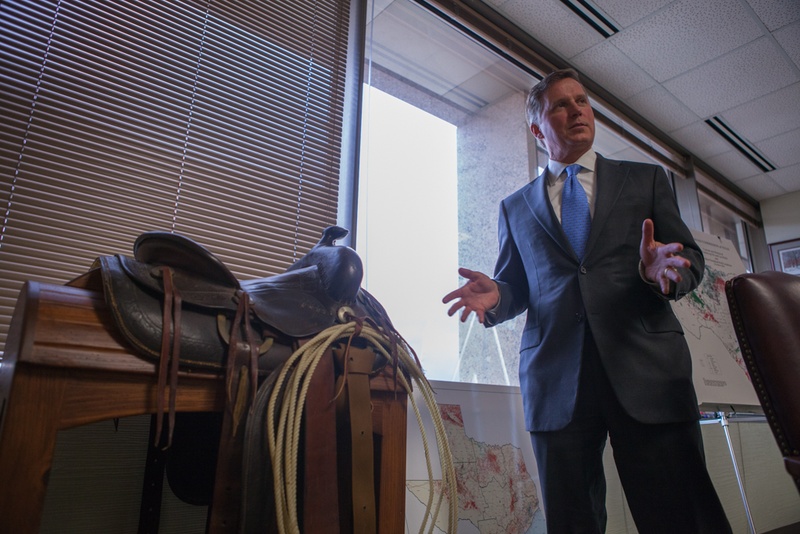 In a recent speech to an anti-abortion group on the economic impact of terminating pregnancies, Texas Railroad Commissioner Barry Smitherman, a Republican candidate for attorney general, said he believed many unborn babies "would have voted Republican."
"It's a strange statement," said Jessica Luther, an abortion rights activist in Austin. "I'm not sure what he's saying about their parents."
Smitherman spokesman Allen Blakemore called the candidate's statement a matter of statistics.
"Of course he was referring to the ones in Texas," Blakemore said, "and we know that the majority of Texans vote for Republican candidates."
The Texas Tribune thanks its sponsors. Become one.
Smitherman was the keynote speaker at the Texas Alliance for Life's quarterly Leadership Circle Luncheon on Aug. 15. His remarks covered a range of topics, from American energy independence to China's "one-child" policy.
Regarding the latter issue, which he suggested will "turn out badly for the Chinese," Smitherman observed that America was not much better off since it has settled for a low fertility rate that effectively amounts to "our own one-child policy."
He touted the economic benefits to societies with high fertility rates and cautioned against heeding the warnings of overcrowding from "the same people that believe in global warming."
Smitherman and his wife have four children. "We're doing our part," he said. "But some people are not having enough children."
The commissioner encouraged young people in the audience to get married and begin having children. He called for tweaking the federal tax code to reward large families, lowering college costs so parents wouldn't worry about having more children and changing laws to make home-schooling easier.
And he praised the recent passage of abortion restrictions by the Texas Legislature. Smitherman described proponents of the legislation as "civil and polite, but persistent," and characterized their opponents as "satanic, evil and crude."
The Texas Tribune thanks its sponsors. Become one.
Luther disagreed with that interpretation. "The GOP impression of what happened is 180 degrees from my own," she said. "It was born of anger, but it was still this group of people who came together in this incredibly organic moment to use their voices to speak up for their rights. The idea that there is something evil or satanic in that is ridiculous."
Blakemore said that the behavior of some of the abortion rights supporters during the legislative debates backed up this statement. Smitherman and his wife, who spent many hours in the Capitol during the debates, felt that "the tenor and conduct of some of the abortion opponents was certainly less than gracious," Blakemore added.
Smitherman closed his mid-August remarks by addressing the young men in the attendance. "You should not casually engage with the other sex," he said, warning that it creates emotional bonds that are hard to break.
"If your activity results in a situation," he advised, "get married."
Texas Tribune donors or members may be quoted or mentioned in our stories, or may be the subject of them. For a complete list of contributors, click here.