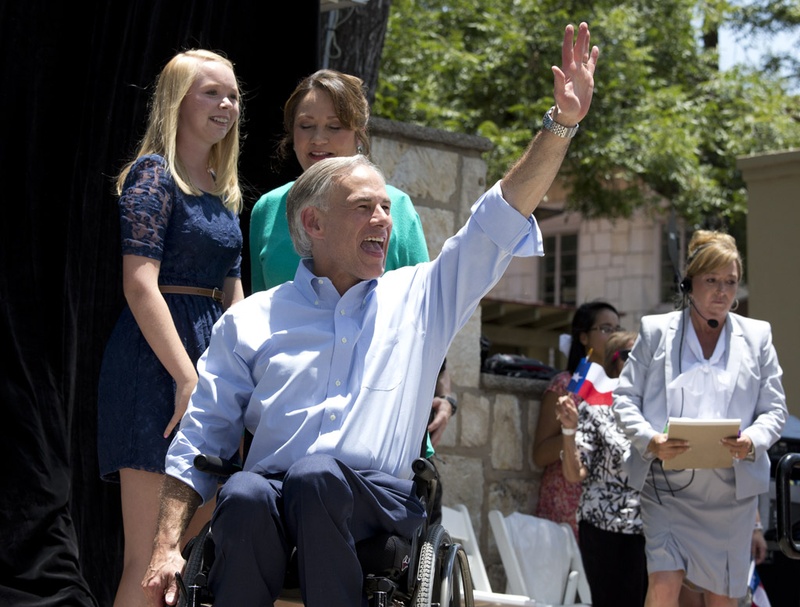 On Sunday, Attorney General Greg Abbott officially began his campaign for governor and spent the rest of the week touring the state. In light of this launch, we start this week's news-inspired playlist with "Start Me Up" by The Rolling Stones.
Downloading Spotify, a free program, is the easiest way to enjoy the playlist. But you can still follow along without it. Here are this week's other selections:
Campaign finance reports were due this week. Some campaigns fared better than others. For those who are behind in the fundraising game, we have the Barenaked Ladies' "If I Had $1,000,000."
Many politicians, including Gov. Rick Perry, spent Tuesday in the Rio Grande Valley to celebrate the signing of a bill that established a new university and medical school in the region that will surely change the "South Texas Skyline," which is the title of a song by Ryan Beaver.
The Texas Tribune thanks its sponsors. Become one.
Authorities confirmed Miguel Treviño Morales, the alleged head of the Zetas cartel, was captured on Monday in the municipality of Anáhuac, Nuevo León. So we have "Bad Boys" by Inner Circle, best known as the theme song to the show Cops.

The House and Senate are set to work on a compromise on a bill to address some of the transportation funding needs in the state, where every rush hour, city streets are filling up with a "Long Line of Cars," which is a Cake song. For my story on the debate over how to save the San Saba River before it dries up, the Reverend Horton Heat's "River Ran Dry" was added to the playlist.
In light of a report by KUT News' Mose Buchele on how efforts to overhaul property rights fell short this legislative session, we have Ringo Starr's "Private Property." Texas schools are working to determine how best to comply with the U.S. Department of Agriculture's new ban on unhealthy snacks in school vending machines. To help get the word out on the benefits of the new options, Sesame Street's Cookie Monster sings "Healthy Food."
Former U.S. Rep. Ron Paul announced plans to launch his own media channel featuring breaking news stories and other features. This inspired the addition of ELO's "Here is the News."

And finally, we have Lyle Lovett's "Closing Time," in light of reports that, due to a lack of funding, three Planned Parenthood family planning facilities in Texas will close by the end of August.
Enjoy!
The Texas Tribune thanks its sponsors. Become one.
Texas Tribune donors or members may be quoted or mentioned in our stories, or may be the subject of them. For a complete list of contributors, click here.