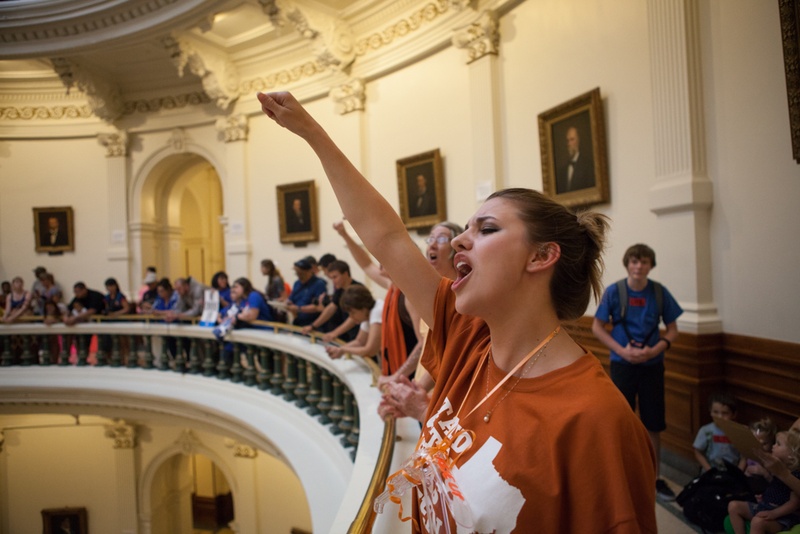 After a long debate, Senate Republicans successfully passed an omnibus abortion restriction bill. Democrats insist they will keep fighting the measure. So, we begin this week's playlist with Levon Helm singing "Battle is Over But the War Goes On."
Downloading Spotify, a free program, is the easiest way to enjoy the playlist. But you can still follow along without it. Here are this week's other selections:
Because Rick Perry announced that he would not seek another term as governor, we have John Mellencamp's "I'm Not Running Anymore." This announcement, of course, set off something of a scramble of politicians looking to move up to the next level. So, we follow that with Hoobastank's "My Turn."
Two expected rivals in the race for lieutenant governor are former political allies, incumbent David Dewhurst and state Sen. Dan Patrick, R-Houston. For them, we added the song "I Know You Too Well To Like You Anymore" by Reel Big Fish. (Warning: some explicit language in that one.)
The Texas Tribune thanks its sponsors. Become one.
The Trib's Julián Aguilar reported about shots being fired and tear gas being lobbed "On the Border," which is a song by The Eagles. He also wrote about a neglected notion on the rise in Ciudad Juárez: "Hope," which happens to be a song by Emeli Sandé, also included here.
After Ryan Murphy published a map of the state's surging youth population, we couldn't resist adding David Bowie's "Young Americans" to the playlist. The governor set a date for a special election to replace former state Rep. Mark Strama, D-Austin, so that is followed by "Election Day" by The Replacements.
We included cellist Julia Kent's "Transportation," because that issue appears likely to remain a top priority for lawmakers, even after the current special session.
And we close with a tribute to the preferred neckwear of R. Bowen Loftin, Texas A&M University's president who announced this week that he plans to step down in January: Cowboy Troy's "My Bowtie."
Enjoy!
Texas Tribune donors or members may be quoted or mentioned in our stories, or may be the subject of them. For a complete list of contributors, click here.