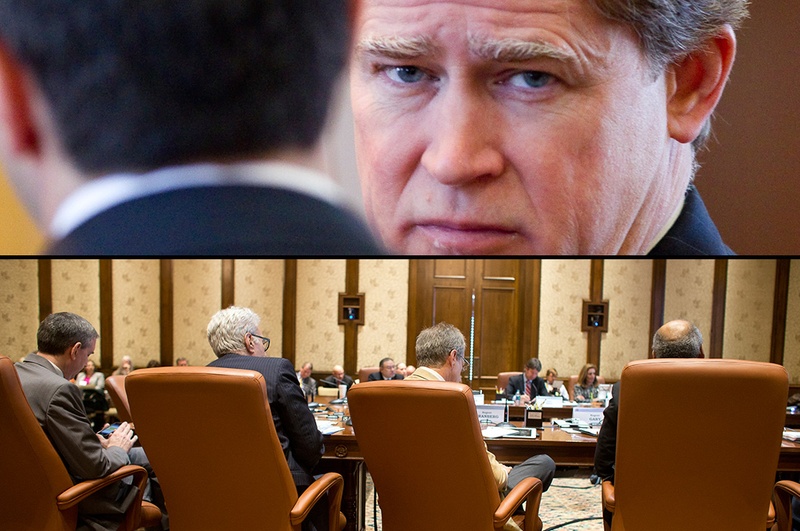 Updated, May 15, 2:40 p.m.:
After the Senate concurred with amendments in the House, a bill adding restrictions and requirements for regents of the state's university systems is on its way to the governor's desk.
All regents are appointed by Gov. Rick Perry. It remains to be seen if he will allow a bill limiting the power of his appointees to become law or if he will make use of his veto powers.
Updated, May 14, 12:50 a.m.:
The Texas Tribune thanks its sponsors. Become one.
Senate Bill 15, which adds restrictions and requirements for gubernatorially appointed regents of the state's university systems, passed the House easily upon its third and final reading with a vote of 134 to 11.
Because two amendments were added to the bill in the House, it is now up to the Senate to accept the House's changes or request a conference committee on the bill.
Original story, May 13:
Regents of the state's public university systems would be required to attend training — including ethics training — before being allowed to vote on budgetary or personnel matters, under legislation that the House tentatively approved Monday.
Senate Bill 15, authored by Senate Higher Education Chairman Kel Seliger, R-Amarillo, was filed amid concerns about what he called "micromanagement" at the University of Texas System. Laying out the bill in the lower chamber, House Higher Education Chairman Dan Branch, R-Dallas, called it the "higher ed governance clean up bill."
Branch added two amendments to the bill, which has changed somewhat from its original version, including a clarification that the required training can be provided by the system. The measure, which still faces a third reading in the House, did not garner any debate Monday. If the bill passes that reading, the Senate would have to either accept the House's changes or request a conference committee on the bill.
The Texas Tribune thanks its sponsors. Become one.
Under the legislation, a regent who is appointed when the Legislature is not in session would not be able to vote on budgetary or personnel matters until after he or she appeared before the Senate Nominations Committee, or after 20 days pass with the committee chairman opting not to call a hearing to consider that appointee. The original bill called for a 45-day waiting period, but Branch said some felt that was too long.
Another Branch amendment requires all systems' regents' terms to end in February of odd-numbered years so that there will almost always be time to appoint and confirm new regents when lawmakers are in Austin.
SB 15 also establishes that regents cannot terminate a university president without a recommendation to do so from the system's chancellor. Though, if a chancellor makes such a recommendation, the board is not required to heed it.
Additionally, the legislation tweaks language in state law so that it would now be required — rather than recommended — that regents preserve the institutional independence of the universities they govern. It also adds language that prohibits regents from having any contractual or financial interest in the institutions they oversee.
The bill also includes a provision instructing boards to ensure that they are not controlled by a minority of its members or by outside institutions. Some legislators have expressed concern that some university system regents, all of whom were appointed by Gov. Rick Perry, are overly influenced by groups like Texas Public Policy Foundation, an Austin-based conservative think tank.
One outside group, the Texas Coalition for Excellence in Higher Education, a group that formed in 2011 in opposition to proposed reforms by the TPPF, praised the legislation. It issued a statement calling the bill "an important step toward improving the governance of these critical state institutions and ensuring members of the boards of regents are adequately equipped, prepared and trained to govern properly."
"It is our hope that the standards set forth in this bill will lead to a more constructive and less divisive approach to governing our universities," the statement said.
Texas Tribune donors or members may be quoted or mentioned in our stories, or may be the subject of them. For a complete list of contributors, click here.