As Clock Ticks, Chance for Medicaid Expansion Dwindles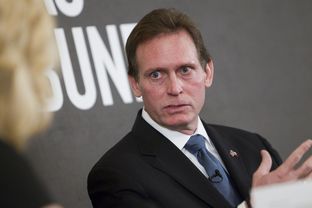 Updated, May 8, 1:40 p.m.:
With the prospect of Medicaid expansion on life support, protesters gathered at the Capitol on Wednesday to urge state leadership to expand coverage to poor adults, and state Democrats announced that they're still searching for a legislative vehicle to expand coverage.
"It appears as if we are going to miss an opportunity and that is to the detriment to the people below the poverty level who work and don't have health care," state Rep. Garnet Coleman, D-Houston, said at a news conference held by Democrats, noting that the legislation that would have offered an alternative to Medicaid expansion, House Bill 3791 authored by Rep. John Zerwas, R-Simonton, died this week. He said the most likely vehicle to expand health coverage to adults below the poverty line is a rider to the 2014-15 state budget.
"Clearly there is an opportunity to have that discussion on the conference committee on the budget," Coleman said. "But the governor, I believe, has put a chilling effect on this coverage expansion based on his requirements."
The Texas Organizing Project, which has held multiple rallies during the legislative session to urge state lawmakers to expand Medicaid, organized a sit-in outside Lt. Gov. David Dewhurst's office and marched inside the Capitol rotunda on Wednesday.
"From group's chant sheet: 'Dewhurst,.Dewhurst, you're the worst. We need healthcare but you don't care.' #txlege," tweeted Tribune reporter Aman Batheja, to which Dewhurst responded on Twitter, "@amanbatheja I think it's 'Dewhurst, Dewhurst, you're the first statewide elected official to stand up to Obamacare.' #rotundaacoustics."
"TOP has emailed, called, we've written letters and lobbied legislators and yet, with less than three weeks left in the session, there has still been no action on accepting federal funds to expand health coverage," the organizers of the protest said in a statement. "In the course of a month, TOP outreached to over 100,000 hardworking families in Texas and nearly 20,000 Texans took action and directly engaged in the campaign to expand healthcare."
Julián Aguilar contributed to this report.
Updated, May 7, 5:50 p.m.:
Some members of the Tea Party faction in the House are prepared to vote down the 2014-15 budget — and potentially send the Legislature into a special session — if budget negotiators include a rider that would open the door to discussions with the federal government to expand health care coverage for the state's poorest adults.
"If the budget expanded Medicaid, conservatives in the House would vote the budget down," said state Rep. Van Taylor, a Tea Party favorite from Plano. He said conservative Republican members of the House are "absolutely prepared to go to the mat" and return for multiple special sessions to prevent any semblance of Medicaid expansion.
State Rep. John Zerwas, R-Simonton, said House Bill 3791, which he filed to present the Legislature with an alternative way to expand health coverage to the state's poorest adults without expanding Medicaid, would probably not move out of the lower chamber by the House's midnight Thursday deadline, therefore the rider was one of few — if not the only — remaining legislative vehicles for the Legislature to weigh in on the issue.
"If people took the time to read the rider they would recognize that it's not a Medicaid expansion," he said. "They would understand clearly that it is a lot of, frankly, conservative principles."
Another Tea Party favorite, state Rep. David Simpson, R-Longview, said he's also opposed to Medicaid expansion, but he is not familiar enough with the rider to know whether he'd vote it down. "I'm not opposed to making our present system better," he said. "I want us to become more independent" from the federal government.
The rider, which was authored by Sen. Tommy Williams, R-The Woodlands, and approved by the Senate, would direct the state to pursue private market solutions during any negotiations between the governor, the state health department and the federal government to drawn down billions in financing to expand coverage to adults below 100 percent of the federal poverty line.
"John wants it. I want it — so there's two of us" who want to include the rider in the budget, said House Appropriations Chairman Jim Pitts, R-Waxahachie. He said House and Senate negotiators have not formally discussed the rider, so he was unsure whether it would be included.
Original story:
With the lower chamber's window to approve House bills closing, the likelihood of Texas expanding Medicaid coverage — even through a private market alternative — is looking slim.
State Rep. John Zerwas said his House Bill 3791 is all but assured not to move in the lower chamber by Thursday's midnight deadline, meaning lawmakers will have to jump through hoops to get the measure to move this session.
"It's probably dead in the water," he said. "I'm very disappointed that the body won't have a discussion on what's one of the premier issues of the session."
Zerwas has argued that his legislation would not expand Medicaid as directed under the Affordable Care Act — which Gov. Rick Perry and the House GOP Caucus remain firmly opposed to. Rather, the bill would push Texas to request a block grant from the federal government to reform the current Medicaid program. It also identifies Medicaid reforms that Texas could implement already, such as cost-sharing requirements and co-payments; it establishes a separate program to potentially draw down federal financing to help individuals at or below 133 percent of the poverty level find private market coverage; and it sets up an oversight committee for both programs.
Although Perry and the Texas Public Policy Foundation (TPPF), a conservative think tank, support the request for a block grant to reform the current Medicaid system, they remain opposed to any provisions that would use public financing to subsidize insurance coverage for more of the state's poorest adults.
"TPPF moves a lot of people on this floor," said state Rep. Garnet Coleman, D-Houston. "Even though Chairman Zerwas has put provisions in [HB 3791] favorable to their point of view and some of our colleagues' point of view, I don't know if that's enough to get them off of the starting line."
It's possible the influential Calendars Committee could vote out Zerwas' bill tonight, but even then, the bill would have to be placed ahead of many other measures to have a shot. That's unlikely — if lawmakers spent much time debating it, they would kill a host of other bills waiting behind it.
No legislation is truly dead until Sine Die, but without a Senate companion bill, Zerwas acknowledged there are few avenues left.
During conference committee negotiations on the 2014-15 budget, House and Senate leaders could include a rider authored by Sen. Tommy Williams, R-The Woodlands, directing the state to pursue private market solutions if Texas decided to negotiate an expansion of health care coverage with the federal government. "To my understanding, that rider is still in the budget conference right now," Zerwas said.
Although the House approved a non-binding motion not to include such language in the budget, Coleman said that's the most likely place for the Legislature to take a stance on alternatives to expanding health coverage options for poor adults.
"The only thing that would be are the parameters if the governor decided to pursue, and the HHSC commissioner decided to pursue, a coverage expansion for adults," he said.
The House or Senate could also tack the language of HB 3791 or other provisions to expand health care coverage options onto an omnibus Medicaid bill. These bills are commonly referred to as "Christmas Tree" bills, because of the ease in which lawmakers can ornament them with previously dead legislation. Lawmakers on both sides of the aisle agree that this is an unlikely vehicle for Medicaid expansion or a private-market plan to expand coverage, largely because the issue is too polarizing.
"It's not the type of bill you can attach to something else," Zerwas said. "It's really a bill that needs to stand on its own merits and it's a subject that really demands the kind of robust discussion you hear on the House floor."
Texas Tribune donors or members may be quoted or mentioned in our stories, or may be the subject of them. For a complete list of contributors, click here.