The Evening Brief: May 1, 2013
Your evening reading: lawmakers probe West explosion at hearing; Cruz-for-president buzz builds; House votes to reduce reliance on budget diversions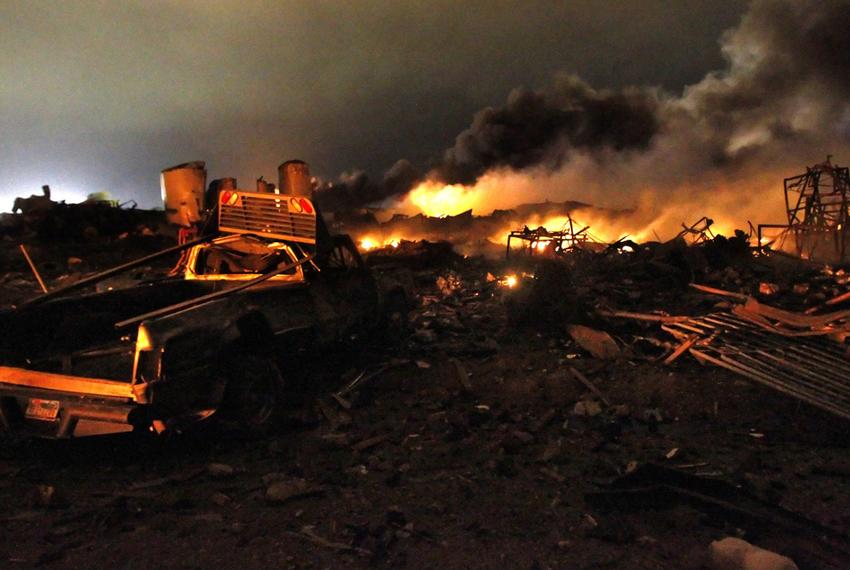 New in The Texas Tribune
• Lawmakers Want Answers on West Explosion: "A dozen officials from six different state agencies came before the House Homeland Security and Public Safety Committee on Wednesday to reflect on what worked and what didn't in the West fertilizer plant explosion. Despite the devastation, the head of the state's emergency management operations said that 'the system worked.'"
• House Votes to Reduce Reliance on Budget Diversions: "House members on Wednesday passed two bills that take aim at the practice of budget diversions, in which fees collected for specific purposes are used in another manner. The measures now go to the Senate."
• House Panel Reviews CPRIT Reform Legislation: "State Rep. Jim Keffer, who is sponsoring legislation that would overhaul CPRIT, told a House committee Wednesday that "there was never anybody feathering their nest" with funds from the cancer research institute."
• Lawsuit Says Prison Company Not Complying With Records Request: "A private company that runs 12 of the state's prison facilities is being sued by a publication that says the company is failing to release information related to deaths and health care at the Dawson State Jail in Dallas."
• HHSC Receives Approval to Raise Medicaid Premiums: "The Health and Human Services Commission received approval on Wednesday to raise the Medicaid premiums that go to managed care companies."
Culled
• Cruz 2016 (National Review): "Freshman senator Ted Cruz is considering a presidential run, according to his friends and confidants. Cruz won't talk about it publicly, and even privately he's cagey about revealing too much of his thought process or intentions. But his interest is undeniable."
• Creighton blames Democrats for tanking water bill (The Dallas Morning News): "House Republican Caucus Chairman Brandon Creighton has accused the chamber's Democrats of scuttling a bill to draw down $2 billion of state savings to jump start construction of water reservoirs and pipelines in drought-stricken Texas."
• Five arrested protesting in support of LGBT bill at Capitol (Houston Chronicle): "Five members of the group GetEqual Texas were arrested and charged with criminal trespassing after refusing to leave two Republican senators' offices Wednesday."
• Abbott trumpeting his conservative credentials (The Associated Press): "Texas Attorney General Greg Abbott hasn't officially announced if he'll run for governor but is making clear that if he does, he'll be running to the right."
Texas Tribune donors or members may be quoted or mentioned in our stories, or may be the subject of them. For a complete list of contributors, click here.
Support public-service journalism that's always free to read.
It's been a busy year. Through it all, The Texas Tribune's journalists have not missed a beat. And with redistricting starting in earnest next week and the 2022 elections on the horizon, we know our journalism will continue to be fundamental for Texans everywhere. Support our work today so we can be there for you in 2022 and for whatever else 2021 might throw at us.
Yes, I'll donate today