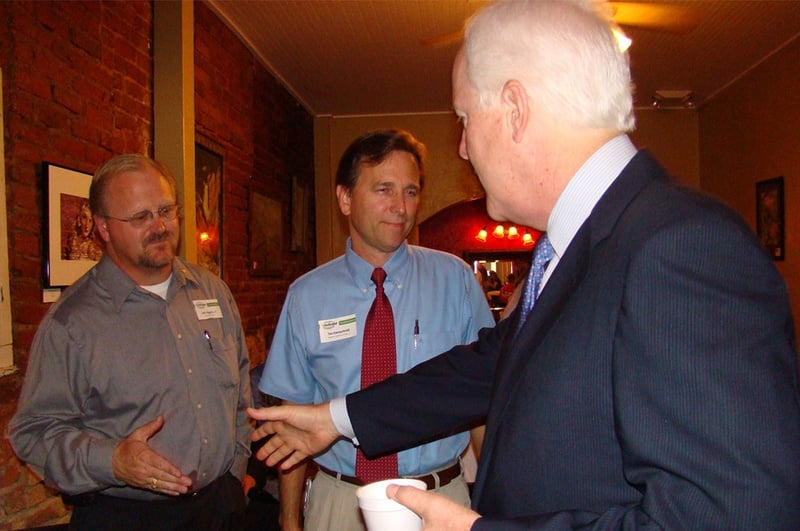 Updated, Friday, 6:50 p.m.:
State Rep. Tim Kleinschmidt, R-Lexington, said Friday that he has suspended his chief of staff, John Higgins, who was indicted this week on 12 felony charges stemming from allegedly improper travel reimbursements.
"I am saddened by the announcement charging John Higgins Jr., but our justice system provides a presumption of innocence until proven otherwise," Kleinschmidt said. "My office will continue to fully cooperate with authorities in the interest of determining all the facts and a swift, fair conclusion."
Kleinschmidt said he was "supportive of John's position of innocence concerning the charges" but decided to suspend him until the "outcome of this case becomes clear."
The Texas Tribune thanks its sponsors. Become one.
Travis County District Attorney Rosemary Lehmberg said that Higgins turned himself in Friday and was released after posting a $10,000 bond. Her office said Higgins was indicted by a grand jury on 11 counts of tampering with a governmental and a single count of securing execution of a document by deception.
Higgins' defense lawyer, Sam Bassett of Austin, said his client acted without criminal intent. Higgins has said previously that he had nothing to hide and did nothing illegal.
"We look forward to a full and fair opportunity to evaluate the evidence in the case. Though mistakes may have been made in certain entries in the records, Mr. Higgins maintains there was no intent to mislead anyone," Bassett said. "Many of the documents were prepared by persons other than Mr. Higgins. It is my further understanding that many travel expense reimbursements he could have requested were not requested."
Original Story:
John Higgins, a top aide to state Rep. Tim Kleinschmidt, R-Lexington, has been indicted on felony charges stemming from allegations of improper state travel reimbursements, his lawyer said Wednesday.
Higgins, Kleinschmidt's chief of staff, was indicted by a Travis County grand jury Wednesday, according to his defense lawyer, Sam Bassett of Austin.
The Texas Tribune thanks its sponsors. Become one.
Bassett said he and his client are eager to "get the case resolved without a trial." He said Higgins had met with the district attorney's office about the allegations and is open to meeting again in order to accomplish that.
"The dispute between the district attorney's office and me right now is any kind of criminal intent," Bassett said. "There may have been mistakes made but we don't believe there was any criminal intent."
Bassett said he wanted to "get this case worked out without any kind of felony conviction of any sort."
Travis County Assistant District Attorney Gregg Cox said last year it had launched an investigation of Higgins after the state auditor's office alerted him to "some irregularities with his travel reimbursement forms."
Higgins, in an interview last summer with The Texas Tribune, denied any wrongdoing and distanced himself from the documents at question, saying that former employees had signed his name to the travel documents.
"I've got nothing to hide," he said at the time. "I think this whole thing is an ambush and it doesn't have any legs."
Kleinschmidt said then that he he had full confidence in Higgins and predicted that he would be cleared of any wrongdoing once prosecutors were able to review all the records. He was expected to release a new statement about the matter Wednesday.
Texas Tribune donors or members may be quoted or mentioned in our stories, or may be the subject of them. For a complete list of contributors, click here.