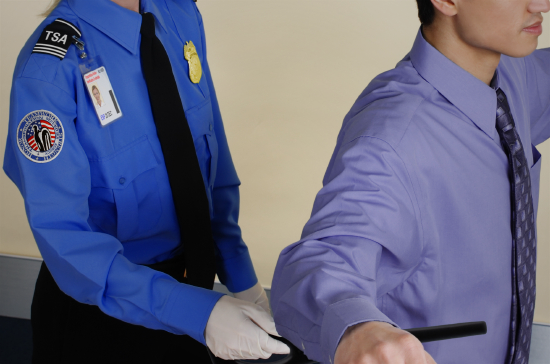 Despite previous threats from the federal government to shut down Texas airports if state lawmakers limit the Transportation Security Administration's ability to conduct security screenings, Rep. David Simpson, R-Longview, is pushing lawmakers to approve a so-called TSA anti-groping bill.
"Citizens are being humiliated and the most private areas of their bodies are being touched," said Simpson, who rolled out House Bill 80 before the House State Affairs Committee on Wednesday. He later added, "The terrorists have won if we allow that to go on in the name of safety."
HB 80 would make it a misdemeanor offense for a state or federal official conducting a security screening to touch the "anus, breast, buttocks, or sexual organ of the other person, including touching through clothing." It would also make it an offense for a security official to separate a child from the child's parent or guardian, or to harass, delay, coerce, threaten or intimidate a person who refuses to consent to a security screening.
The bill was left pending in committee.
The Texas Tribune thanks its sponsors. Become one.
A threat by the federal government to shut down Texas airports, cancel flights and withhold federal financing for state airports if the TSA could not ensure the safety of passengers and flight crews killed a similar bill filed by Simpson in the 2011 legislative session.
"It is going to be difficult for many of us to support the bill when we are still facing those threats," Rep. Rene Oliveira, D-Brownsville, said while pointing out that members of his family have also been subjected to such touching during TSA security screenings.
HB 80 would allow police officers to frisk suspects who they have probable cause to believe may be carrying a weapon. A representative from the Texas Department of Public Safety told the committee that the state already has a "zero tolerance" policy for officers that violate the privacy rights of citizens by conducting invasive searches without probable cause.
Rep. Harvey Hilderbran, R-Kerrville, suggested to the committee that some of the TSA agents "are enjoying the groping. It's not just a job, they're getting off on it."
Texas Tribune donors or members may be quoted or mentioned in our stories, or may be the subject of them. For a complete list of contributors, click here.